Make someone a makeup tester
Men's make-up: applying make-up without anyone noticing
Is make-up a woman's job? Nonsense! You can ignore such outdated role models. Because why shouldn't men also cover dark circles and pimples? After all, good looks are not just reserved for women.
Why do men need makeup?
Nobody really needs make-up. Neither do women. But like the ladies, you can use it to cover dark circles, pimples, and redness. This makes the skin look cleaner and younger - and you are more rested and fresher.
How Much Makeup is OK for Men?
Quite simply: the amount with which you feel comfortable. Do you fancy lipstick and nail polish? No problem! However, if you don't want anyone to see that you are wearing make-up, pay attention to the amount. Feel up with a concealer to cover dark circles and pimples. If you want even more coverage, you need a tinted day cream or foundation.
Grooming lexicon: grooming for men from A to Z
How men discreetly cover dark circles
Concealer is the most inconspicuous make-up product for men and at the same time the most effective for covering dark circles. If you've got little sleep, but have an important business meeting for which you want to look fresh, then concealer is the savior in an emergency. The easiest to use are products with an integrated sponge applicator. Here's how: Put the sponge in the inner corner of the eye and pull it diagonally down to the cheek, then again diagonally up to the outer corner of the eye, so that a V-shape is created at the end. Tap this Concealer-V in with a fingertip to blend the color.
Our favorites: "Fit Me Concealer" by Maybelline and the "Liquid Camouflage Concealer" by Catrice. Both cover well without appearing mask-like and do not settle in expression lines.
The best tips against dark circles
As a man, how do I use makeup to cover my pimples?
Pimples always appear when you least need them. With concealer, skin imperfections can also be concealed in no time at all. But it is better not to dab the cover cream directly on the impurity with the integrated sponge. This will rub pimple bacteria into the applicator, which will multiply there and lead to new pimples the next time you use it. Better: Put some concealer on the fingertip and tap it several times on the pimple, do not wipe (!) Until the reddening becomes invisible.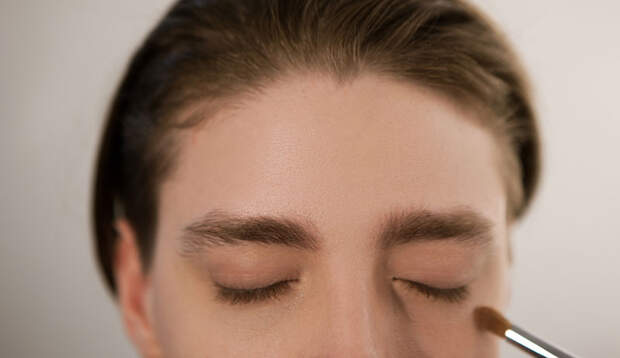 golubovystock / Shutterstock.com
With concealer, men can hide dark circles and pimples inconspicuously
This is how you get rid of acne scars
Beautiful skin thanks to make-up
Do you wish for fresher, more even skin overall? Then you should add a tinted day care product (has a light coverage) or a foundation (covers more) in addition to the concealer. Regardless of which of the two variants you choose, the following applies when buying: the more liquid the product, the thinner and therefore more inconspicuous you can apply it. Important: Blend the color well with your fingers, a sponge or brush so that there is no make-up edge. Be careful with the beard area: even in super-short stubble, make-up and tinted care products are heavily separated.
Our favorites: The "Face & Body Foundation" from MAC, the "Authentik Skin Natural Luminous Foundation" from ZOEVA and the "Tinted Moisturizer" from Lab Series. Both can be applied thinly, do not settle in the beard hair and do not stain the shirt collar.
This is how men find the right shade of makeup
Whether make-up, tinted care products or concealer: Choosing the right color is the most important thing so that it is not noticed that you have made up. When buying, it's best to test the concealer sticks or creams directly on your face. The skin tone is different on the back of the hand or forearm. Make sure the shade is right in daylight. The artificial drugstore light significantly falsifies colors. You can tell the right tone by the fact that it blends with the skin color without you having to wipe for a long time. Buying makeup is embarrassing enough for you and now you have to test it in the store? You shouldn't be ashamed. And if you do, you only have to do it once and you can order the products online the next time.
The best self-tanners in the test
What distinguishes men's makeup from makeup for women
Men can use make-up like women - but you shouldn't use your girlfriend's or roommate's make-up secretly. The color will most likely not match your skin tone. And then you don't look better, just badly made-up.
Tip: If you want your makeup to go undetected, the foundation shouldn't contain glitter particles and shouldn't have a heavy matting effect. Both make the skin look unnatural - and that's exactly what you don't want.
Do you feel like putting on make-up? Then do it! You don't have to be embarrassed about shopping for and using makeup. A little concealer or foundation just makes you feel better. But don't forget: As with women, don't forget to remove your make-up before going to bed. Otherwise there is a risk of pimples.
7 reasons why you keep getting pimples
This article may contain links to providers from whom MEN'S HEALTH receives a commission. These links are marked with the following icon: