Where would I live during my studies
Your own apartment during your studies - advantages, disadvantages and information about the student dorm
Advantages and disadvantages of owning your own home
As you can probably imagine, renting your own student apartment has many advantages, but also disadvantages compared to moving into a shared apartment or student residence.
The advantages of having your own apartment
Those who live alone do not have to adhere to community rules and can organize their day as they want.
You have rest. Especially if you have to write homework or study for exams, you will at least not be distracted by noisy roommates.
Conversely, you can be loud whenever you like and don't have to be considerate of studying roommates.
You can bring whoever you like. This applies to both friends and the flirt from the student party.
You don't have to consult with each other about using the bathroom and a roommate's hair doesn't clog the drain.
You avoid disputes about things like electricity and heating bills or back payments, who takes down the garbage or who has cleaned more often.
You can shop whatever you like and nothing disappears from the fridge.
You can leave your things lying around in every room and only have to clean or tidy up when you think it is necessary.
The disadvantages of having your own apartment
The cost is higher. It starts with the deposit at the beginning of the rental period, applies to the usually higher rent than in shared apartments and dormitories and the purchase of kitchen, furniture, etc. and ends when you move out, when you have to repaint the apartment.
There is no social life around you at home. You often get to know many other people through flatmates, e.g. at flat-share parties. This makes it easy to make connections, especially at the beginning of your studies.
You are solely responsible for everything in your own apartment (including legal and organizational matters).
You seldom cook larger dishes on your own. But it can be a lot of fun with several people in a shared apartment. If you've forgotten to shop, you can't borrow someone else's in your own apartment.
This is a list of the biggest advantages and disadvantages to keep in mind when looking for an apartment for your studies. For comparison, you can also take a look at the advantages and disadvantages of a shared apartment here.
Tips and checklists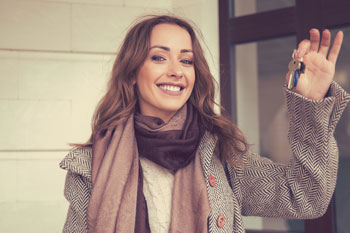 Growing up in your studies also includes looking for and setting up your first four walls. At the beginning of your search, you should first find out which areas are suitable and how best to get to the university or college from there. Because it is of no use to you if you find cheap accommodation that is so far outside the city that you need more than half an hour to get to the university / college every day.
You can find more tips in our Tips for finding accommodation. Among other things, for the viewing appointment, the rental agreement and the termination of the lease when you move out again.
Once you have finally found a new place to stay for your studies, it still has to be set up. Those who still live with their parents will rarely have their own dishes, pots, washing machines or refrigerators. So here it is important to get an overview of what you have to buy.
Our checklist offers help: Establishment of the first own apartment.
Start looking for an apartment in good time
If you are looking for your own apartment, you should start early, especially in the large study cities. When the semester starts, hundreds or thousands of new students are on the hunt for accommodation and compete with you in the search for the best student accommodation. So it is worth moving in a month earlier or at least renting the apartment. Not that you will end up with empty hands or have to take accommodation that does not actually meet your own requirements.
In addition, only very few landlords make students the first choice. This results on the one hand from (more or less large) prejudices such as "Students party a lot, are too loud and do not maintain the apartment" and on the other hand for understandable reasons such as For example, that the landlord has to look for tenants again after you graduate because you will likely move out.
The cooperative apartment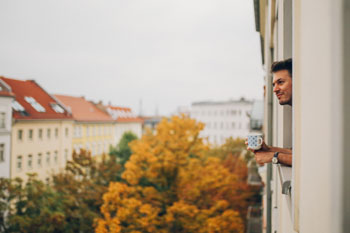 Another possibility to finally find your own student apartment is the concept of the cooperative apartment. Cooperative apartments are apartments built by non-profit housing cooperatives that they let their members use.
To get an apartment from a cooperative, you first have to register with a housing cooperative. As a rule, you apply for apartments under construction, but there is always the possibility of moving into older apartments that become vacant.
However, the chances of getting an apartment quickly are rather slim here - but always worth a try.
In the case of non-profit residential buildings, such as cooperative apartments, there is usually a so-called "financial contribution", which can vary depending on the age, size and location of the apartment. After the end of the tenancy, this amount will be paid back after deducting a depreciation of one percent. First of all, you have to consider whether you can raise this additional amount during your studies. The umbrella organization of the Austrian non-profit building association GBV offers more information on cooperative apartments.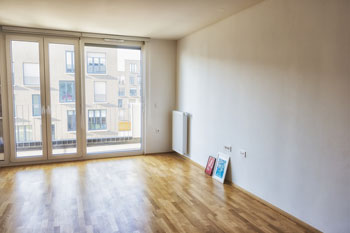 In the case of municipal housing, in contrast to private or cooperative housing, the municipality itself is the builder and landlord. The idea of ​​community housing is to be assigned to the social democratic movement and is therefore still more common today in communities that have been administered by social democrats for a long time. There are different requirements depending on the city or municipality in which you are looking for a council apartment.
In Vienna, for example, you have to be at least 17 years old and have had your main residence there for at least two years. In addition, you are not allowed to exceed a certain salary limit. For non-EEA citizens, the residence permit is a crucial criterion for getting a community apartment.
If you meet all of the given criteria, you can apply for a reservation slip. After that you have to wait until an apartment is allocated to you. However, this can take time. So if you really want to live in a community apartment, you should take care of the preparations early and not necessarily be limited in time - at the beginning of the semester this is of course not that easy.