Is your nutrition better than your parents
Vegan, But Your Parents Not: 7 Tips on How to Avoid Family Stress!
How do you just tell your parents THAT? Perhaps your omnivorous family already knows that your diet is purely plant-based. And that doesn't always meet with approval. Your parents, grandparents and siblings may react with incomprehension, rejection or mockery to your decision in favor of vegan cuisine. So that everyone can find their way into this new situation, here are 7 valuable tips for you on how to avoid stress with your family!
It feels just right to youthat you want to live vegan. You want to avoid as much animal suffering as possible, make a valuable contribution to the environment and look forward to it new culinary experiences. You are infinitely motivated and want to share your findings, plans and your euphoria with your loved ones. How do you do it best?
1. Be compassionate!
Remember: You haven't always been vegan either! It has been with you for the past few weeks and months an internal process took place. It became clear to you step by step how many reasons speak for a plant-based diet. None of that was seen from the outside.
That's why I have with your family too Patience and compassion. It can be very surprising for them that you tell them the good news overnight that you want to live vegan from now on. Give them time to accept and process this new development step by step.
2. Be informed!
Your family is concerned. Many prejudices about the vegan diet are buzzing around in many minds: How is your health? Are you getting all of the nutrients? Haven't people always eaten meat? Don't hens lay unfertilized eggs anyway? Isn't milk necessary for bones and teeth? Arm yourself for all these typical questions for vegan newbies!
3. Take it with humor!
Laughter eases any tense family situation 🙂 Do cows udders explode if they are not milked? It is called "farm animals" because we are supposed to use the animals? And where should all the animals go when we no longer eat them? What can you actually still eat if you don't have meat, fish, eggs and milk? Vegan is pretty extreme, right?
If you are vegan, this is probably not the first time you have heard all of this. Do you and your family have good answers spontaneously? The two actors Clelia Sarto and Aleksandar Jovanovic aka The Planterz asked themselves exactly such questions for you, courageously and with a good dose of humor ...
4. Communicate openly in I-messages!
Eating is a shared moment of pleasure. The Meals together are an important part of your get-together. The subject should therefore not stand between you. Talk about your new vegan diet directly - otherwise it can lead to unwanted conflicts or misunderstandings.
In order not to point your forefinger at your family: speak for yourself as a person. That YOU have decided to refrain from animal products from now on. Stay calm, factual and offer your courtesywhen it comes to meals together. You can also find tips for delicious and less elaborate dishes in the brand new Love Veg cookbook!
5. Do not proselytize!
You are shocked at how little knowledge there is about the suffering of animals in factory farming. Why so few people know the health benefits of a vegan diet. That a plant-based diet means much more enjoyment and can open up new taste horizons 🙂
You want your family to know all of this - as soon as possible! Try anyway not compulsive to convince those around you with arguments. With this you often only encounter resistance and your loved ones are annoyed. Instead, live by example. Let them share in your new energy. Answer your questions positively and compassionately. A vegan diet change is particularly consistent if it takes place for each person on their own initiative.
6. Convince with culinary delights!
If it tastes good, everyone is happy! Of course you could serve simple and quick everyday dishes for your family, but hey: When do you ever find the opportunity to impress with great culinary art? And pssssst, it doesn't have to be difficult and time-consuming ... Invite your family to dinner and convince them with a vegan menu!
Starter: Cream cheese ball wrapped in chives
As a prelude to a successful menu, you serve yourself and your loved ones a homemade and super creamy cream cheese ball - wrapped in chives or a nut coating!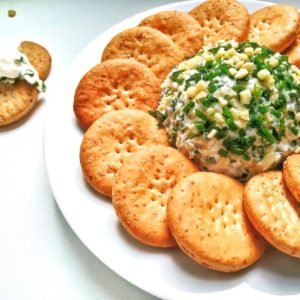 Main course: hearty Sunday roast
A wonderfully hearty and delicately spicy roast with green beans, a béchamel sauce and parsley potatoes ... With this recipe for a wonderfully delicious and cruelty-free roast nuts, you and your family will get your money's worth!
Dessert: strawberry crumble with homemade vanilla sauce
Warm crumble with hot vanilla sauce, cold crumble with warm vanilla sauce, hot crumble with cold vanilla sauce? You decide that with this incredibly delicious and wonderfully fragrant dessert creation!
7. Invite your family to Love Veg!
Is your family interested in your new diet? But you don't have the time or inclination to explain everything to them from scratch? Register your family with one of their email addresses for Love Veg 🙂 All of this is 100% free of charge and, above all, cruelty free! We will accompany you over the next few weeks with valuable tips, explanations and step-by-step instructions. And the best: The brand new cookbook and a CHEESEBOOK are available for download! All free of charge, but for a lot of ENJOYMENT in the family kitchen!