During an excavation in Beidha near the Dead Sea, its earliest use as a green pigment could be proven. In a 9,000-year-old settlement, walls painted with malachite were discovered, and the raw materials malachite and ocher were found in the remains of a workshop. Malachite was an important green pigment in ancient times. The Egyptian women made up their eyelids with green powder of crushed malachite. For this purpose, the malachite was ground and mixed with egg white, acacia resin or fig milk as a binding agent. The color green was already used by the ancient Egyptians as the color of life and growth. They mined the gemstone on Mount Sinai and extracted copper from it. In powdered form, it was also used by the Romans for wall paintings.

In the Arab world, powdered malachite was used as an antidote and against ulcers. This effect, like its use as a talisman to protect children from accidents, has remained a legend. However, some still attribute healing powers to it today. It is said that it withdraws energy that makes the body sick. In addition to its use as a pigment, it has remained a popular gemstone to this day.

Malachite was used again and again as a precious, green color pigment in painting. In the March picture of the "books of hours" (Les Très Riches Heures) the may-green coats of the women in the rider group owe their color to malachite. The 12 famous monthly pictures represent the beginning of a total of 131 book pages colored with glue paint.

Limburg Brothers: Book of Hours of the Duke of Berry Calendar sheet May (15th century)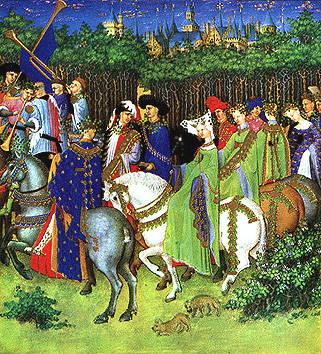 The women's may-green coats are painted with malachite.
Today, malachite is only used as a pigment by restorers. Hard and strongly colored pieces are ground into gemstones, the poorer quality is processed as copper ore.

Malachite heart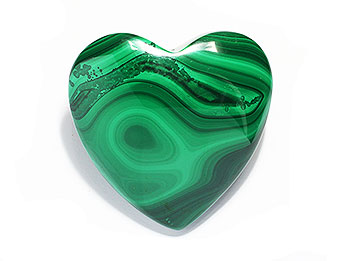 Typical of the malachite are the lines,
which emerge through the different layers when sanding.