Is LinkedIn still a professional
With 106 million active users, the relevance of LinkedIn is beyond question: The social business network is a must for everyone who works in digital industries - inevitably for all marketers. In order to get the most out of LinkedIn, we explain the most important known and unknown functions of the social network.
Do you already use XING and don't want to use a second social business network? The truth is that LinkedIn has a lot more free features. Many marketers are currently still underestimating the power and reach of LinkedIn.
This is how this article is structured:
Tips for LinkedIn profile optimization
Tips for professional networking with LinkedIn
Tips for LinkedIn in business and marketing
LinkedIn profile optimization
1. Shorten your profile URL
Make your profile look even more professional by creating a so-called vanity URL. Instead of having a URL with random looking characters, you'll have a nice and simple URL like this: http://ie.linkedin.com/in/inkenkuhlmann.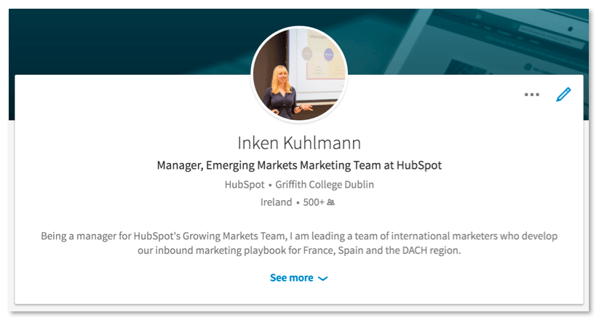 To the right of your profile picture you will see the button "Edit your public profile" in the sidebar. If you click on it, you will be shown your public profile. Now change your URL in the sidebar on the right.
2. Create a profile button for the website, email signature, or your blog
Whether in the e-mail signature or on your own blog - you should always network and encourage people to network with you.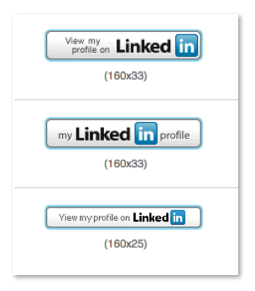 LinkedIn makes this very easy with the profile badges and you can choose from a selection of different designs. You can create the so-called profile badges here.
3. Give your links a nicer look
In the profile under Website you have the option to display links, e.g. B. Your website. You can give these links individual anchor texts. This gives your profile a more personal touch and attracts more attention than the usual preview text.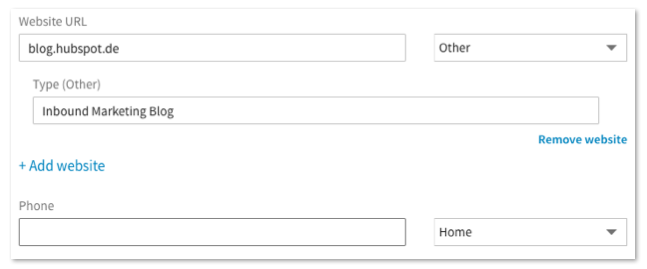 In my example, you can see that I've set a heading for my blog. The inbound marketing blog is now listed on my profile. You can reach this setting by clicking on the small pen to edit it and then selecting the "Other" function in the drop-down menu.

4. Optimize your profile for SEO
You can also optimize your profile for the search engine on LinkedIn. Use important terms that you want to rank for in your profile. You will be more easily found when someone searches for the subjects you specialize in.
5. Show your work samples
Especially when you are looking for a job or working with customers, it makes sense to upload sample work as a video, image, document or link. Simply add these examples to the summary, education or experience section of your profile and show off your masterpieces.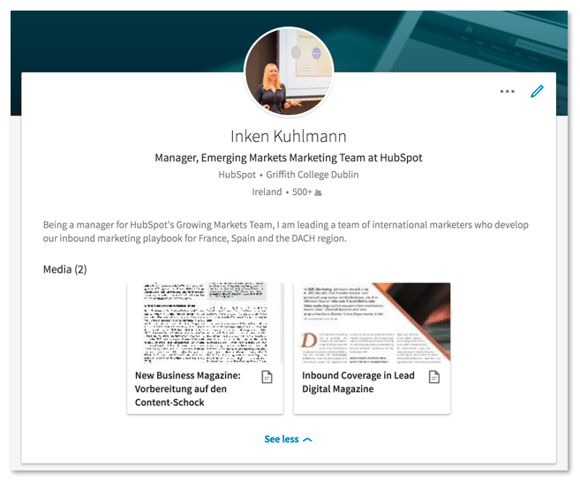 6. Add new "Sections" to your profile
LinkedIn enables us to move sections around within the profile. As soon as you are in edit mode, you can use the arrows on both sides to move things around.
You create your own profile here and simply add sections that are helpful to you.
LinkedIn for professional networking
7. Make use of saved searches
LinkedIn allows us to save up to 10 different job searches and 3 person searches. So after you have carried out the search, you can click on the "Save This Search" option. Weekly reminders can also be set for these search results so that you will receive an email as soon as someone meets your criteria.
8. Use your LinkedIn profile as a resume
Job search is the most widely used feature on LinkedIn. That's why LinkedIn enables you to convert your profile into a résumé in a few seconds.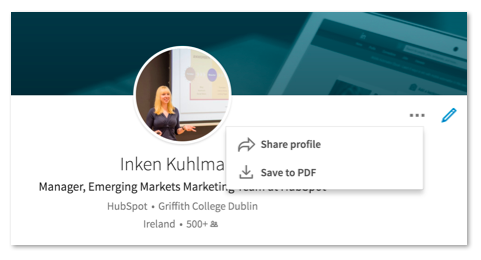 To do this, move your mouse onto the small arrow next to the "View profile as" button. By clicking on "Save to PDF" you will receive your résumé in PDF format.
9. Find a job
LinkedIn enables you to search for new positions and also suggests jobs for you. It is advisable to use our seventh tip if you are actively looking for a job. You will be informed as soon as a suitable position appears online and can act accordingly in a timely manner.
10. Use endorsements
In 2012, LinkedIn introduced the endorsement function. Make sure to showcase your best skills on your own profile. This is a quick and easy way for profile visitors to rate you for a skill.

Of course, no one can guarantee that all of your contacts will rate you, but it's a good way to highlight certain skills. If someone has rated you for a skill that you think is inappropriate, you can remove it.
11. Use InMail to contact strangers
Usually it is not possible to send messages to people with whom you are not connected. If you're using the paid version of LinkedIn, you can also send messages to non-contacts.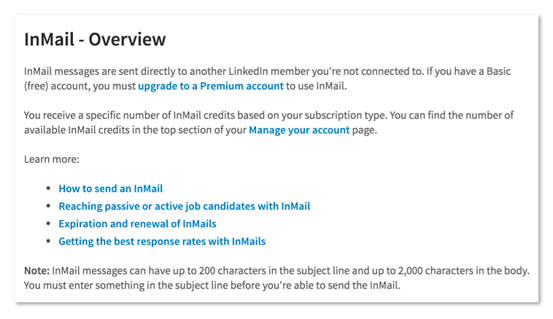 12. Stay informed through the news feed
News from your network on LinkedIn is a bit like the news feed on Facebook. Here you can see the most important information from your contacts or groups.
As with Facebook, you can choose what to see. At the top right you can see three horizontally arranged points. Here you can choose between "All updates" and "Recent updates".
13. Don't be a wallflower
See and be seen: Other LinkedIn users will only find out about you if you configure your profile accordingly. You can be invisible, but then fewer people will visit your profile. We recommend being out and about in public.

14. Look who is interested in you
The "Who's viewed my profile" function gives you an insight into the visitor structure of your profile. This function was revised again in February 2014 and now provides really helpful information. For example, you can also see from which business areas the most visitors come to your profile, or a chronological sequence.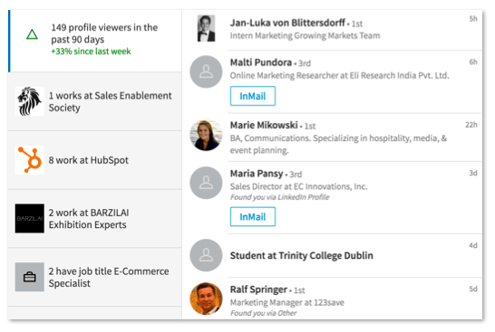 15. Export contacts
Would you like to import your existing LinkedIn contacts into a CRM? LinkedIn makes it pretty easy to export your contacts. You can get your contacts here as a csv file or in vcf format.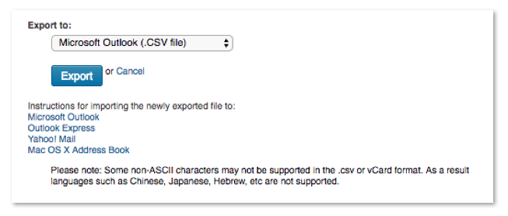 16. Find new contacts and old acquaintances
While we are already talking about contacts, I would also like to reveal to you that there is an opportunity to easily find new contacts. Under the menu item "Add Connections" you can add contacts via your e-mail account. You even get notifications when someone changes jobs or has a birthday. You can set all of this individually within the tool.
17. Take advantage of LinkedIn groups
Did you know that you can send a message to other group members even if you are not connected to each other? You can also see the profiles of other group members.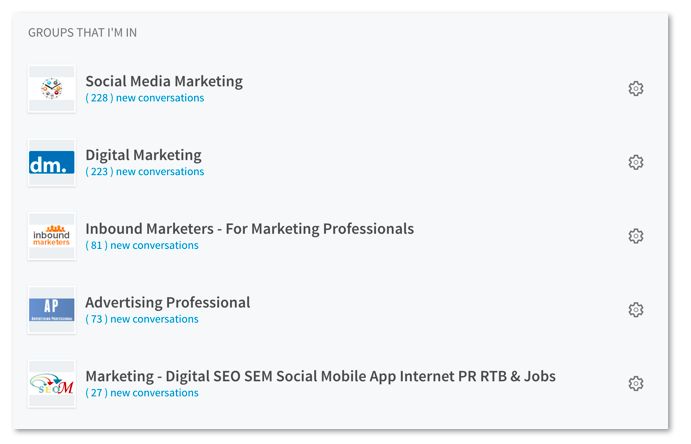 So it's best to join a few groups that you know they might be interesting contacts. You are already expanding your network and finding new contacts in your branch.
18. Use the "Advanced Search Options"
This LinkedIn function can be very helpful when looking for new contacts. Let's just say you want to know if you're connected to someone in Salesforce. Just enter Salesforce in the Advanced Search option and then click on "filter by relationship" to see if you have a connection. LinkedIn will then tell you whether there is a second or third degree link.
19. Automatically share your status updates on Twitter
Although it has no longer been possible to automatically publish your updates on Twitter since 2012, you can still select this manually when you share a piece of news.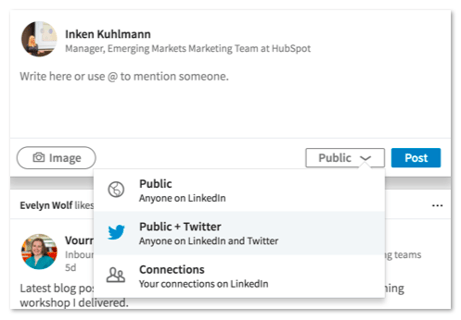 Simply select "Public + Twitter" for the "Share" function. To do this, you need to link your profile to your Twitter account. Your update will appear on both platforms.
20. Use references in your status updates
Since 2013 you can mark users or companies with the @ symbol in a message. As soon as you refer someone, they will receive a notification. In addition, the name will be linked to the associated LinkedIn profile.
LinkedIn for business and marketing
21. Experiment with LinkedIn Ads and Sponsored Updates
Now is a good time to try out these LinkedIn features. The network is currently growing rapidly, especially in the DACH region. This means that you can get good results here with ad content because of the comparatively low competition. We have found that LinkedIn can be used to generate very good leads.
The quality of the contacts and the target group can be set here in detail. With LinkedIn's targeting functions, you can individually select and target specific job positions, company sizes and other criteria. After a campaign, you will also receive information about which groups of people were mainly interested in your ad. This information is very valuable for optimizing your inbound marketing activity.
22. Post articles on LinkedIn
A while ago, LinkedIn released its publishing platform to all users. So now you have the opportunity to publish your own article on LinkedIn and get additional views.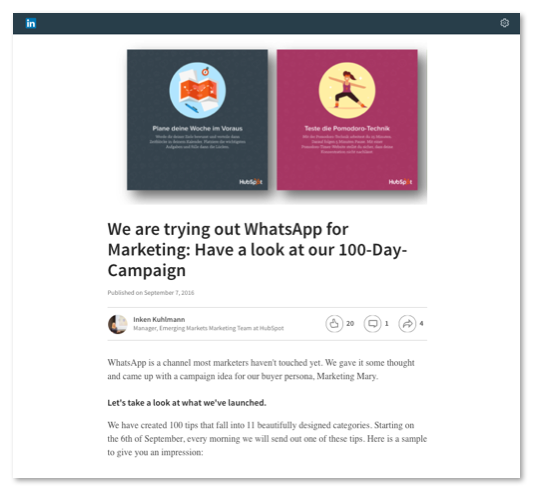 Feel free to try out how this platform can help you attract more attention to your own company with content marketing.
Originally published November 3, 2016, updated October 20, 2020
Recommend this article: