Who can really kill Superman
Guests online: 4

· Members online: 0

Total members: 13
· Newest member: DieHades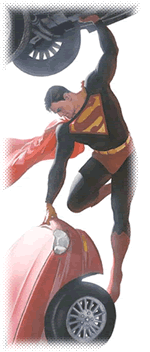 Publishing company: DC (© Copyright by TM DC Comics)

Left picture: © Copyright by TM Alex Ross and DC Comics

Surname: Superman

Right name: Clark Kent (Earth) or Kal-El (Krypton)

Other names / surnames: Man of Steel, Big Blue

First appearance: 1933 in the short story "The Reign of the Superman"

Creator: Jerry Siegel and Joe Shuster

Super skills: Super fast, super powerful, super hearing, super breath, invulnerable, he can fly, heat vision, X-ray vision (except through lead), microscope and telescope vision

Origin of his powers: Kal-El`s home planet Krypton had a red sun. Superman can "charge himself energetically" in the earthly yellow sun. This is possible because Superman's body has a higher molecular density than a human body. Another explanation is that there is a higher gravity on Krypton than on Earth.

Curriculum vitae: Superman is the first real superhero in the true sense of the word, the forefather of all subsequent comic superheroes such as Batman, Flash, Green Lantern, etc. He is also the figure with the most extensive powers. It was not until much later that something was invented against which Superman also had a weakness: kryptonite. These are rocks from his home planet. Green kryptonite causes SM to lose all powers and can even kill him if he is exposed to him long enough. Red kryptonite was also introduced, which makes SM aggressive or extremely indifferent.
- More content follows -

Archenemy: The archenemy is a characteristic of a classic superhero. Superman is considered the forefather of all superheroes. His personal adversary is the brilliant scientist and inventor Lex Luthor.
Superman in the movie:
- Superman (1979)
- Superman II Alone Against All (1980)
- Superman III The Steel Lightning (1983)
- Superman IV The World on the Edge (1987)
- Superman Returns (2006)
- Man of Steel (2013)

Images: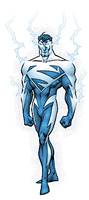 After the "Final Night" crisis in May 1997, Supie got new strength and a new outfit.
Copyright notice: All DC Comics characters and the distinctive likeness (es) thereof are Trademarks & Copyright © 1939-2013 DC Comics, Inc. ALL RIGHTS RESERVED
There are no published comments.
Please log in to post a comment.
Please log in to leave a review.
---
No ratings have been submitted yet.

Not a member yet?
Click here to register

Forgot Password?
To request a new password, click here.