Navigation and service content
Type: Article
The identity card contains a contactlessly readable computer chip.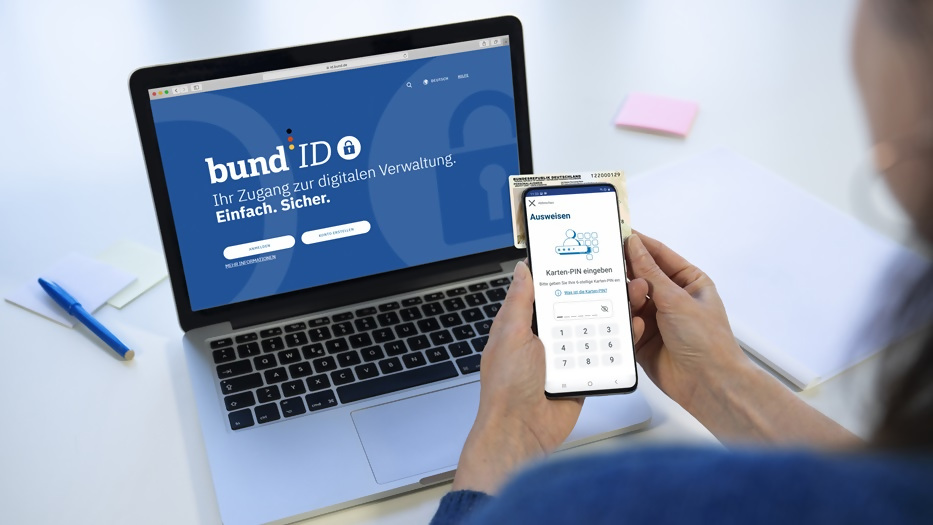 Source: Federal Ministry of the Interior, Building and Home Affairs; Bundesdruckerei GmbH
Your photo and the data that you can also see on the ID are stored on the chip. If you want, your fingerprints will also be saved.
Which data can be transmitted with the online identification function?
Frequently askedWhat can I do if the chip in my identity card is defective?
After you have given your consent by entering your PIN, the following data can be transmitted:
Family name and first name (s)
Date and place of birth
Address and post code
if given: maiden name
if given: order or artist name
if indicated: doctoral degree
Each time you use the online ID, a check is carried out to ensure that your ID is still valid and has not been blocked. This protects it from misuse should you lose it.
Exclusively for sovereign purposes
Your photo is saved in the chip on your identity card. The additional storage of two fingerprints in the chip is voluntary until July 2021, after which it will be mandatory for newly issued identity cards across Europe.
This information is only used by government agencies to securely determine your identity. Which authorities these are is specified in Section 17 of the Act on ID Cards and Electronic Proof of Identity
Law enforcement agencies
Customs administration
Tax investigation offices of the federal states
Identity card, passport and registration authorities
What is the biometric data stored in the chip for?
The authorities mentioned are allowed to use the photo from the chip to provide technical support for identification processes and thus to carry them out faster, for example at automatic border controls.
If there are any doubts about the identity after the photo comparison, the security authorities of the EU member states can read out the fingerprints stored in the chip and compare them with the fingerprints of the person providing identification. This means that attempted fraud can be detected quickly.
Only authorities that are legally authorized to establish identity are allowed to read the biometric data in the chip. The fingerprints can only be read with an official authorization certificate.
Photographs and fingerprints are never requested without your knowledge.
Not The handwritten signature, body size and eye color are stored in the chip.
In which action can which data be transferred?
Data
Sovereign identity control
Online ID function (optional)
Family name and first name

+

+

Date and place of birth

+

+

Address and post code

+

+

if given: order or artist name

+

+

if indicated: doctoral degree

+

+

Biometric data
digital photograph

+

-

digital fingerprints

+

-

More information
Serial number of the ID card

+

-