K-Pop: Korea's music scene under pressure
They look flawless, are around 20 years old, act teasingly playful and carefree: the stars of the world's hottest K-Pop. But behind the high-gloss facade it often looks bleak. Many celebrities struggle with anxiety and depression. With fatal consequences. A series of alleged suicides and criminal cases cast a dubious picture of an industry where exploitation seems to be the order of the day. K-pop stars are under relentless media scrutiny and cyberbullying, which severely affects their mental balance.
It wasn't until Tuesday that the police found the actor and K-pop star Cha In Ha dead. The cause of his demise is still unclear. One thing is certain: the 27-year-old's death is the third in the industry within two months.
Silence about the cause of death
Cha, whose real name is Lee Jae-ho, was a member of the group "Surprise U". In 2017 he made his debut in the short film "You, Deep Inside of Me". His agency "Fantagio" expressed their "deepest regrets" and called on the media not to publish any rumors or speculations in connection with Cha's death.
There is currently no evidence that Cha was subjected to cyberbullying or attacks on social networks, like other recently deceased K-pop stars: The singer Goo Hara was found dead in her home in November. In a message found on her, she expressed her despair over the repeated attacks on social media.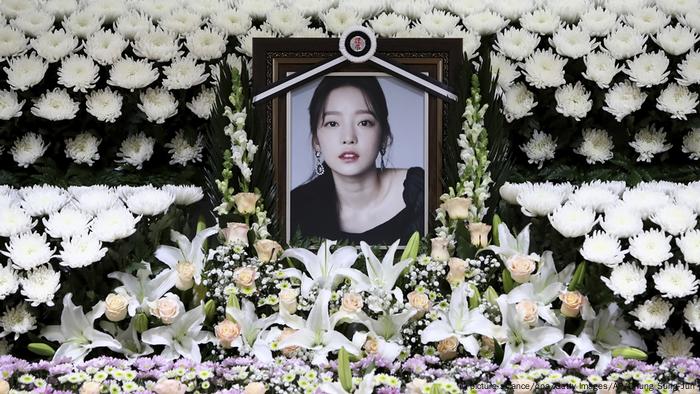 Memorial altar for the singer Goo Hara. She was only 28 years old.
Sulli also struggled with cyber bullying - and passed away in October. Both deaths could also have been suicides.
Hard drill instead of carefree youth
Dal Yong Jin is Professor of Communication Studies at Fraser University in Vancouver and co-author of "K-Pop Idols: Popular Culture and the Emergence of the Korean Music Industry" (K-Pop Idols: Pop Culture and the Birth of the Korean Music Industry). He says the death of Cha In Ha is part of a broad negative pattern within the Korean entertainment industry where the K-pop scene is the most sophisticated.
Jin points out that while K-pop characters have different concerns, they all face the same socio-cultural challenges that caused depression - a potential cause of suicide. "That means that the Korean entertainment industry has failed to create socially acceptable and pleasant working conditions."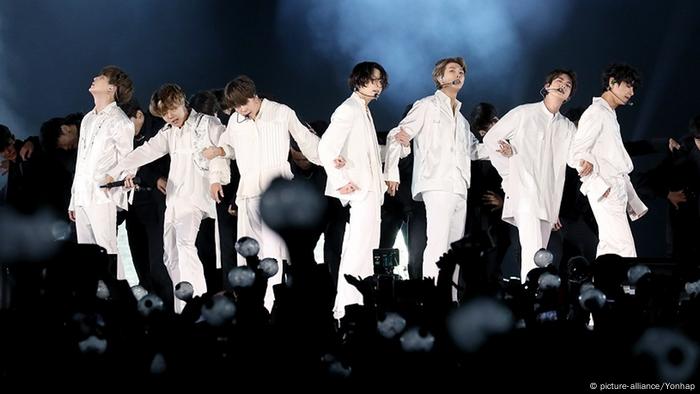 BTS have mastered their craft perfectly. Every step, every movement is right.
In fact, the K-pop industry is known for its high levels of competition and years of drilling. Talent agencies select potential teenage stars and subject them to rigorous singing and dance training. "Because they live in dormitory houses all day and have to practice more than ten to 13 hours a day, they have no way of developing their own ideas and thoughts." The budding stars would give up their school days and, above all, their lives as young adults, Jin said.
Property of the agencies
Emanuel Pastreich, director of the Seoul-based Asia Institute, told DW in October that the environment in the K-Pop studios in Seoul, where the future stars train, was "absolutely ruthless and very, very harsh". The people "lead incredibly unnatural and inhuman lives" and basically they are a kind of property of the agencies.
Anyone who has made it to the top of the K-Pop scene is confronted with a grueling schedule and constant pressure to maintain star status - because new young talents keep coming. Some K-pop stars who were previously members of bands are later trying to become actors or start over as solo singers. In everything they do, they are watched by the media around the clock.
Social media is an integral part of it
The stars come into direct contact with their fans on social networks. That makes them approachable. But insults and hate attacks, which also occur there, put them under stress.
"Social media platforms are one of the central elements in the success story of K-Pop - nationally as well as internationally. Compared to J-Pop", ie its counterpart from Japan, "the Korean entertainment industry has fully exploited the potential of social media, to spread their new music and the idols' activities and to communicate with the fans, "explains Jin.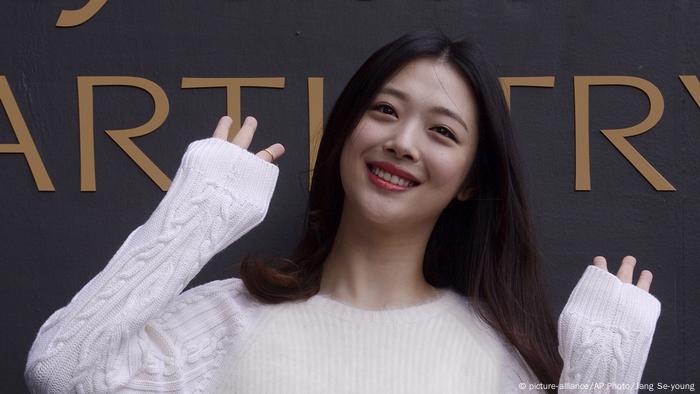 "Not wearing a bra means freedom." For statements like this, Sulli was verbally attacked violently.
The K-Pop industry is self-regulating and makes its stars regulations so that they do not become a target of society. Stars who say something on feminism or LGBT issues risk violent backlash and online bullying. "Numerous entertainers express their depression from this type of toxic environment," said Jin.
Solo artists are more vulnerable
One of them is K-pop star Kang Daniel. His management announced on Wednesday that the singer would take a break because he was suffering from "depression and panic attacks". According to "The Korea Times", the 22-year-old had only one day earlier complained of mental health problems due to hateful comments on the Internet.
Kwon Young-chan, a former comedian and now a consultant, was also attacked online. He told Reuters news agency: "The perpetrators who write malicious comments begin with a 'light pat' that later becomes a real 'blow'." Solo artists are more vulnerable than the members of bands. "After the artists embarked on a solo career, they had to deal with depression and personal attacks on their own."
Stars' difficulties must be understood
With the recent deaths within the K-pop scene, the industry has come under heavy criticism. In October, Asia Institute Director Pastreich pointed out that the deaths of big stars from South Korea stretched over many years.
Researcher Jin believes that despite recent negative headlines, things have generally improved thanks to actions by the Korean government. But more needs to be done: "The entertainment industry and society must work together to develop workable mechanisms to support the artists. That is, they must understand the difficulties budding stars face before they achieve extreme results."
Deutsche Welle reports cautiously on the subject of suicide, as there are indications that some forms of reporting can lead to copycat reactions. If you are having suicidal thoughts or are in emotional distress, do not hesitate to seek help. You can find help in your country at the befrienders.org/ website. In Germany, the telephone counseling can help you on the free numbers 0800/111 0 111 and 0800/111 0 222.