Picasso: 10 Facts About the Famous Painter's Art and Life
1. How many pictures and works of art did Picasso create in his life?
The number fluctuates. According to estimates by art historians and museum curators, the Spanish painter and sculptor created over 50,000 works in the course of his life - in addition to paintings, drawings, graphics, collages, sculptures and ceramics. No other artist of his generation is so productive, especially well into old age. Picasso already occupies an exceptional position in modern art history.
2. How old was Pablo Picasso when he painted his very first picture?
His first picture is an oil painting - "The Little Picador", which a visit to a bullfight inspired him to do. Pablo Ruiz Picasso is only 9 years old. But he comes from an art-loving family.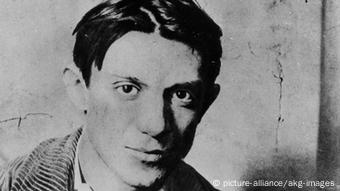 Picasso as a young man, 1904
Pablo was born on October 25th, 1881 in Malaga, Spain, a city where art has a centuries-old tradition. His father is a painter and drawing teacher at the arts and crafts school, and they have painting materials all over their homes. His father sees him as the "child prodigy" and taught him academic drawing from an early age.
3. Did Pablo Picasso learn the trade as a painter, sculptor and draftsman?
In 1892 the talented Pablo Ruiz was admitted to the Art School of Malaga. In addition to normal school lessons, Pablo paints and draws in every free minute and quickly qualifies for higher training courses.
After high school he switched to the Art Academy in Barcelona, ​​shortly afterwards to the renowned San Fernando Academy in Madrid. But the young painter does not like the teaching methods. He leaves the institute after just six months - and continues to train himself.
He quenches his thirst for knowledge in museums, salons and studios, he studies the techniques of other artists and soaks up everything new art, literature and music that arises around him.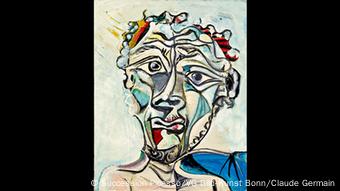 Portrait of his Jaqueline - a late work, on display in the Barberini Museum in Potsdam.
4. How did "Picasso" come about as the abbreviation for the later world-famous painter?
Initially, Pablo Ruiz Picasso paints and signs - Picasso is his mother's maiden name - still with his full name. From 1900 he only signs his pictures with the words "Picasso". He still lives and works in Barcelona. Not until 1904 did he move into a studio in Paris.
Later, his last name became a synonym for great art and his daring gestural painting and drawing technique. At first, his paintings are still brightly colored and almost garish. The young talented Spaniard wants to stand out at all costs. Picasso's strong artist ego drives him to be immensely productive.
5. What was Picasso's full family name?
Picasso comes from a middle-class family. Pablo grew up with his two younger sisters in a culture-loving, very educated environment. It is a tradition in the family to give the children many illustrious names. Picasso's full baptismal name is: Pablo Diego José Francisco de Paula Juan Nepomuceno María de los Remedios Cipriano de la Santísima Trinidad Ruiz y Picasso.
6. When did Picasso have his first major exhibition?
The young painter can count on the very first exhibition in 1909, which also contained work by him, as a success. But the sales are not enough to live on, on the contrary. It is not uncommon for him to paint over his pictures because he lacks the money for a new canvas.
Hungry for new experiences and an inspired artistic life, he now goes to Paris, where he rents his first studio. In the city's cafes and salons he came into contact with the art scene of the French art metropolis. Here he also met the art dealer Pedro Manach, who offered him a fixed monthly fee for his paintings.
Picasso was discovered late by museum directors and international art collectors. In 1932 he had his first major solo exhibition - at the Kunsthaus Zürich in Switzerland. He was already over 30, helped invent cubism and returned to a neoclassical style. In addition to his paintings, he was creating sculptures, busts and other innovative works at this time.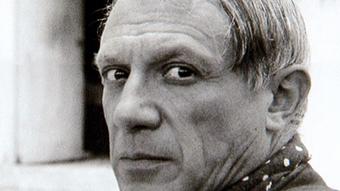 Pablo Picasso
7. When did Picasso start making money with his art?
Through the work of his "Blue Period", so-called by art history, and the subsequent "Pink Period", which lasted until 1904, Picasso became more and more famous as a painter in Paris. In 1906 he made the acquaintance of the most important French artist of the time, Henri Matisse, who gave him numerous contacts.
It was through him that Picasso met Ambroise Vollard, who bought all of the paintings from his "Pink Period" from him and made him financially carefree for the first time. Later on, the art dealer Daniel-Henry Kahnweiler, himself a celebrity in the art world, played a key role in making Picasso one of the most expensive artists of the 20th century.
Kahnweiler also mediates the sale of one of Picasso's key works - the large-format painting "Les Demoiselles d´Avignon". In addition to Picasso, the enterprising Franco-German gallery owner also signs contracts with the painters George Braque, Juan Gris and Ferdinand Léger, but in return forbids everyone to participate in the Paris salons and official exhibitions. Picasso can finally afford a new apartment and extensive trips.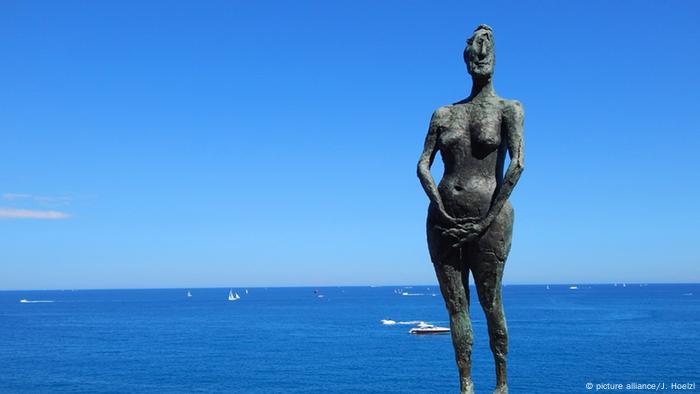 Picasso's female sculpture in the museum in Antibes in southern France.
8. How expensive is the most valuable Picasso painting?
The sales record for a painting by Picasso at a 2015 auction in New York was $ 179.4 million. The large-format oil painting "Les Femmes d´Algier" (German: The women of Algiers), which the Spanish painter painted in 1955, was auctioned at the Christies auction house.
9. How old was Picasso when he painted his last picture?
For an artist he reached an almost biblical age: at over 90 Picasso is still active as a painter and draftsman. He died on April 8, 1973 in his Villa Notre-Dame-de Vie on the Côte Azur - at the age of 91.
In the last active years of his life as a painter, Picasso increasingly devoted himself to delicate, small-format still lifes and the interior of his penultimate domicile, the "Villa Californie" in southern France.
There he lives very secluded together with his second wife Jaqueline, who largely shields him from the outside world and his other children, and their daughter Catherine. He has long since moved away from the bustling art scene in Paris and the centers of the international art world that celebrate him as the "genius of the century".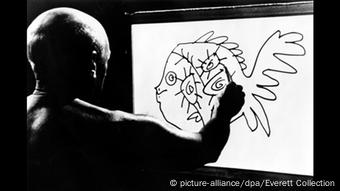 The painter in a 1955 film by Henri-Georges Clouzot.
10. What did Picasso bequeath to his heirs and posterity?
Soon after Picasso's death, a bitter legal battle breaks out between the heirs. The family situation is complicated: Picasso was officially married twice, but also had children with his other wives. His children from his relationship with Francoise Gilot, the photographer Claude Picasso and the designer Paloma Picasso, as well as the grandchildren of his legitimate son Paulo Picasso (1921-1975) bitterly argue over their share of the huge inheritance.
In 1976 the material fortune that the artist and multi-millionaire Pablo Picasso left behind is estimated at 3.75 billion francs (approx. 696 million euros). This included houses, real estate, studios, various properties and Picasso's own private art collection with valuable pictures by friends or artists he admired, such as Matisse, Miró, Modigliani, Cézanne and van Gogh.
The famous Spanish painter's own artistic estate is valued at CHF 1.275 billion. It comprises: 1885 paintings, 7089 drawings, 19,134 graphics, 3222 ceramic works, 1228 sculptures and objects, as well as 175 sketchbooks with around 7000 drawings that Picasso often made as preliminary sketches for large works.
The multi-million dollar inheritance tax to the French state is partly paid in art by the heirs. These paintings, drawings and sculptures became the foundation of the Picasso Museum in Paris, which opened in 1985 - and is still a crowd puller for tourists from all over the world. (http://www.museepicassoparis.fr/)
(Sources: Munzinger Archive / dpa)