Moving to Dubai is a good idea
Living in Dubai: between bliss and madness
Last updated on November 4, 2020 at 6:19 am
In July 2019, Patricia (30) swapped her everyday life in Bremen with a life in Dubai, the largest city in the United Arab Emirates. What makes emigrating to the desert metropolis so attractive? And what is life like as a woman in Dubai? In this experience report, the German tells of luxury and heat, of progress and social inequality - and of "dubai-crazy" expats.
---
Living in Dubai: emigrant Patricia tells the story
When my husband asked me in the summer of 2018 if I could imagine a life in Dubai, I was surprised by myself: I immediately liked the idea, although I was never tempted to emigrate. I had never been to Dubai either and had little idea of ​​the United Arab Emirates. However, my husband had already traveled to Dubai several times for business and pleasure and showed me photos. One thing in particular stuck in my mind: a photo of the Burj Khalifa, the tallest building in the world. It looked like LEGO City.
My husband got an attractive job offer from a logistics company in Dubai. There was a reason why I was immediately open to moving: I worked in a day nursery and I had had very stressful months that had drained me. It was all the more appealing to take a professional break in a place where other people go on vacation.
To emigrate or not? Expat life has its charm
My husband's company made our decision easier. I was open-minded, but naive I would not have thrown myself into the adventure. His employer attracted us with so many unbeatable offers that I gradually ran out of concerns. Among other things, the company took over the costs of the move and made a decent sum available for furnishing the home. She also pays our rent. So we didn't take any chances and knew we could put money aside. That gave us security, after all, my salary in Dubai would be lost for an indefinite period of time.
In October 2018, the company invited us to a four-day "look and see trip". We slept in a fancy hotel and went to see the Burj Khalifa and other sights in Dubai. I was excited like a child. How artificial the city looks, I thought and was impressed at the same time: It's amazing what you built on sand here, how many green spaces you have created in the middle of the desert.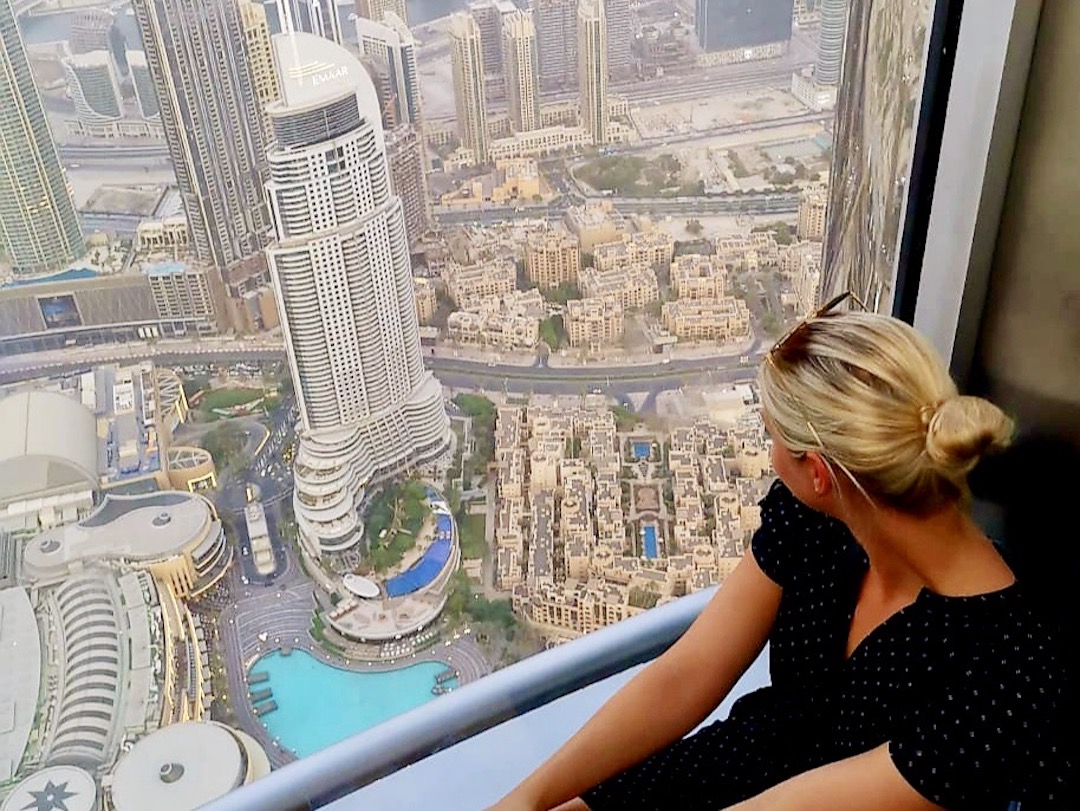 Patricia looks down on Dubai from the observation deck of the Burj Khalifa. It was opened in January 2010 and, at 828 meters, is still the tallest building in the world (all photos in this post © stadt-land-meer.com)
When we weren't busy sightseeing, I looked around the supermarkets and compared prices: fruit, vegetables, rice and couscous - everything that comes from the region - is cheap, meat and branded products cost more than in Germany. The temperature outside was 34 degrees - pleasant temperatures for the residents of the Emirates. "Oha", I thought, "Then I can imagine what life in Dubai looks like in summer."
Summer in the UAE: unbearable heat
Today I know: No, you can't really imagine if you've never experienced this heat. My better half moved to Dubai in February 2019 and took care of the apartment. I moved there in July, right after our wedding, which we had planned for a long time and were still celebrating in Germany. After landing, I ran into a wall of hot air. 45 degrees. I could hardly breathe. It has never been nicer to get into an air-conditioned taxi.
Our apartment is located in an apartment tower in the Dubai Marina. When I first walked into the building, I felt like I was in the lobby of a five-star hotel. The complex has a reception, swimming pool, fitness area and playground. The skyscraper has 82 floors, we live on the 71st floor. On a clear day we can see the sea and the whole city including Burj Khalifa and Burj al Arab. We can also see the "Palm Jumeirah", the famous heaped island in the shape of a palm tree. An artificially created canal with a marina leads through the district, along whose promenade - "Dubai Marina Walk" or "The Walk" by name - you can stroll along.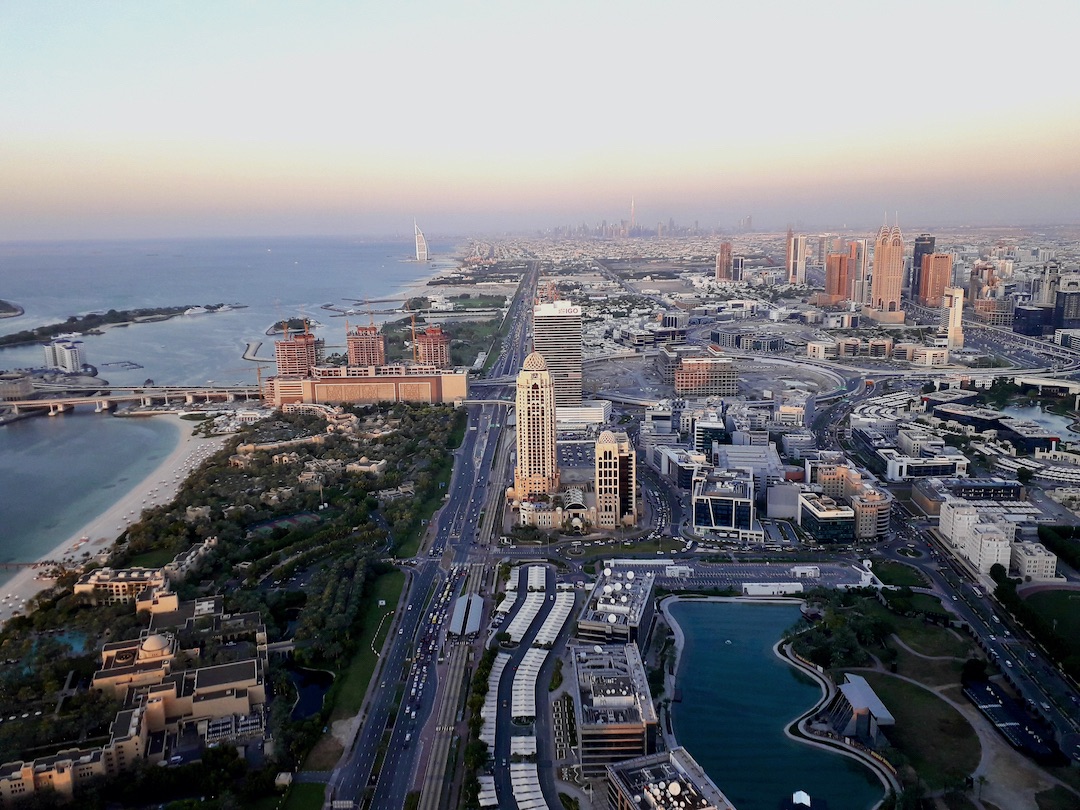 View towards downtown from Patricia's apartment in Dubai Marina. Easy to see: Burj Al Arab, further back the Burj Khalifa pokes into the sky. The view is not always that clear, sometimes too much desert sand blows through the air
We would never live so luxuriously in Germany. I am grateful for our always well-tempered apartment and the pool - not because I need luxury, but because you spend so much time in your own four walls in summer. In July and August you can't be outside for more than ten or fifteen minutes in Dubai. The clothes stick to the skin immediately and the water bottle, which you should always have with you, is empty in no time. Sidewalks are deserted and people are only outside on the way from the parking garage to a building. In the United Arab Emirates, of all places, 90 percent of the population suffer from a vitamin D deficiency, for which they have to take pills.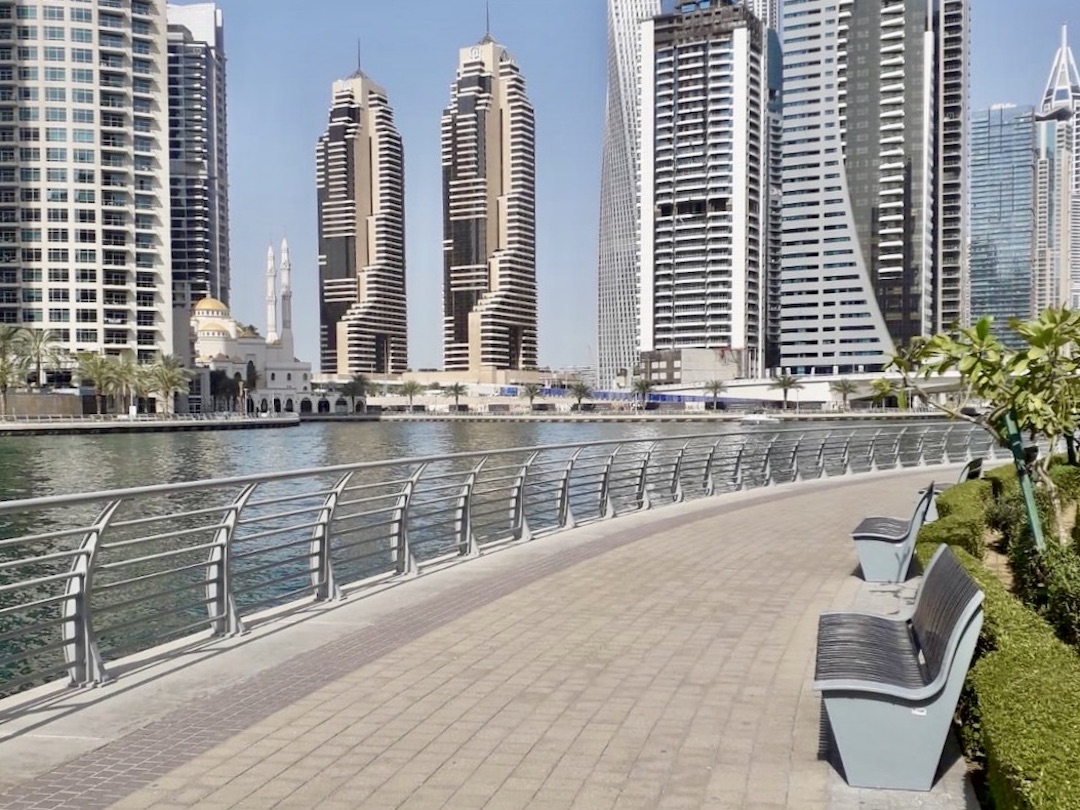 "The Walk" in the Dubai Marina. The Al-Rahim Mosque, the only one in the marina, is stuck between the skyscrapers on the left
Many are drawn to the shopping malls. Shopping malls are essential to life in Dubai and much more than just places to buy things: They are air-conditioned walking parks where you can stretch your legs or sit in a café. In the beginning we visited a few shopping centers on the weekends. You experience temperature drops from more than 40 degrees outside to 18 degrees inside. I can take the change well, but I quickly learned to always pack a jacket and a towel so I don't have to shiver anywhere.
Living in Dubai: for a stroll in the mall
The malls in Dubai are overwhelming, you get out ready to go. In the "Dubai Mall" next to the Burj Khalifa, the largest in the world, there are 1200 shops alone. It takes several days to look at everything. Right at the beginning I met a German who drove to a mall every day throughout August. She had just become a mother and just didn't know where else to push her stroller.
What crept into my mind as a hunch back then is now a certainty for me: Dubai is not an ideal place to start a family. Children cannot let off steam outside here. As a trained educator, this struck me early on. Meanwhile, the list of things that I struggle with in Dubai has grown a little longer. But also those with the advantages.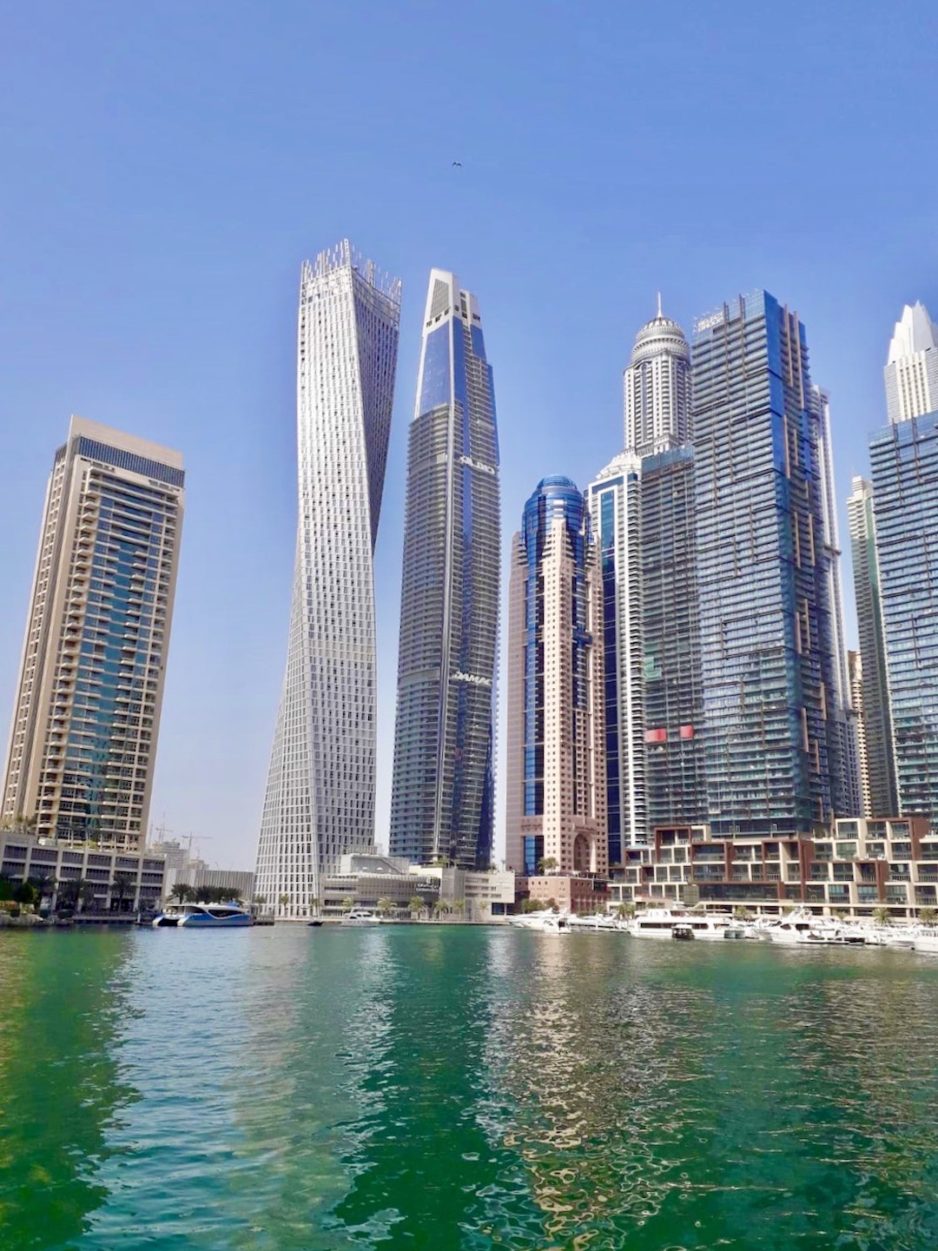 Many expats live in one of the skyscrapers in Dubai Marina - including Patricia and her husband
My husband works a lot and likes to work. He has a nice, international team and was generally better received than me. It took me time to get used to the fact that I no longer have a job or an income of my own. It was difficult for me to quit the daycare center. Even though it was stressful there, I really liked my colleagues and the workplace. Working as a kindergarten teacher in Dubai is not easy. This job is even less recognized here than in Germany. Most of the institutions are also international and in order to be able to do good pedagogical work there, my English would have to be better. At the moment I cannot imagine working here in my job. I don't rule it out though.
Patricia's blog about life in Dubai: experience report and forum

I am currently investing a lot of time in my blog stadt-land-meer.com, on which I tell about my life in Dubai. Above all, I would like to offer a forum for people who also want to emigrate to Dubai and are looking for information. I myself would have liked to have seen a lot more insight into the situation - I googled without end! I write about the cost of daily living, looking for a place to live or how to apply for residence permit and Emirates ID. I also give tips for things to do in Dubai and elsewhere in the United Arab Emirates.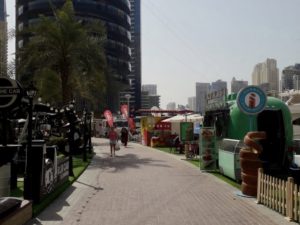 There is also street food near Patricia's apartment. In the summer months, however, the food court is closed due to the heat - like so many outdoor facilities in Dubai
By not working, I gained impressions of living together in Dubai that I might otherwise have missed. In Bremen I was always chatting with the neighbors or with the shop assistants at the bakery. Things are very anonymous in Dubai. A little chat now and then - that would be nice. I miss that here.
I am very sensitive to my environment. I have never faced social inequality like this before. There are those who are better off because of their well-paid jobs and also exude that and those who do the dirty work that nobody else wants to do. In Dubai, every fourth building feels like a construction site. Every day I see migrant workers there from poorer countries who toil in the oppressive heat - for more than eight hours a day and more than five days a week. They spend their lunch break in parking garages, under bridges or in the middle of roundabouts, always looking for a bit of shade. My heart is bleeding.
Expats in the desert city: a lot of money, little respect
In stark contrast to this, I experience the high-earning expats, many of whom have become accustomed to totally arrogant behavior. It shakes me when I witness gestures and conversations in the supermarket or restaurant that show that someone has money but no respect. "Dubaiversaut" is what I quietly call such people and I sincerely hope never to become like that myself. I can also see that in our house: there are many caretakers who are treated like air by the tenants. It doesn't hurt to say "hello" or "thank you".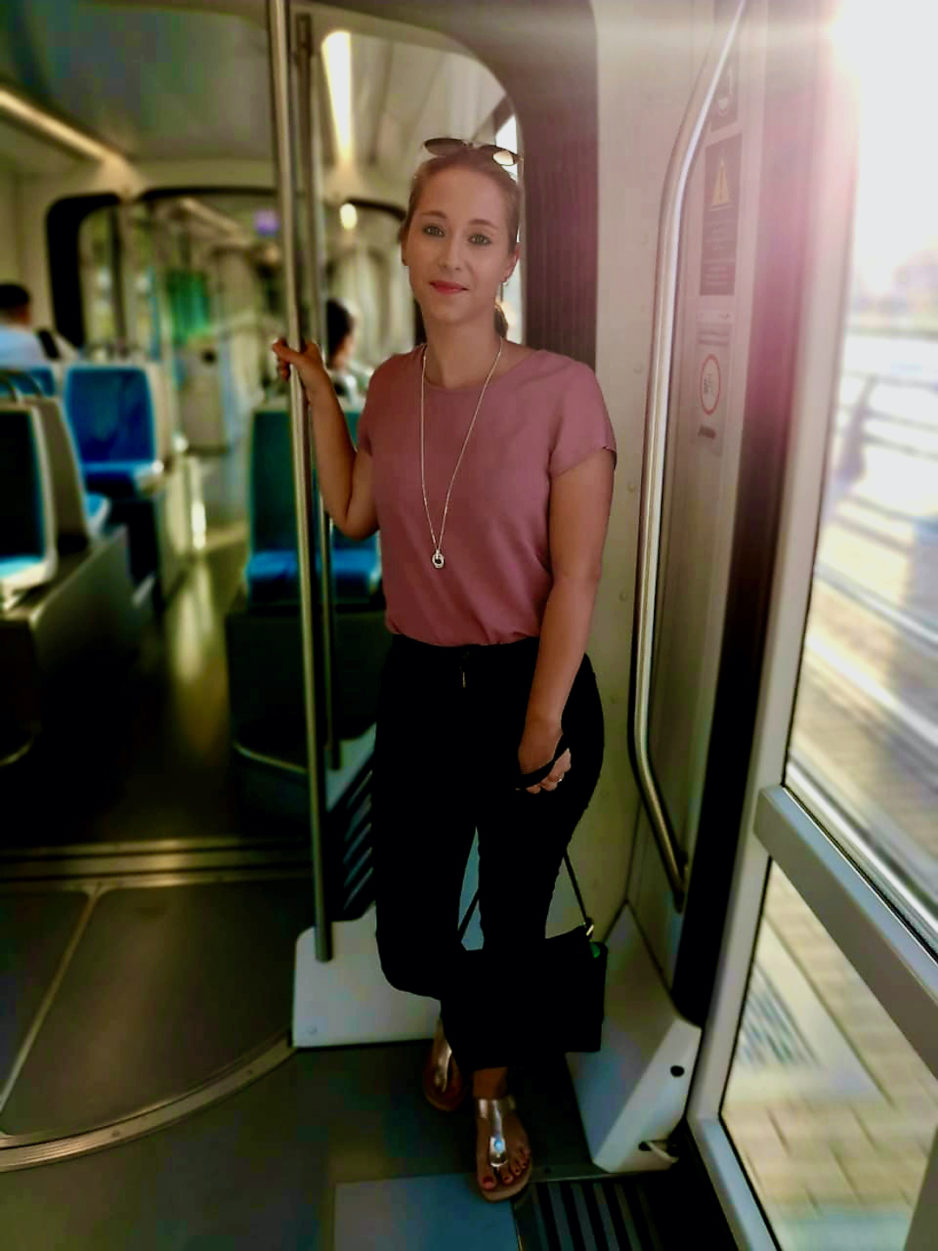 Patricia on the Dubai Tram. The tram was inaugurated at the end of 2014 and connects the Al Sufouh district with the huge Jumeirah Beach Residence complex. The train is self-propelled and also has wagons specially designed for women and children
I also find it takes getting used to the fact that everything is packed up in the supermarket - in a number of plastic bags, of course, if you don't say anything. The city is clean, but if you drive to another emirate, for example to Abu Dhabi, you will see plastic waste lying in the desert. Environmental and climate protection are disregarded here in countless ways and everyone knows examples: the indoor ski hall "Ski Dubai", which is cooled down to minus two degrees, for example. Or the air conditioning systems everywhere - even outside the air is cooled with spray mist. Or the vast amounts of water it takes for the pools and green spaces.
Living in Dubai: So it is as a woman
But more often I am confronted with the question of what life is like as a woman in Dubai. "Do you have to veil yourself now?" I have heard many times. No I do not have to. In the United Arab Emirates, Islam is the state religion. It is certainly advisable to cover your shoulders and knees. However, the residents themselves do not always take this very seriously and that is also tolerated.
I don't experience any restrictions in my everyday life. But there are moments when I feel invisible as a woman. If my husband and I are out together, then often only he is addressed. Even if it is difficult for me to accept at the moment, I keep telling myself that this should not be understood as a sign of misogyny. For many Emiratis, keeping your distance from a stranger of the opposite sex is rather a question of respect.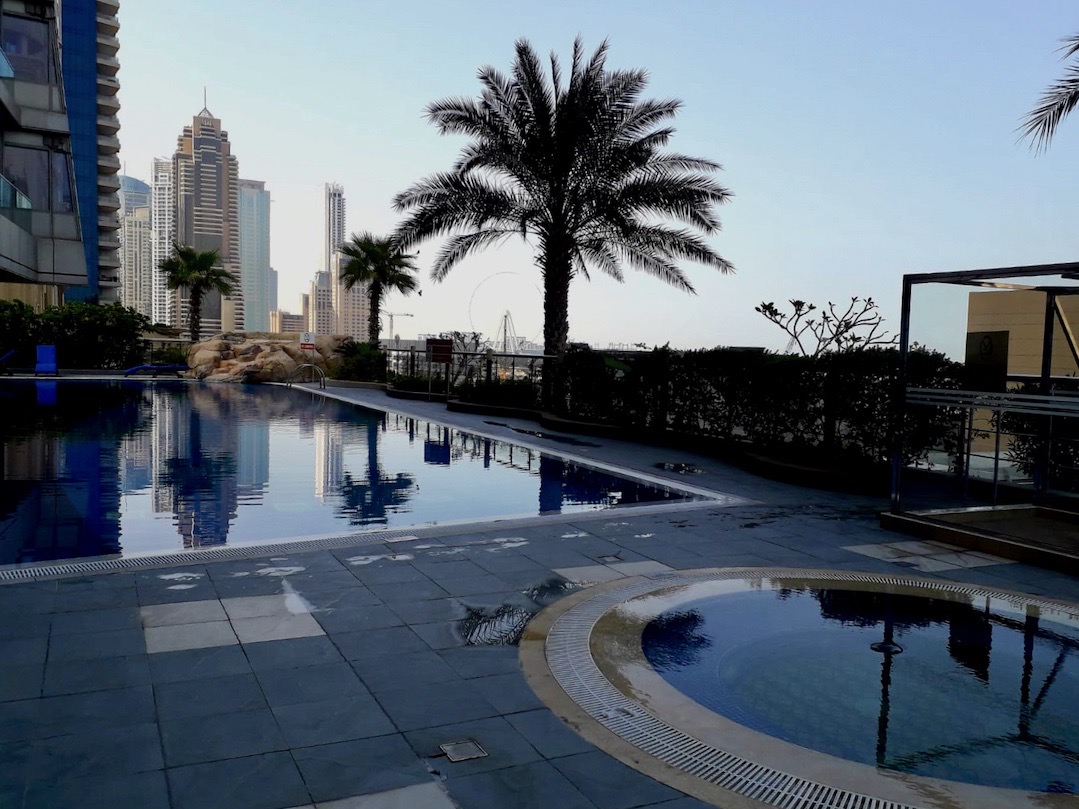 The swimming pool that belongs to Patricia's house. The emigrated German appreciates him. If you look closely, you will see the almost completed "Ain Dubai", also known as the "Dubai Eye" - the tallest Ferris wheel in the world. Its opening is planned for the Expo on October 20, 2020
The longer I live here, the more retreats I find in this noisy, huge city with its exuberant charms. I am getting better and better at enjoying my life in Dubai.
I think it's great to have multiple beaches on my doorstep. At least half of the year I can spend a lot of time by the sea. I use the pool and the gym in our house, knowing full well that I will never have both under the same roof in Germany. In the evening, when the temperatures are bearable, I like to walk "The Walk" with its cafes, restaurants and benches. That too often feels like a vacation. Dubai also has an incredibly wide range of culinary options. The city is a melting pot of cultures and so there are restaurants with specialties from all over the world that can easily be delivered to your home. My husband and I make good use of it and love to try something new more often.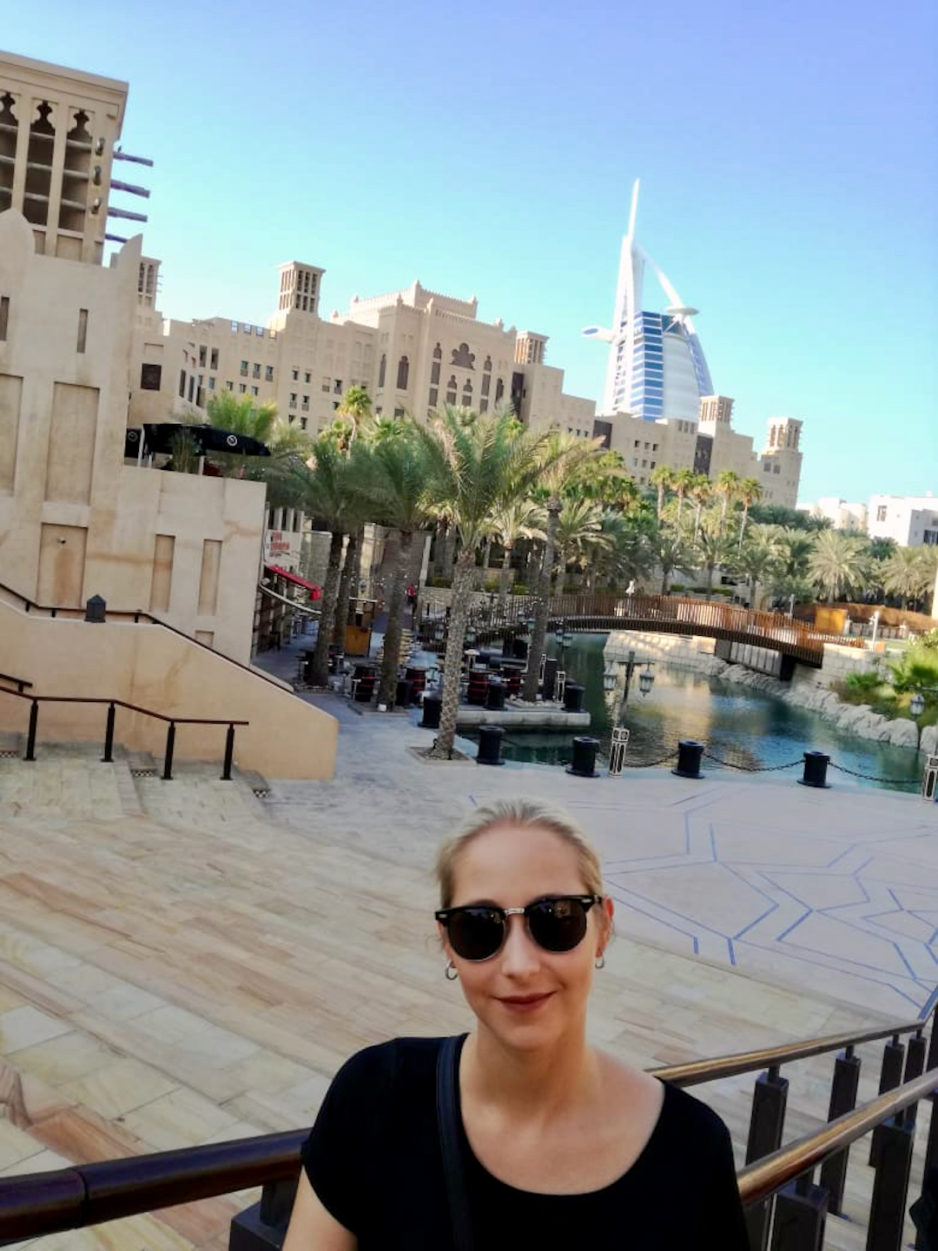 The Souk Madinat Jumeirah is Patricia's favorite place in Dubai. The complex is modeled on a traditional Arab souk and is part of a huge hotel complex. Behind it rises the luxury hotel Burj Al Arab
Progressive Dubai: Welcome to "Smart City"!
My favorite place is the souk at Madinat Jumeirah. It is modeled on a traditional Arab market and is part of a huge hotel complex near the Burj Al Arab. I also visited the real old souks in the old town of Dubai. But they are too strenuous for me. You can't look at anything in peace, you're constantly chatting from left and right. Even if it's only artificial: In the Souk Madinat Jumeirah, I tend to get into a thousand and one nights mood.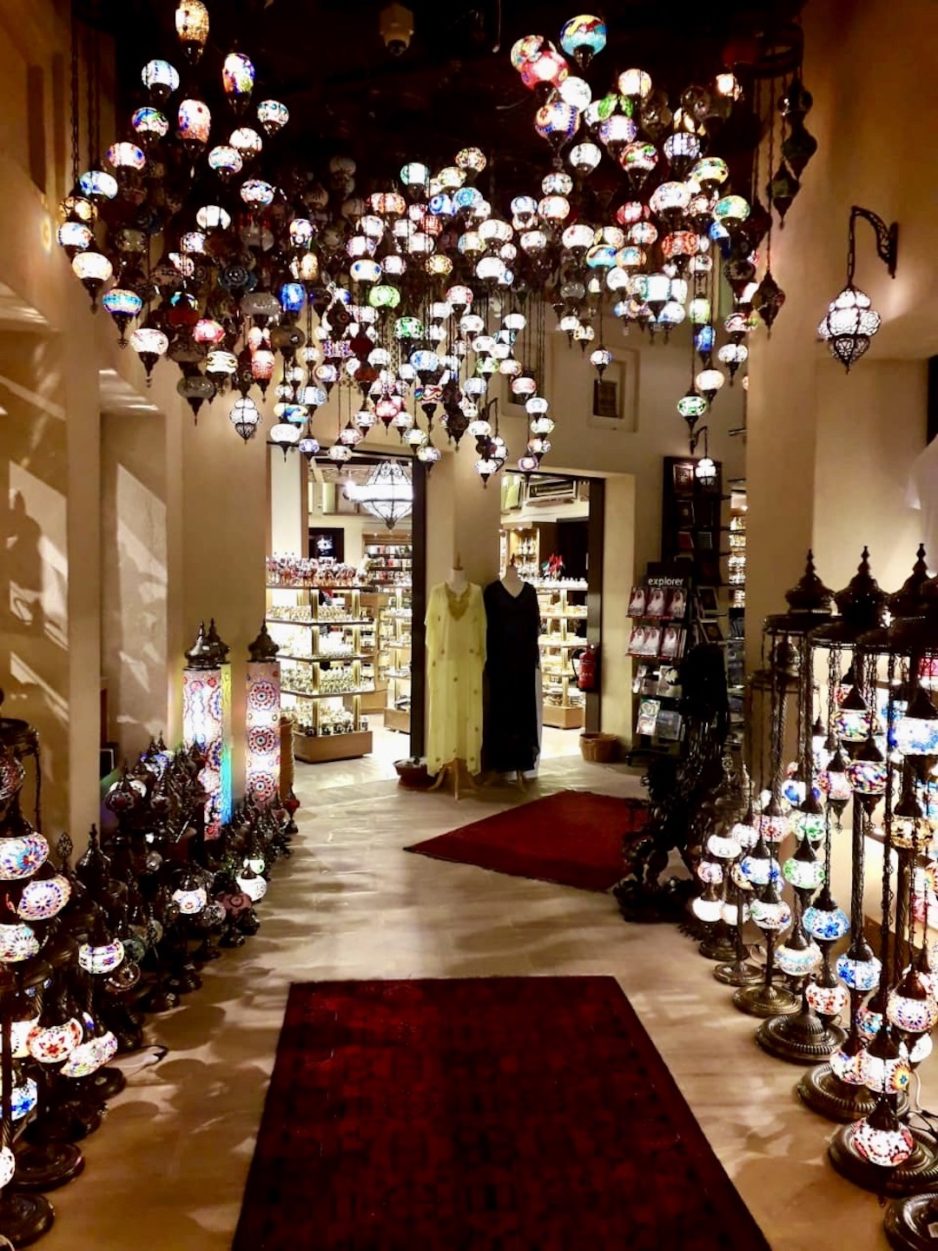 Shop in Souk Madinat Jumeirah
What also fascinates me about life in Dubai is the progressiveness. Dubai is a "SmartCity". Those who live here hardly ever get bills or other postings on paper, but do everything with their smartphone. I've never had so many apps on my phone. There is an app for everything, for electricity and water billing, for visits to the doctor, for vouchers from restaurants. Even car accidents - provided there is no personal injury - are reported via smartphone. You simply set the process, upload photos for the insurance company, and you're done.
I can't say how long we'll stay here. My husband likes it a lot, but he also understands my doubts.We talk about everything, we have resolved not to eat anything into us. If it is possible again after the corona pandemic, we definitely want to see more of the United Arab Emirates and travel to other countries in the area. Dubai is a great hub for that. And yet: I miss nature! I miss the seasons and the chirping of birds and the smell of wet leaves. Above all, I find it difficult to imagine a life with children in Dubai. However we ultimately decide: I am grateful for the experience I gain in Dubai.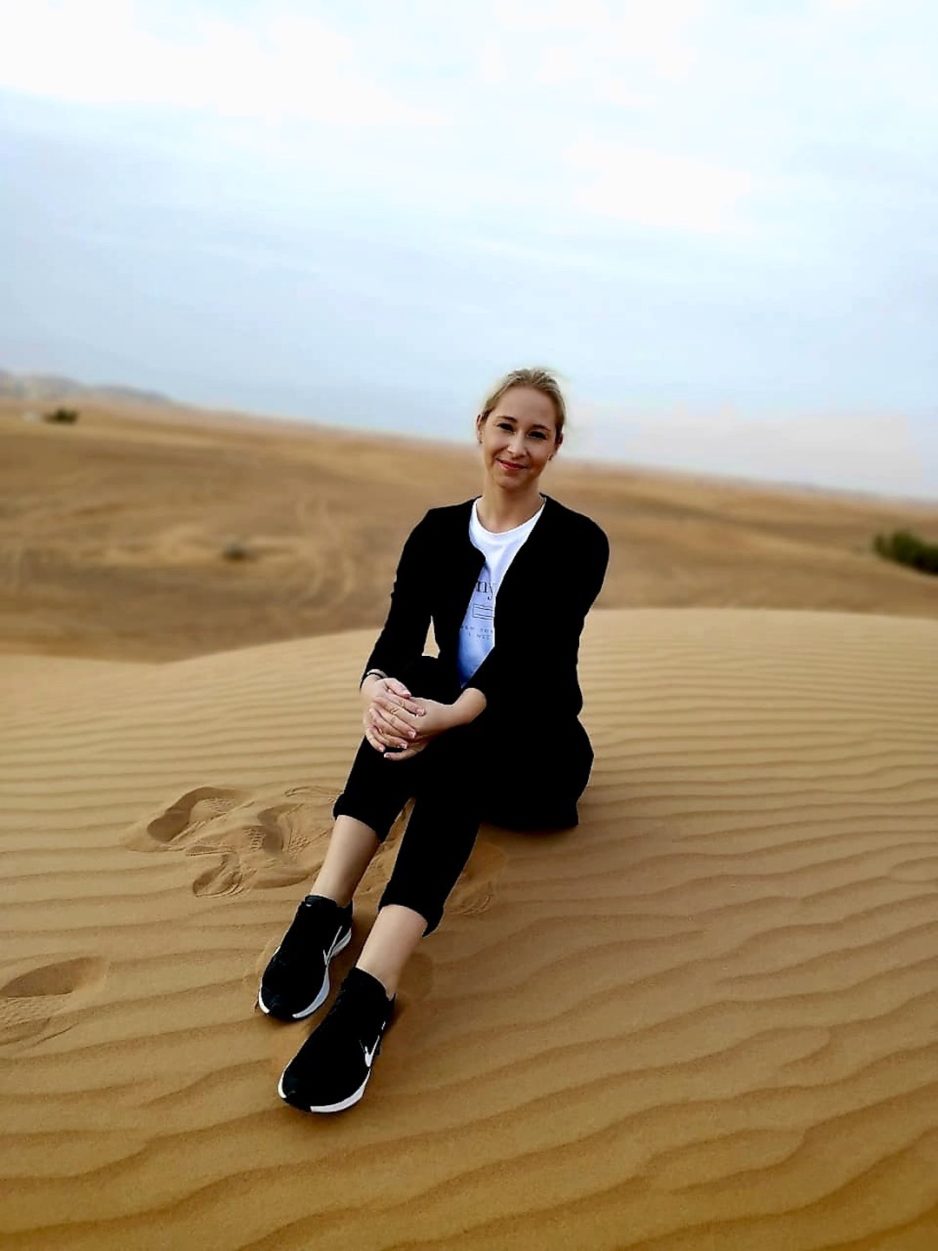 In the desert in the neighboring emirate of Abu Dhabi. Patricia strongly recommends a desert safari to travelers in the United Arab Emirates, preferably at sunrise or sunset
***
---
Living in Dubai: information about emigrating at a glance
With more than 3.1 million inhabitants, Dubai is the largest city in the United Arab Emirates. Thousands of migrant workers move to the UAE every year, making it difficult to determine the exact number of inhabitants. Almost 90 percent of the residents come from abroad. With the bulk of migrant workers across the Federation being male, the UAE has an extreme male surplus.
Naturalizations are rare, but foreigners: Inside Dubai and the UAE, you can apply for unlimited residence permits for yourself and your families. The visa is only valid in connection with permanent accommodation. If you lose your job, you have a month to find a new job, otherwise you will be deported.
Unless you enter as an investor, you have to be invited by a private company to be able to work in Dubai. Interested parties can also contact an employment agency to find a job in Dubai. Job exchanges are also listed here. The cost of the work visa for Dubai is 200 dirhams (approx. 50 euros) per year.
Well-trained specialists and academics who work in Dubai often receive a handsome salary. Emigrating is also attractive because the UAE does not levy any income tax.
According to auswandern-info.com, 1,048 Germans officially moved to the UAE in 2018 alone. How many Germans live in Dubai is difficult to say. Even that is not meaningful, but on Facebook there are several groups for Germans in Dubai, this one alone currently has more than 6300 members.
---
Did you like this post? I am happy if you share it! If you would like to be informed about new articles, please follow me via RSS or register for a subscription by email here on the page.
---
Coffee cup
Since 2015 I have been putting my heart and soul into this site, which is ad-free - and should remain. If you like my posts and would like to support me in running the blog, I would be very happy about a virtual coffee. Just click here, you will come to PayPal. Thank-you!