Is Archie Harrison Abbreviation for Archibald Harrison
Baby Sussex: Everything We Know About Baby Archie
Baby Sussex is here! Everything about the baby of Prince Harry and Duchess Meghan, born on May 6, 2019 at 05:26 in the morning.
Since Meghan and Harry's wedding in May 2018, royal offspring have been eagerly awaited. Baby Sussex is here!
The name of Baby Sussex
Meghan and Harry's baby is called: ARCHIE HARRISON MOUNTBATTEN-WINDSOR.
What does the name Archie Harrison mean?
Archie means "true and courageous". It's a variant of the name Archibald, although Harry and Meghan didn't comment on whether Archie is just an abbreviation for Archibald. Harrison however, is an appropriate tribute to the baby's father. It literally means "son of Harry".
Baby Sussex is here!
Update from 6.5.2019: Baby Sussex is here!Meghan and Harry's baby was born at 5:26 a.m. UK time. Prince Harry thanked everyone for their support during Meghan's pregnancy and stressed that they are both "absolutely thrilled" about the birth of the Royal Baby. The official statement on the birth of Meghan and Harry's baby can be found on Meghan and Harry's Instagram account.
When is the due date for Meghan and Harry's baby?
Update from 6.5.2019, early afternoon: BBC broadcasts Breaking News: Duchess Meghan has gone into labor! Translated means: Meghan has been in labor since the early hours of the morning (and we are all somehow live).
Update from April 28th, 2019: Baby Sussex could see the light of day at any moment. Harry no longer keeps appointments, ambulances have been spotted outside Frogmore Cottage and Duchess Meghan's mother, Doria Ragland, is already there.
There is still some ambiguity about the exact due date for Meghans and Harry's baby. When Kensington Palace officially announced the pregnancy of Duchess Meghan on October 15, it was spoken of a due date "in spring 2019".
When making the announcement, Royal experts assumed that at this point the critical first 12 weeks of pregnancy were just over. Then they calculated a date for the middle / end of April.
But then there was an event that called that date into question. Is Meghan's baby coming a lot earlier than expected after all?
That speaks for it:
Around Christmas time, Karen Anvil, a die-hard supporter of the Royal Couple, reported on a brief conversation between her and Duchess Meghan during the Christmas celebrations at Sandrigham Castle. There, Meghan told her in person that it would "not be long".
Meghan's baby: will it be a boy or a girl?
Update: It's a boy - Harry and Meghan have had a little boy.
Of course, a royal couple like Meghan and Harry also want their baby to be born healthy in the first place. The gender of Meghan and Harry's baby is not currently known to the public, and allegedly even to Meghan and Harry. Meghan seems to want "a surprise" and does not want to know the baby gender beforehand - can we believe that?
Prince Harry, on the other hand, seems to want a girl, at least if one likes to give weight to a statement on the sidelines of a bike race in Australia. There a spectator shouted "Congratulations on the baby, I hope it's a girl" to the passing prince, and Harry is said to have replied "I hope so too!"
Where will Meghan and Harry's baby be born?
Update from 8 May 2019: Meghan prepared for a home birth, but baby Archie was born in the hospital after all, in a private, classy place The Portland Hospitalwhich, by the way, belongs to an American company.
Update from April 28th, 2019:As it appears, Meghan actually opted for a home birth in her newly occupied Frogmore Cottage in Windsor.
All three children of Duchess Kate and Prince William were born in the Lindo Wing of St. Mary's Hospital in London. Whether Meghan will choose the same hospital for the birth of her first child is still in the stars. At first it was said: no way, Duchess Meghan's baby will not be born in St. Mary's. Some media, however, speak of Frimley Park Hospital in Surrey, while other sources say Meghan will have a home birth in her new home, Frogmore Cottage.
Recently, the chances that the birth will take place in St. Mary's Hospital have become extremely good again: Allegedly, there is a holiday ban for the hospital staff in April, which could indicate that Meghan could give birth there.
We can already be excited to see which souvenirs there will soon be from the Royal Birth
Does Duchess Meghan break royal protocol at birth?
Meghan is a challenge for many traditionalists and with her self-confident personality causes gasping in not a few royalists. It was also a huge issue when it was recently announced that Meghan not only relies on a classic midwife, but a "doula" for her pregnancy.
What is a doula? The doula has been a popular support for pregnant women in the United States since the 1970s. The name "Doula" comes from the Greek and stood for "woman servant" in ancient times. Today, a doula makes sure that the pregnant woman is well, helps her deal with stress and anxiety, and uses her to practice relaxation techniques for childbirth.
Who will be the doula when Meghan's baby is born? There are also rumors that are growing more and more. Lauren Mishcon is likely to be Meghan's doula, who advised Princess Diana during her split from Prince Charles.
What will Meghan and Harry's baby be called?
Update from 8 May 2019: Baby Sussex is called Archie! And with full name: ARCHIE HARRISON MOUNTBATTEN-WINDSOR.
There is also much speculation about the name of Harry and Meghan's baby. Of course, the court protocol stipulates that the name should only be revealed within the royal family before it is publicly announced.
The following names are currently the favorites among British bookmakers: Albert, Arthur and Philipp if the baby is going to be a boy and Alice, Victoria and Diana if the baby is going to be a girl.
Prince Charles was in a chatty mood at a ceremony at Australia House and told of the many suggestions for names that Harry and Meghan received during their trip to Australia in October 2018. Of course, Charles also had a snappy saying on the lips: "I suppose that Kylie and Shane make it into the shortlist."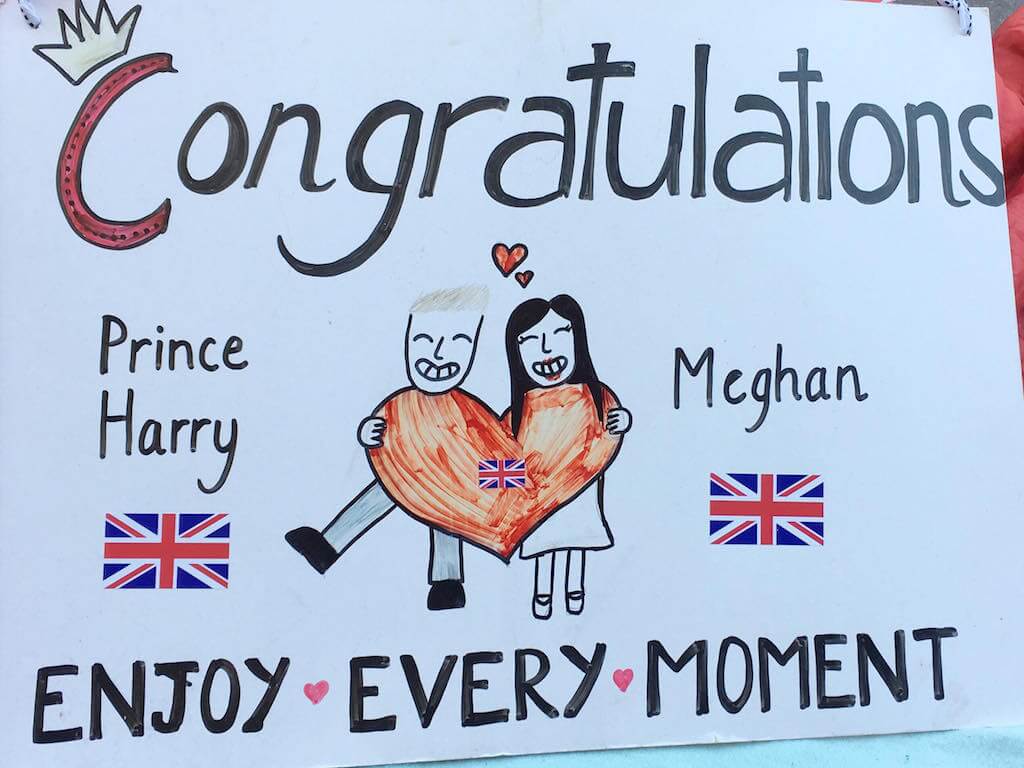 There will also be fan posters like this for the birth of Meghan and Harry's baby
What title will Harry and Meghan's baby have?
A shocking report recently hit the media: Meghan and Harry's baby won't be a prince or a princess? Is that because of the American nationality of Duchess Meghan? After all, the children of Duchess Kate and Prince William carry the titles Prince and Princess. Is the Queen resentful?
Not at all. Meghan and Harry's baby will be given the title of Lady or Earl, without any scandal, just like any other royal baby, if they are not directly descended from an heir to the throne. Since Prince Harry is not a direct heir to the throne or is in direct succession to the throne, his children will not have the title of prince or princess.
The Queen alone would be able to act contrary to the protocol and give the scion of Meghan and Harry the title of prince or princess. However, this is considered extremely unlikely.
Where in the line of succession is Harry & Meghan's baby?
Harry and Meghan's baby ranks seventh in line to the throne, after Prince Charles, Prince William, Prince George, Princess Charlotte, Prince Louis and Prince Harry.
Who will be the godparents for Meghan & Harry's baby?
It is rumored that attorney Amal Clooney and her husband, actor George Clooney, will be the godparents of Harry and Meghan's baby. Both couples are close friends and the Clooneys were also at Harry and Meghan's wedding in Windsor. The royal baby will have several godparents, as is tradition with the British royals.
Meghan & Harry baby the craziest rumors
As always with the Royals, there are also many rumors and half-truths about the pregnancy of Duchess Meghan. Some are extremely bizarre, others could well correspond to reality:
Duchess Meghan is not pregnant at all and the baby bump is a dummy (because she always has her hands on her stomach)
Meghan's mother Doria Ragland is said to be completing "nanny" courses in Los Angeles
The Royal Baby becomes the first baby in the English royal family to be an American citizen
….