What is the NCRB in India
India: Online Hate Against Women
Women - especially journalists and politicians - who express themselves publicly are not welcome everywhere. Manira Chaudhary also had to experience this. She has been working as a journalist for six years and has been a correspondent for Deutsche Welle at Studio Delhi for a year. Their posts are easy to find on the net via their Twitter account. But as a woman who takes a public position on political issues, she also harbors a lot of hatred, as she reports.
She is not alone in that: According to a study by the International Women's Media Foundation, 70 percent of the journalists surveyed said they had experienced hatred or threats online. Around a third of the women thought about changing their jobs.
Deutsche Welle: What is your experience of being insulted on the Internet?
Manira Chaudhary: People who disagreed with my reports kept harassing me online. It is even easier for me than many other journalists who are insulted online every day. Many receive death threats and explicit rape threats just for speaking out. And the attacks are not just limited to the online world. There are also women journalists who have been physically assaulted and sexually harassed during their work.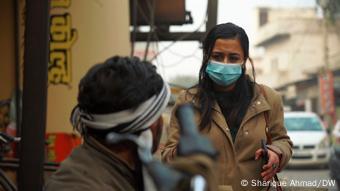 DW correspondent Manira Chaudhary at work
Do you feel restricted in your freedom of expression due to the expressions of hate on the internet?
I used to actually censor my thoughts and opinions out of fear of being threatened online. Other female journalists do the same. Yes, I think when women journalists are intimidated online, it is an attack on freedom of expression. Law enforcement agencies should be made aware and empowered to identify these threats and take action. In addition, the editorial offices should be responsible for ensuring that journalists can carry out their work safely while on the move.
What precautions do you take when doing your job?
Whenever I travel as a journalist, I am reminded again and again that I am a woman. For example, when I report from remote areas, I have to make sure that I only stay in safe places and that I am safe when I'm out and about. I often have a can of pepper spray with me. And I constantly share my current location on my smartphone so that my friends know where I am.
Violence against women - what is the situation like in India?
Violence is something that women in all countries, cultures and ages experience differently throughout their lives. However, India is considered to be one of the most dangerous countries in the world for women. Incidents of sexual violence, from harassment to rape, are reported every day. According to the Indian National Crime Records Bureau (NCRB), crime against women rose 7.3 percent from 2018 to 2019. An average of 87 rape cases are reported daily. And there is ample evidence that many such assaults, whether sexual or physical, involve men who are known to women or who are related to them. Such crimes are usually attributed to society's patriarchal attitudes.
The interview was conducted by Jochen Lohmann.