What's the Best Free Email Designer
Email template creation tools all seem somehow similar? Unsure of which to choose to create the best email templates? Sure, there are quite a few of them after all.
We will examine many of them for their distinguishing features. I will try to create the same template in each of the editors using the same media files. Let's see if the creation tools differ. We selected Stripo.email and its competitors for the investigation: BEE Free, CampaignMonitor, EDM Designer, GetResponse, Mailchimp, MailStyler2, Mosaico, Topol.io, Unlayer.
Some companies already have their preferred tools. But if you don't have one yet, or if you are a start-up just looking to familiarize yourself with the variety of tools to choose the best one, you may have to try a few of them.
That's why today we're going to be reviewing the best free email template creation tools.
Note: We will only evaluate the options and features available with the free subscription.
1. Stripo.email
Stripo.email is probably the best tool of its kind, a next generation editor. It is a stand-alone product that is built into some ESPs. The blog has many articles explaining how to create effective sales templates, including interactive elements, and some articles are about marketing trends.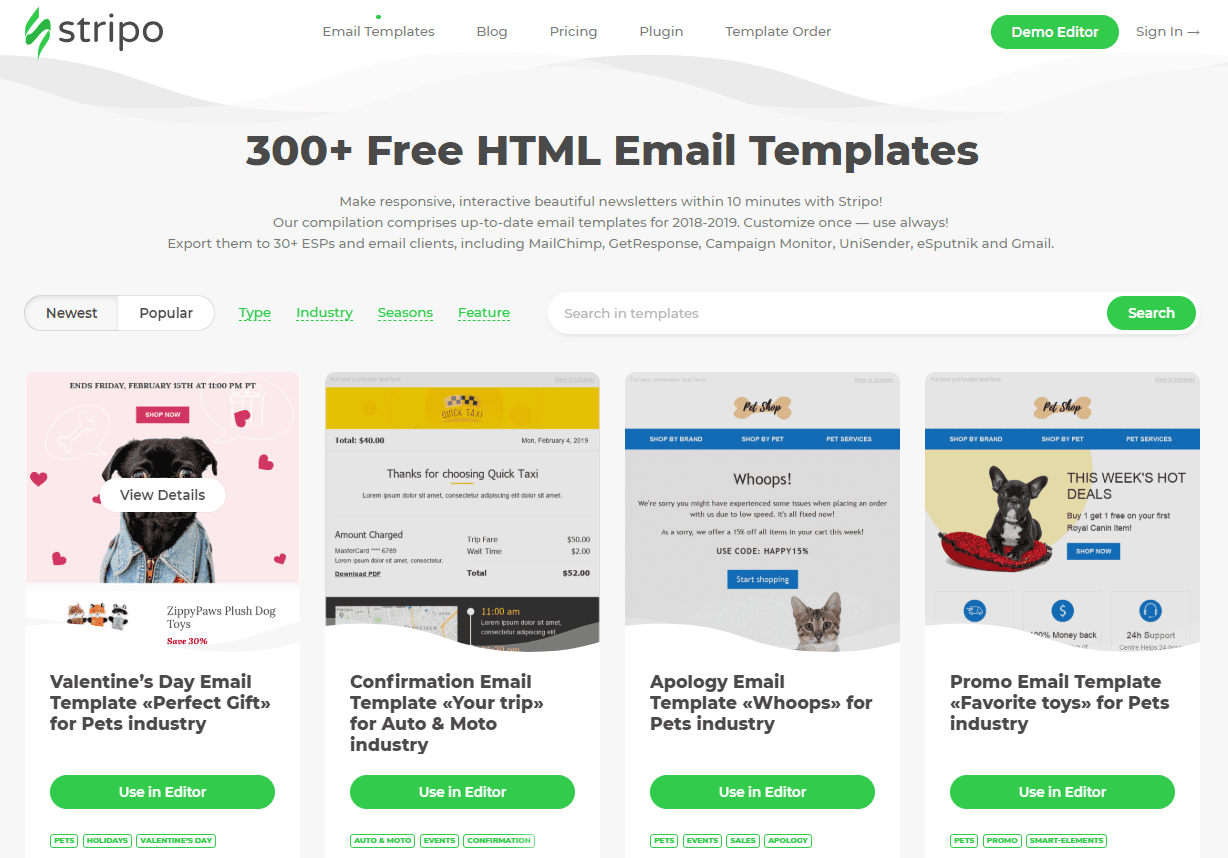 It offers over 200 pre-made templates and over 10,000 images are available. Stripo is a drag and drop and HTML creation tool for email templates. You can use both versions at the same time - design the visual elements, insert images and videos in the drag and drop editor and insert interactive elements by changing the HTML code of your pre-made email.
Stripo.email not only helps to create templates that are responsive, it also allows you to choose which elements to display on mobile phones and which to hide. That makes Stripo.email one of the best HTML email creation tools out there.
Export: The export of up to 4 e-mail templates per month to the currently most popular ESPs and even e-mail clients is free of charge.
I could mention many exclusive features that the Stripo editor has, but I have to limit myself to a few top features. So I choose the following ...
Special features of the creation tool: Smart Elements to reduce the time it takes to create product cards. And the personal library - you can save separate building blocks for reuse in later newsletters. Write text on banners without using Photoshop or any other image editing tool.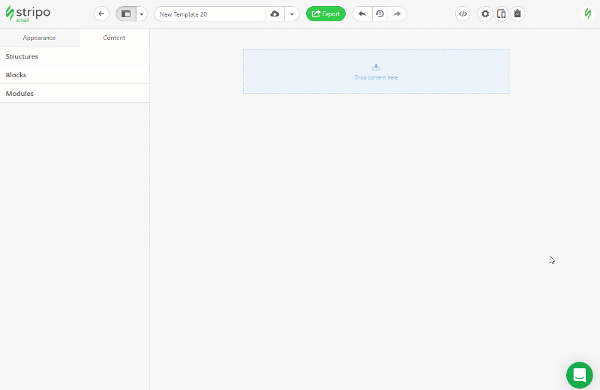 Its disadvantage: still looking for one?
Note: We have listed the competitors in alphabetical order.
2. BEE Free
BEE Free is an online drag and drop editor that allows you to create templates for your newsletters that are responsive. It is a product of the MailUp Group and is embedded in some SaaS applications. The blog offers inspiration and new design ideas.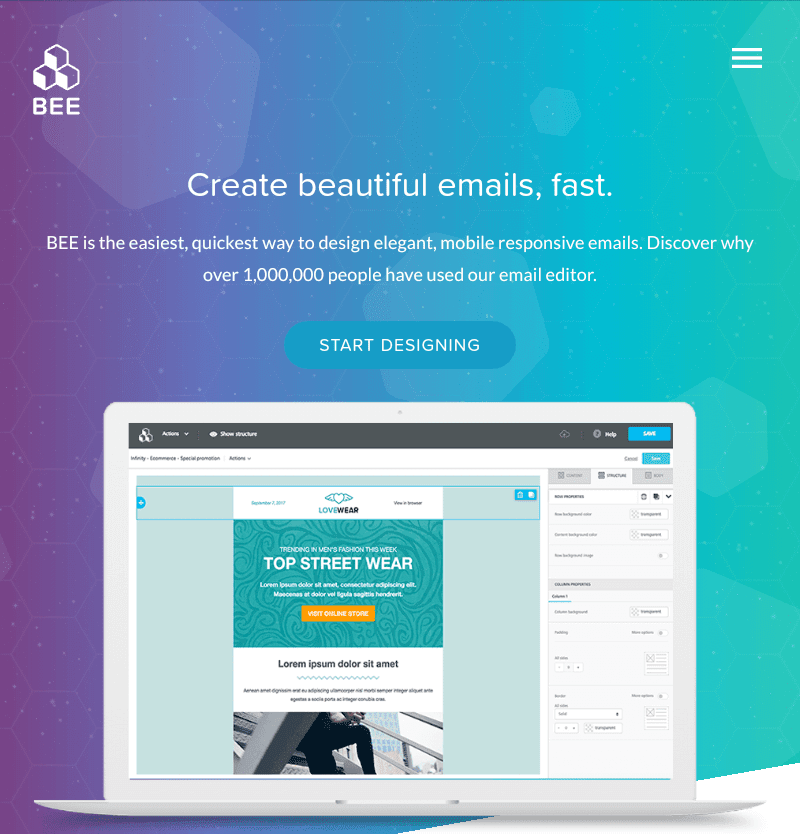 There are over 50 pre-made templates available.
Export: The free subscription allows you to send a test email to any email address you need or to download your template as HTML with images. No direct export to an ESP is currently offered.
Special feature of the creation tool: Whenever you return to BEE Free, it will be suggested that you start where you left off. That's pretty handy.
Its disadvantage: It won't work on cell phones and tablets even if you just want to make small text changes.
3. CampaignMonitor
At first I just wanted to examine and compare independent editors. But in fact, it wouldn't be fair to exclude embedded editors that are part of an ESP. So I decided to write a few paragraphs about built-in editors.
CampaignMonitor is an ESP. I haven't tried sending newsletters with it yet. But the newsletters I get from it are really great.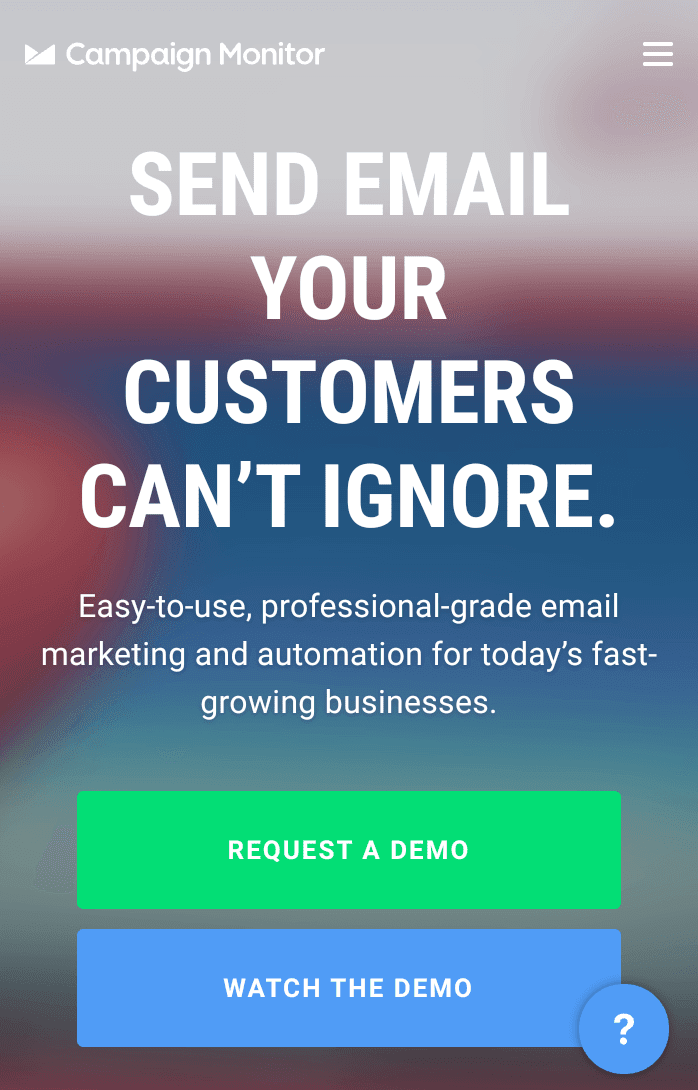 Over 50 ready-made templates are offered.
Special feature of the creation tool: its completely new function - you can create and set up mobile-friendly surveys with an unlimited number of questions within the editor.
Its disadvantage: No access to the HTML code. As a result, you cannot embed interactive elements or timers.
4. EDM designer
EDM designer is a sophisticated drag & drop editor that has been offering online services for more than 5 years. Chamaileon.io Email Designer is his new product.
Does EDM designer offer help or instructions on how to work with the editor? No, at least not on the website. But I found two videos on their YouTube channel.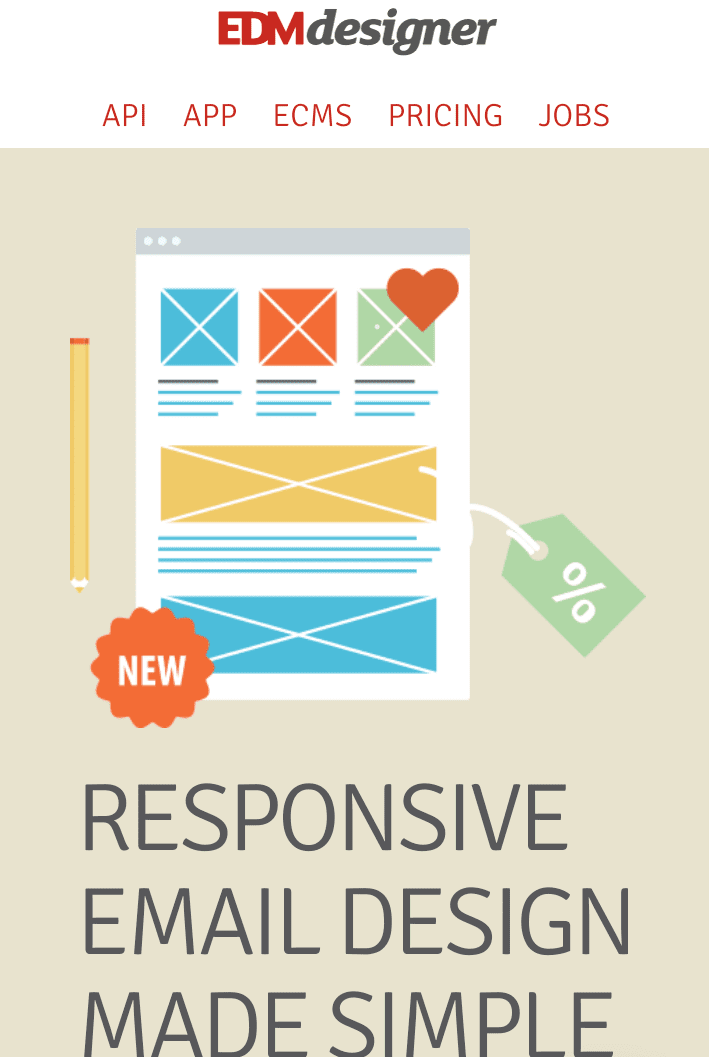 EDM designer offers 15 ready-made templates and also suggests creating a template from scratch. The currently available modules are not sufficient to create a modern template, no video module is available.
Export: You can either upgrade your subscription or pay by posting on Facebook and Twitter. I chose the second option.
There is no direct export to an ESP. To export (or download) your email as an HTML file, you must either pay $ 9 or pay with a Facebook or Twitter post.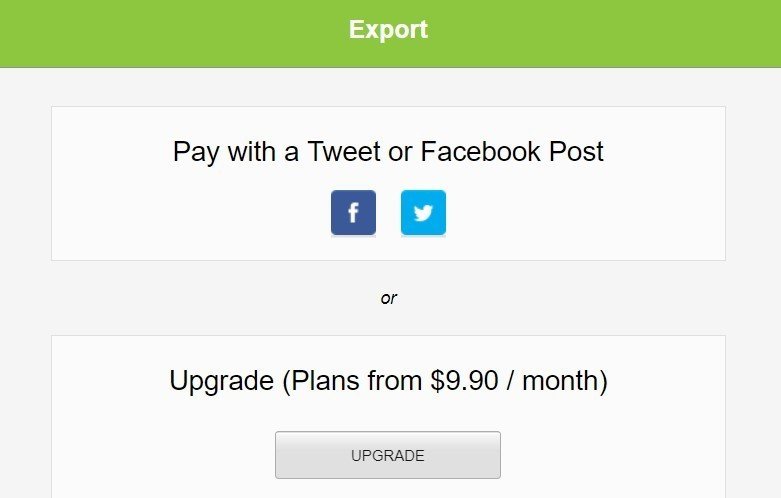 Note: the product Chamaileon offers the export to the six most common ESPs.
Special feature of the creation tool:Text and faceplates can be exchanged very easily within a structure.
Its disadvantage:You cannot adjust the button size (only two standard sizes). No free images are available, but you can keep yours in the library.
No "social" building blocks. You can upload the icons as images and add the links yourself. The tool only offers Facebook and Twitter icons.
5. GetResponse
GetResponse is a world famous ESP. It is the best tool for you if you are hosting webinars. The tool sends out an invitation, a series of reminders and provides you with statistics on the participants, who are also asked for feedback. The blog is full of articles and useful information on marketing trends.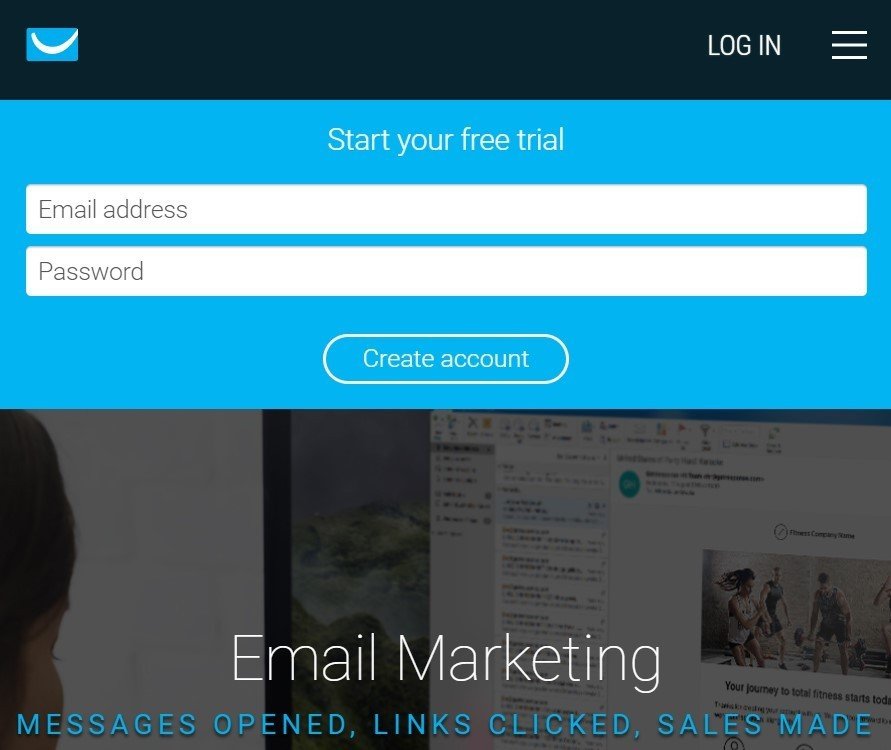 GetResponse offers over 500 pre-made templates.
Export: None. The e-mails must be sent with this e-mail service.
Special feature of the creation tool: You can make changes or even create your template from scratch in the HTML editor.
Its disadvantage: You cannot use the drag & drop editor and the HTML editor at the same time.
Videos cannot be embedded and video links cannot be added to the template.
For more information on the editor embedded in GetResponse, read our how-to article.
6. Mailchimp
Mailchimp is one of the world famous ESPs.
It is considered to be the best solution for small businesses.
His blog is mostly about the new features and experiences of his employees.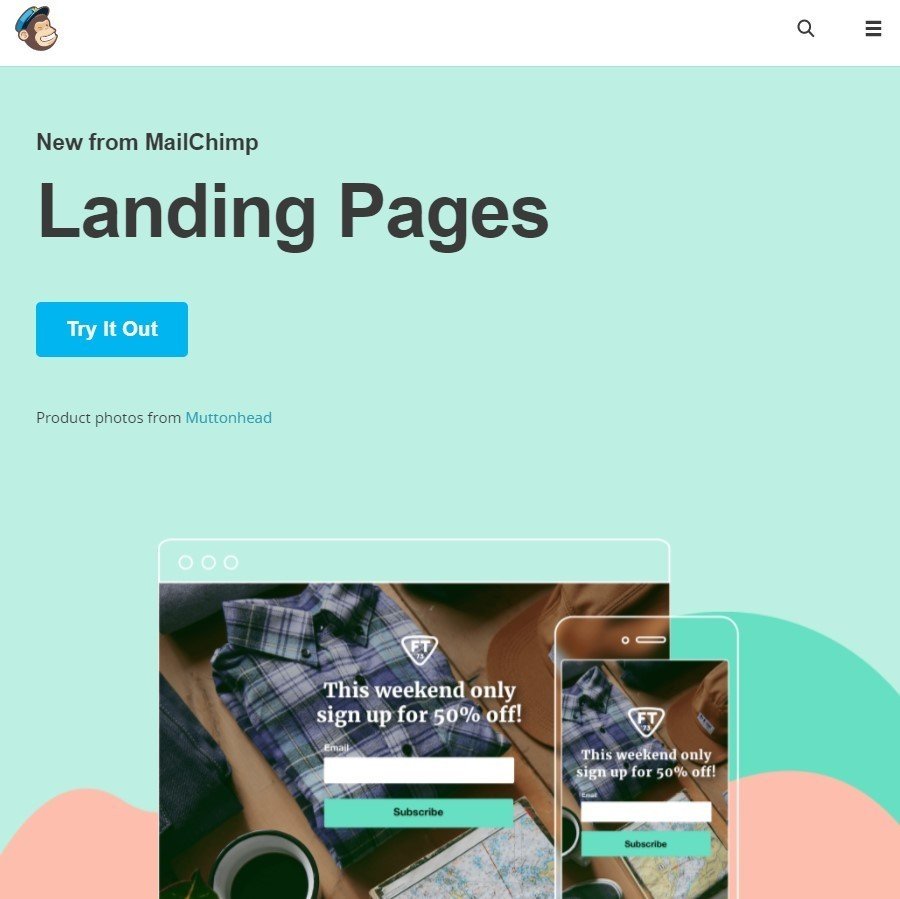 There is round-the-clock support.
Mailchimp offers around 100 templates.
Special feature of the creation tool: "Share on Social Media" option. Few editors add this.
Its disadvantage: Emails are not responsive when imported from another authoring tool. One CTA button per line, even if you have placed multiple product elements in one line.
For more information on the editor embedded in Mailchimp, read our how-to article.
7. MailStyler2
I want to make it clear that the new website address is newslettercreator.com. You can use either name to find the tool online as the page was only recently updated.
It's an offline email template editor that is responsive. You need to download the tool to use it.
Mailstyler2 does not offer a blog with instructions or news in the design world. But under the tab "Videos" you can see the instructions on how to use the tool.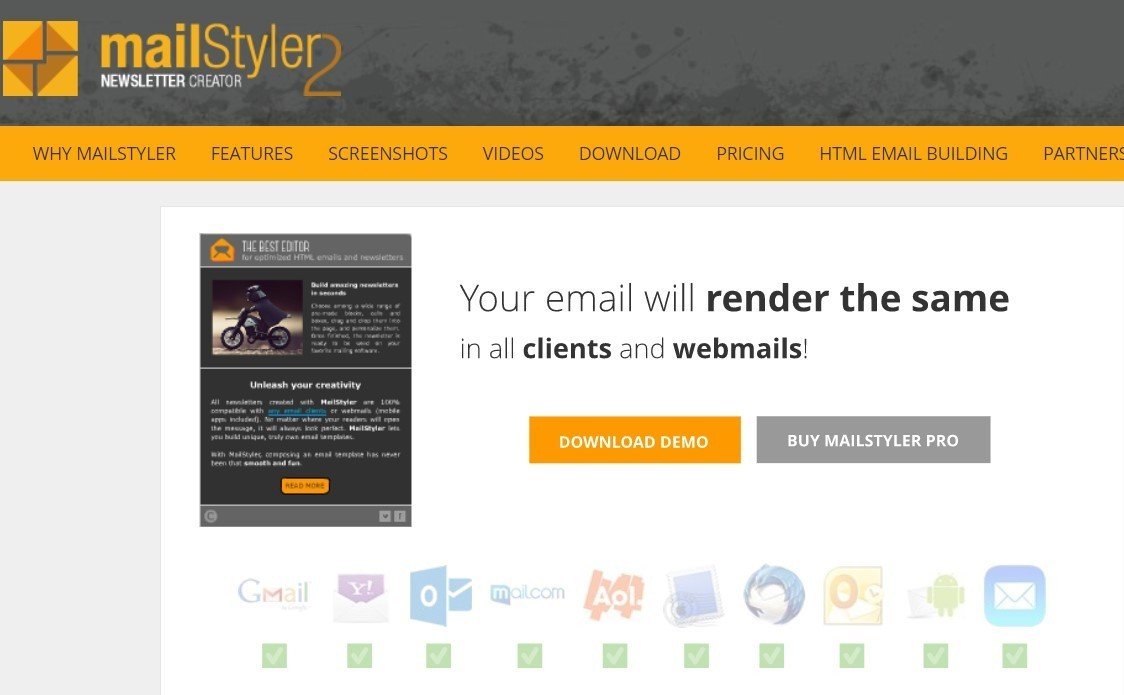 Mailstyler2 offers 8 ready-made templates.
Many of the features are not available until you buy the Pro version.
Export: You cannot export templates as long as you have not purchased / activated MailStyler. There is no way to send a test email, not even to yourself.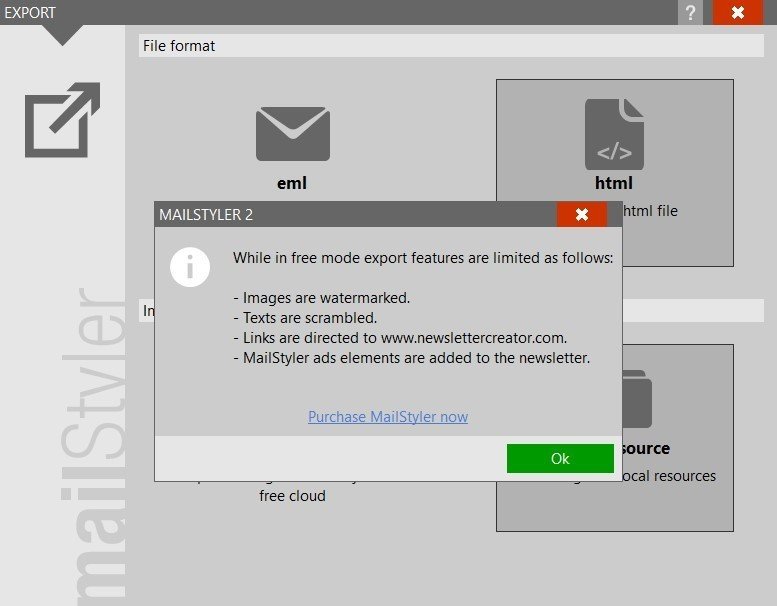 Special feature of the creation tool: You can set the size of your HTML email. I found that particularly great, since all email clients have size restrictions for the HTML. It shouldn't be bigger than 100 kbs.
You can integrate texts in banners. This is the only tool besides Stripo that allows you to do that.
Its disadvantage:No HTML code editor to incorporate videos and interactive elements. Many useful functions are not available.
8. Mosaico
Mosaico is an open source template creation tool. It is a product of the Italian VOXmail group that was founded a few years ago. The blog is not updated regularly. But there you can find some useful materials on email clients and Mosaico publications.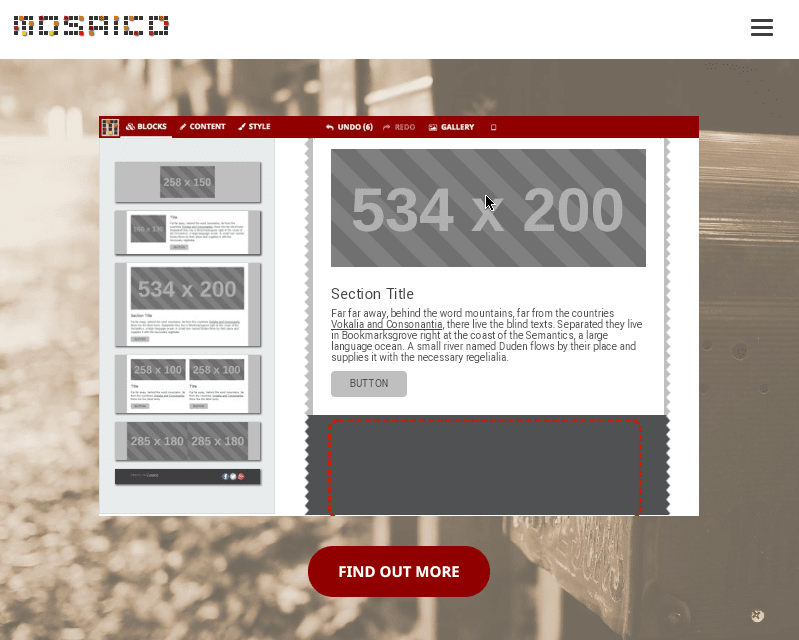 It does not offer ready-made templates with images and backgrounds. But you can find two structured templates. Use this to work with the editor.
Export: Download the created template as a pure HTML file. After the export you can edit the text and images of your template in the ESP.
Special feature of the creation tool: This is not your typical drag and drop editor. You don't even have to drag the building blocks and containers. Simply click on the block in the toolbar and it will appear in your work area. And what I also loved was that there is a guide on how to use the editor when you've chosen a new template to create. You don't have to look for it on the website.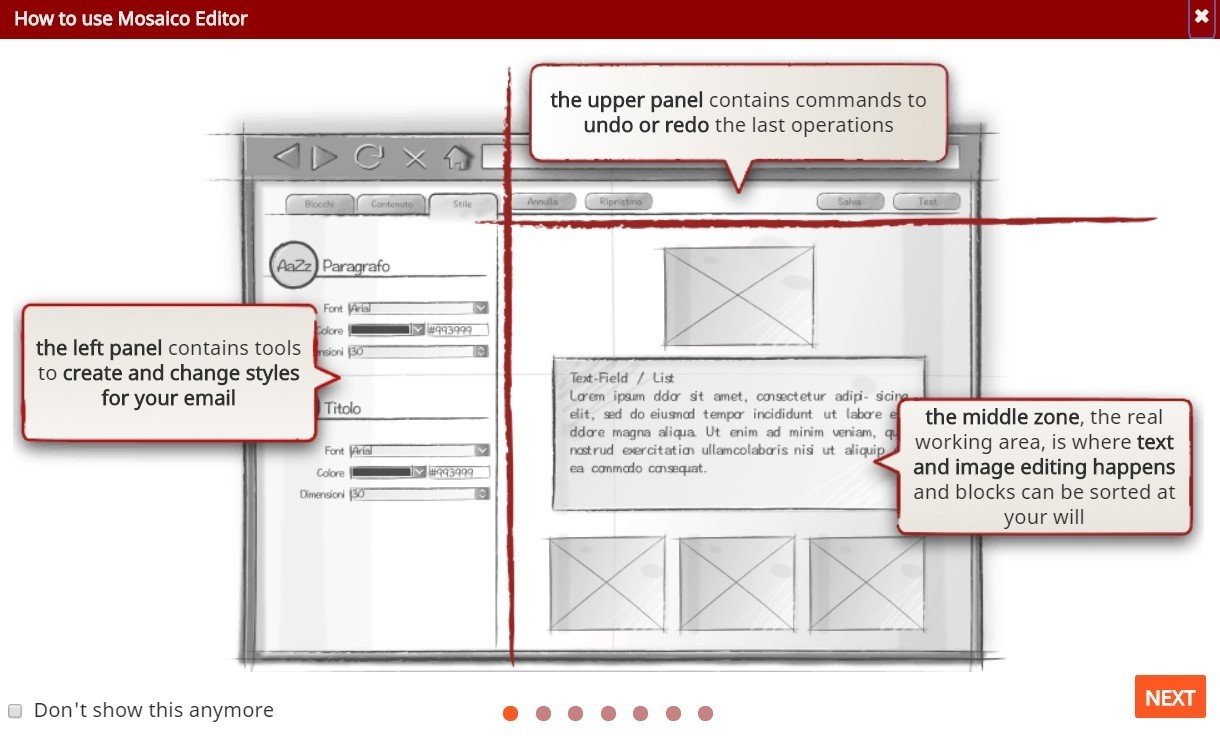 Its disadvantage: No file storage - you cannot save your templates or images. Your uploaded GIFs will appear as static images.
9. Topol.io
You can call it an HTML email template creation tool. But it's actually just another drag and drop editor that offers a simple building block of HTML that you can drag and drop into your template. It is part of the MJML community which enables correct viewing of email in most mobile and desktop devices.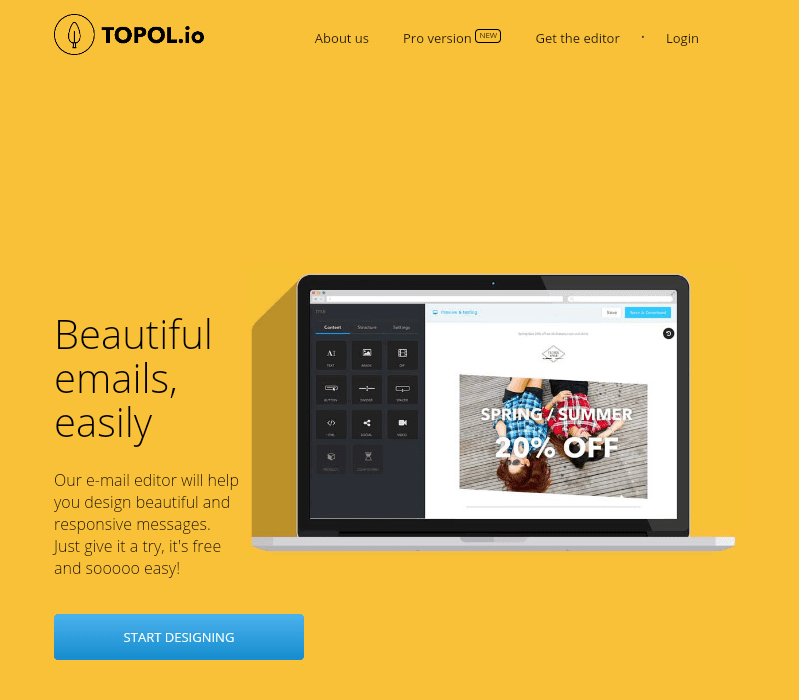 Topol.io offers many modules for use. You can easily edit images directly in the editor. It offers 7 ready-made templates.
Export: You can export it as HTML, but this prevents you from further editing the template in the ESP. Of course, you can edit text and possibly even a few pictures.
Special feature of the creation tool: You can include links to GIFs and they will be displayed correctly in your email template.
Its disadvantage: No visible or editable HTML code. As a result, you cannot add any interactive elements to your newsletters.
10. Unlayer.com
If you're an ESP looking for an editor that can embed it, then you might like this one.
Unlayer is a new product and was released in late 2017.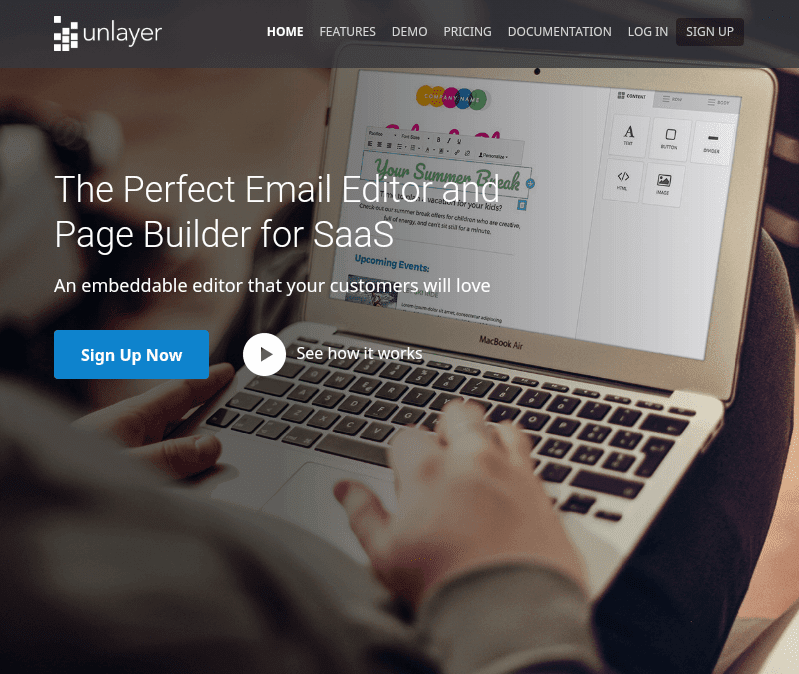 No pre-made templates to save you a lot of time.
At the moment only a few basic modules are offered in the editor: button, picture, dividing line, HTML and text. No video modules, no social modules ...
Of course, you can embed your video using HTML code. But it is very difficult to add social links using this method unless you are a professional developer.
Export: As HTML or JSON files only.
Special feature of the creation tool: You can choose a tool / block to add in your editor when you become a user.
Its disadvantage: No video modules.
For your information:
InkBrush currently does not accept new registrations. You can reach the editor via MovableInk.
Stampliano longer works.
Knowtifywas recently acquired by Kissmetrics.
Comparison tables
Please take a look at our table where I compared some special features of 4 of the above listed email template creation tools that are responsive: BeeFree, Topol, Unlayer, and Stripo.email.
Why this one? Because for me you are the best in the business.
There are many criteria for comparing template creation tools. But I have chosen the most important functions that are relevant for tools of this type.
Functions that are necessary for working with and editing media files:
Write text on a banner;
Embedded photo editor;
Embed GIFs and videos;
Free image database.
Advanced integration with ESPs, file storage and of course Smart Elements are mandatory tools for work automation.
Since work automation is the number 1 time-saving recipe in today's fast-paced world:
Note: None of the editors that are not listed in the table allow working on mobile devices.
Conclusion
We have just tested the best email template creation tools for 2018 and have carefully studied the pros and cons of each.
And now all you have to do is decide which one to use based on your specific needs. And we hope that any of the best free template creation tools can meet your needs right now.
Here are the recommended features a modern template creation tool should offer in 2018. Take these into account when choosing:
Responsive Web Design (RWD);
Access to HTML and CSS codes to incorporate interactive elements;
A wide range of pre-made templates;
Adapted templates for all common ESPs worldwide;
Work automation to save you time;
File storage to save your building blocks for future use.
If you would like to read an independent review of Stripo.email, the terms and conditions, as well as reviews of other template creation tools, please go to this website.
Regardless of whether you choose Stripo.email or one of the other editors mentioned above, I definitely wish you every success and sales with your newsletters. If you have any questions, you can always reach us at [email protected] or on Facebook.