CAT coaching at TIME is worth it
learning goals
Actions and details area
The best ideas from agile, lean startup and design thinking to accompany agile transitions. #ONLINE #Interaktiv #Practical #Wounded
For this event
Upon completion, the participants receive their ICP-CAT certification (Coaching Agile Transitions).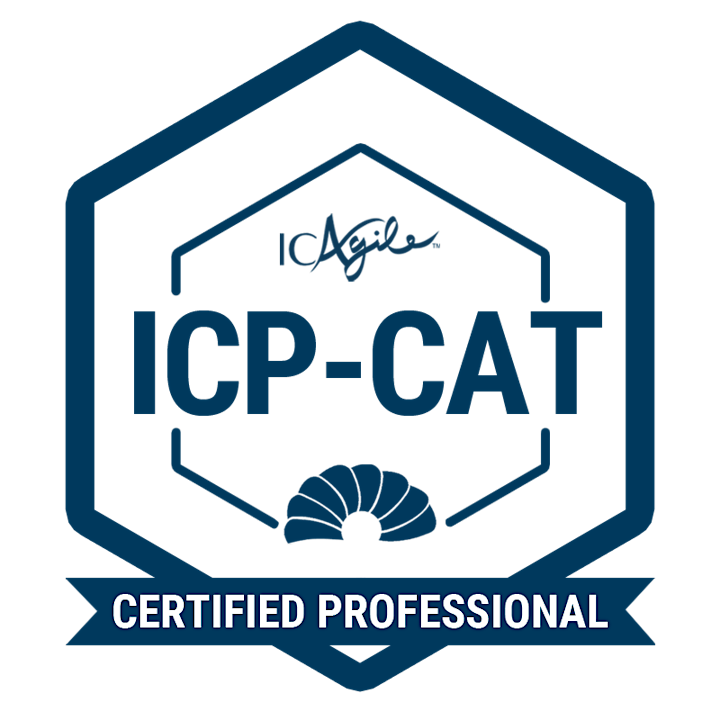 What would happen if we approached our agile transformation in an agile way?
Experience in the three-day workshop Coaching Agile Transitions with Lean Change Management how you can apply the best ideas from agile, lean start-up and design thinking in order to live agile values ​​and principles and at the same time establish new ways of working in your organization.
This workshop will help you answer questions like:
How can we integrate agility and change management in order to carry out agile transitions in an agile way?
How can we apply agile practices to complex agile transformation programs?
How can we reduce uncertainty by approaching change iteratively?
How can we refresh resistance to change by changing the way we think about change?
What is Enterprise Agile Coaching (EAC)?
Understand EAC competencies
Striving for personal and professional mastery
Ethical considerations for EAC
Get to know your limits and limitations
Create a business case for change
Understand the human change process
Understand the organizational change process
Bringing the agile mindset into change management
Understand the entry into the organizational system
Organizational Change Assessments
Co-creation of a strategy for organizational change
Communication, education and moderation on an organizational level
Perspective and organizational mapping
Change canvases, visual work management
Application of Agile, Lean Startup and Design Thinking to change processes
Creation and prioritization of experiments
How people experience change
Day 1 (9:00 am - 3:00 pm):
introduction: Why are you here? What is the ultimate question, what do you hope for an answer to?
The change agent: It starts with you. Meaningful changes come about when you get fully involved in the work.
What is Lean Change Management: The Lean Change Management Cycle and 5 Universals of Change.
Agile change management: Overview of the agile values ​​and principles and how you can apply this thinking to change management.
Day 2 (9:00 am - 3:00 pm):
The ecosystem of change: See the big picture: How changes are perceived and how they affect the various organizational levels. Where you stand as a change agent and where you can shape it most effectively.
Alignment: How to use lightweight tools to prepare, launch, and facilitate ongoing change.
Experiments: How to move away from change activities and towards change experiments. This includes good methods for communication, creating alignment, providing a status of change to sponsors, and more.
Day 3 (9:00 am - 12:30 pm):
People: Why the term "resistance to change" is wrong, and why the "70% of change fail" is incorrect. We will examine how different people react differently to changes and how you as a change agent can deal with this complexity.
Your own change framework: We take on the findings from both days and discuss what your own change framework could look like. You will answer your own questions that you asked at the beginning of Day 1.
An (electronic) copy of Lean Change Management
Access to the Lean Change Agent Network
Lean Change Management Workbook
ICP-CAT certification
Support via Slack, internal workshop discussions and the community site
Additional tutorials
Support from a licensed facilitator
A lifelong connection to over 3500 people who have attended these workshops
CONFIRMATION
The workshop takes place when at least 4 participants have registered. You will receive a confirmation email no later than 10 days before the start of the workshop).
CANCELLATION POLICY
You will receive a 100% refund if the workshop is canceled by the organizer.
After payment has been made, you can request a refund from the organizer for the workshop you have registered for:
100% refund if canceled up to 30 days before the start of the workshop.
50% refund if you cancel up to 7 days before the start of the workshop.
No refunds if canceled later than 7 days before the start of the workshop.
CONTACT
For more details, please contact the organizer of this workshop:
Phone: +49 1520 4989292
Email: [email protected]
Date and Time
Venue