What do mythical creatures eat
Ear kiss on International Unicorn Day: "Unicorns like to eat apples and carrots."
01.11.2015
Today is International Unicorn Day.
International means: It is celebrated all over the world.
Also in the Ohrenkuss editorial office.
Anna-Lotta Mentzendorff first explains what a unicorn is exactly.
She writes:
A unicorn is a fantasy horse and is known as a mythical creature and was best known in the Middle Ages through the Physiologus.
It looks like a horse and has a horn on its forehead.
It is considered the noblest of all mythical animals and is a symbol of the good.

[For everyone who - unlike Anna-Lotta Mentendorff - does not know what the Physiologus is: It is a book.
The Physiologus is an early Christian doctrine of nature in the Greek language.]
But unicorns aren't really her thing.
Anna-Lotta Mentzendorff writes:
All mythical animals come from the fantasy world.
I prefer real animals because mythical animals are so scary to me.
My favorite animals are real horses that you can ride on.
But this is about the good and that's different.
Verena Günnel, on the other hand, is happy about Unicorn Day.
She likes unicorns and dictates:
There is only one unicorn.
There aren't that many unicorns.
Unicorns are animals like horses.
They can be alone.
Unicorn is like a horse.
You can also ride on it.
They are loyal and dear.
I had never ridden one before.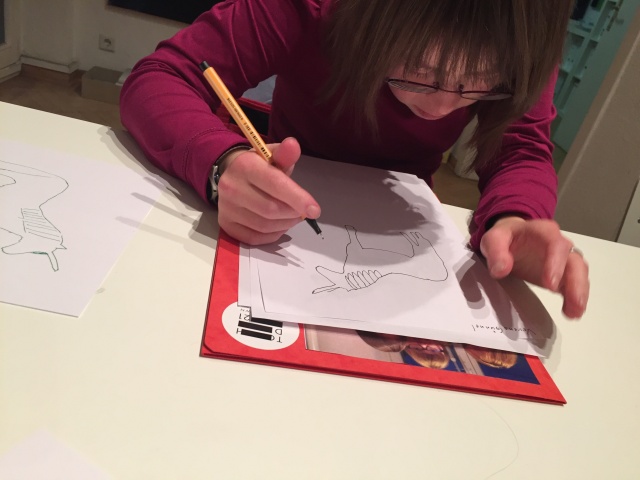 Verena Günnel draws a unicorn, photo: Anne Leichtfuß
Source: Ear Kiss


As you can see, the unicorn topic does not work without a controversial discussion.
An email reaches the editors with the subject line "Actually there are no unicorns, as far as I understand it."
Is that so?
Marley Thelen disagrees.
She has already met unicorns personally and writes:
I know a lot of unicorns.
I could write down where there are many unicorns: in Centopia.
Lots of unicorns live there.
I ride with that.
But without a saddle, without reins, without anything.
That's lovely!
My unicorn is so beautiful.
My unicorn is white with a white unicorn.
It looks wonderful.
Like a princess!
The unicorns like to eat apples and carrots.
Daniel Rauers is also certain: Of course there are unicorns.
He dictates:
I am sure the unicorn is alive.
It is difficult to say exactly where.
It likes to eat fresh grass and cannot fly.
Of course it is white and can also speak.
Andrea Halder is not entirely sure, but tends not to believe in unicorns.
She writes:
As far as I know, there are no unicorns.
I once had a movie when I was little with my sister.
The unicorn lived in a forest in which there was also a wizard and a witch.
But that was a wild story and, of course, a fairy tale.
What does the squirrel look like?
A white horse with a horn on its head.
Nice story, but a fairy tale or something.
In the Harry Potter books, there are several unicorns in the Forbidden Forest. However, these unicorns can understand human language and even talk to one another.
Whereby the whole thing is just fanatical stories.
And there are no more real unicorns.
Dominic Edler knows unicorns from the film "The Last Unicorn".
He writes:
The unicorn is a mythical creature as a horse.
That with the magic powers, that was magic in the movie "The Last Unicorn".
The film "The Last Unicorn" is known.
I, Dominic, did film in my youth on video and television.
The movie song is "The Last Unicorn". The soundtrack "The last Unicorn" composed by Jimmy Webb brought the band America a successful comeback: 1982.
Ohrenkuss wishes you a nice unicorn day.
We say goodbye with a unicorn drawing by Ruth Schilling.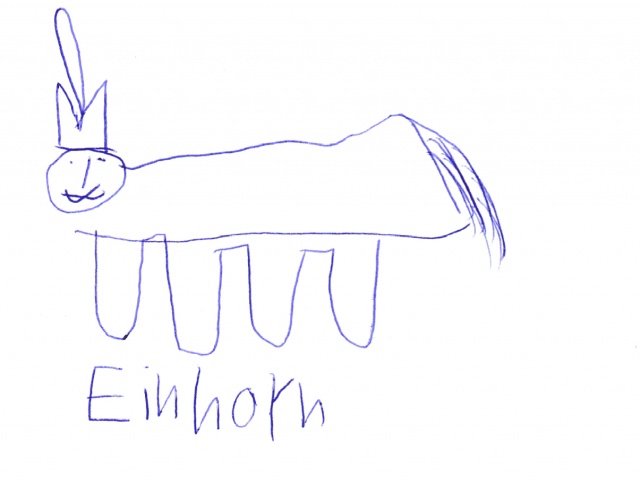 Ruth Schilling drew a unicorn
Source: Ear Kiss