Out of sight, out of mind
It could be used in almost every building fire ... The fire brigade power tool box according to DIN 14885.
According to the load according to the standard, this tool box is available e.g. on the LF 8/6, LF 16/12, LF 16-TS, (H) LF 20/16 and the RW.
In some vehicles, this inconspicuous, gray box is located under the bench in the crew compartment and, due to the label "Only for electrical specialists and instructed persons", it usually stays there. The clear inscription literally discourages you from even looking inside ...
Nevertheless, every fire service member should know what is in the power tool box and who is allowed to use it.
Fire brigade regulation 1 writes: "The fire brigade power tool box is used to carry out safety measures on electrical low-voltage systems, in particular the activation. It contains an assortment of tools and accessories that are insulated up to 1000 volts ". And it also says there: "Electrical specialists are to be used for handling".
Who is a qualified electrician can be found on Wikipedia.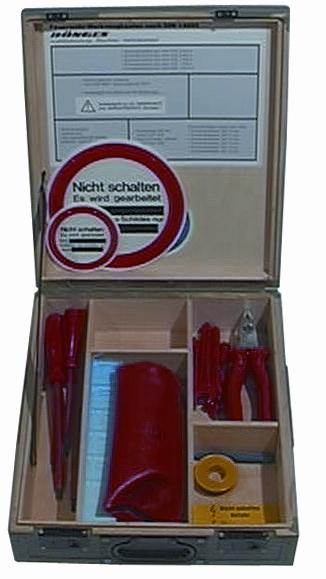 A look into the open electrical toolbox
The standard was modernized in 2005 and the box is now made of aluminum. According to my research, the content has remained largely the same, only the voltage tester is more modern today. The box contains the following parts:
Two-pole voltage tester, various warning and information signs, VDE screwdrivers in 8 sizes, VDE open-end wrenches in 6 sizes, switch cabinet keys, insulating tape, cable ties, VDE side cutters, VDE needle nose pliers, marking chalk, insulated gloves and a handle with a cuff for pulling of NH fuses.
In the event of building fires that require an internal attack, the building's power supply should always be switched off (enabled). The energy supplier in the region concerned can do this if time allows. If the fire brigade has qualified electricians, this person may be able to do this more quickly. Mostly used is the so-called NH handle. This allows the Nlow voltageHRemove the light fuses safely from the house connection box. Of course, the relevant safety regulations must be observed, but a qualified electrician is familiar with them. Work on electrical systems and voltage is only permitted under certain exceptions. In addition to the use of personal protective equipment and appropriate tools, the 5 safety rules must also be observed.
It should also be noted that the tool from the FW power tool box is suitable for voltages up to a maximum of 1000V, but the voltage tester only has a measuring range for DC and AC voltage from 24 to 750V. It is therefore only suitable to a limited extent in PV systems.
Sources: FwDV1, UVV GUV-V-A3, data sheet voltage tester from GMC-I Gossen-Metrawatt, catalog excerpt from power tool box from Dönges Remscheid.
Photos: Dönges, Remscheid
This post was published under Basics. Set a Bookmark the permalink.