A loom is a profitable business
Lychen has a loom again
Martina Busch revives the old handicraft with fashionable creations
If you don't know that yet, just have a look at the weaving mill UCKER-LEIN, Fürstenberger / corner Vogelgesangstraße. If no customers are looking for hand-woven fashion in the shop, the visitor can see Martina Busch weaving at the flat loom.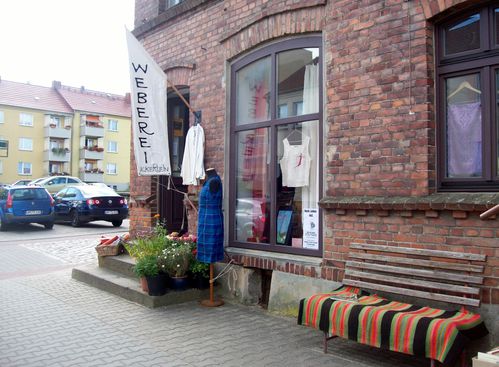 The UCKER-LEIN weaving mill on Fürstenberger Strasse.
It was only when she spoke to me that she was reviving an old Lychen handicraft. If we look back into the past of our city, our Lycheners were not only busy with agriculture, cattle breeding, handicrafts, trade, shipping and rafting, but they were also hardworking weavers and dyers. Lychener linen and woolen goods were sold beyond the city limits until the 19th century.
Martina Busch made me curious. I wanted to find out from her how she combines the traditional with her own creativity in her weaving room, creates unique designs and makes fashionable clothing and room accessories.
That's why we meet in the weaving mill after the shop closes, and Martina Busch talks about her interesting professional life: "When I was 17, I watched a weaver. I was excited. Like an inspiration, it was clear to me from the hour: I have to learn that. This is my job. "
Born on the island of Rügen, when she was ten years old she moved with her parents to Vietmannsdorf in the Templin area, where her father came from.
She did not find an apprenticeship as a hand weaver during the GDR era. Martina Busch becomes a librarian. But her passion for weaving remains. On free weekends and on vacation she visits weavers, learns from them and takes part in internships in the art of weaving. At the age of 18 she bought her first loom. "I placed an ad in a small animal husbandry magazine. I received only one letter. And it came from Ludwigslust. There the loom was in an old barn. I bought it for a lot of money. Professional workshops had it a little easier. You could count on receiving one from the loom factory in Karl-Marx-Stadt after three years. "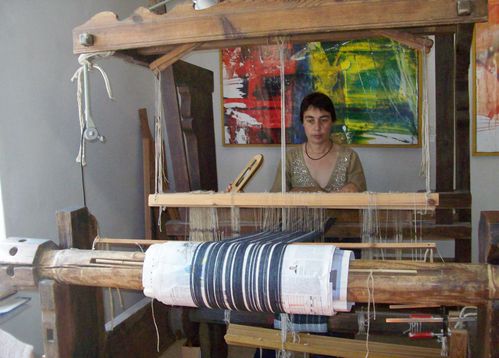 At work on the flat loom.
The flat loom has its own room - wherever Martina Busch lives. She weaves in her free time and after the fall of the 1990s she finally found Ulrike Jünger's master craftsman, a renowned weaver, in Rubenow near Anklam, where she received and completed a two-year training course at a vocational school.
Martina Busch would like to improve her skills further. That is why she researches where weavers and courses are available. She says herself: "How mad I was to work there." She takes part in courses on vegetable dyes and wool processing from sheep to dyed thread.
Stays abroad are also included, such as B. in Romania and Poland. Winter 2010/11 will be an unforgettable experience for you. She travels to Nepal to work in a weaving mill there. Red is the dominant color here. Red is the bride's wedding dress. The bridesmaids go dressed in red. Inspired by these warm tones, she likes to use red for her pieces today.
More are added to the first loom. Martina Busch explains the differences to me because I am looking at the upscale: "Every loom has its own requirements for weaving certain fabrics. Tapestries, carpets and rugs are made with the high loom. On the flat loom, on the other hand - as the name suggests - flat woven fabrics are produced, i.e. by the meter.
I would like to know which yarns she uses. And so I learn from her that most of them start with woolen fabrics. Wool is easiest to weave because it is supple and offers no resistance. The most demanding are linen and hemp. Linen is a stubborn yarn and therefore difficult to fit into shape. You need experience for linen and hemp. The layman can hardly distinguish between hemp and linen after processing into fabrics. But there are differences. Hemp can never be bleached completely white. The hemp fabric is more silky than the linen fabric.
Our Lychen weaver only processes natural fibers. Almost all of their yarns are eco-certified. In technical terminology, they are called Gots-certified yarns. More and more yarn dealers are switching to this offer because the demand for natural fiber clothing is increasing.
Martina Busch explains her job to me in more detail, which is actually a calling:
"I am a hand weaver, work traditionally, experiment with traditional patterns in order to preserve them. I make fabrics that are only available from me. My drawings and calculations for the designs are very individual. A hand weaving mill that wants to be creative creates its own patterns. I change classic old fabric samples in such a way that you can no longer tell where they originally came from, e.g. B. from bed linen or towels. "
There are times when she weaves entire series in green, then again in blue or brown tones and in anthracite, the classic color for men's scarves.
I look around the store and admire the wide range of products on offer: outerwear for women, shirts and vests for men and the fashionable scarves for both sexes. Table linen, carpet runners, blankets and tapestries are on offer for the design of living spaces. Martina Busch makes curtains and drapes to order.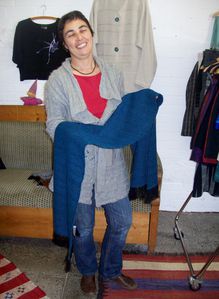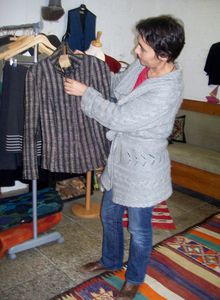 Fashionable wool scarf in blue and a chic shirt.
"What are you doing here in the high loom?" I ask. "That will be an antependium for the church in Wallmow near Prenzlau. The antependium decorates the altar. It bears artistically processed signs, symbols and colors from the Christian liturgy such as the dove, chalice, angel or triangle as a symbol for the Trinity.
An antependium for the little church in the country and one for the Georgen Chapel in Templin already come from my workshop.
My great wish would be to weave an antependium for our St. John's Church as well.
Long preliminary discussions with the parish are required for the production of this precious fabric. Martina Busch makes various designs, and when the decision is made, she weaves them for months.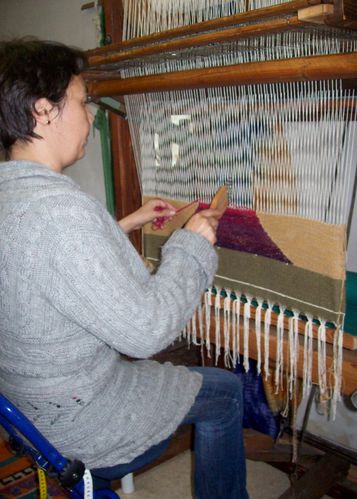 Martina Busch weaves an antependium. Photos: J. Hantke.
Of course, I'm interested in what people buy the most. Scarves and shawls are very popular and the carpet runners because of their play of colors.
"A customer once bought a shawl in an iridescent green. A little later this poet, Carmen Jaud, surprised me with a poem in which she interwoven the scarf with a green, blue and shimmering landscape as if around our Lychen to verse. I was particularly pleased about this because it is a sign that I can reach people deeply with my tissue. "
Martina Busch gives courses on the spinning wheel and webbing frame for those interested. She uses creative offers in the context of training courses and seminars to present her weaving art. In August she travels to Lüneburg for experimental weaving with children. She is already looking forward to it because it brings variety to her everyday work.
During the "Days of the Open Studios" in Lychen, she also opens the UCKER-LEIN hand-weaving mill to visitors from near and far. Through her participation in the "Red Thread" campaign, she made good contacts with other local artists. "I experience solidarity and friendship with one another. That's what makes Lychen so special. That's why I feel good here, "she says almost at the end of our conversation.
Finally, I ask her if she has a specific wish for the future. "Yes," says Martina Busch, "on the large information tiller on the Oberpfuhl Promenade, weaving and dyeing mills from Lychen's earlier times are described. I would like the following to be added as a current addition: 'Lychen has a loom again today.' "
If you want to find out more on the Internet, here is the link to Martina Busch's website: link
Joachim Hantke