What is trust in a meaningful way
Faith means ... trust
Faith described with three Gs: walking, saved and certainty. What trust means becomes very clear in Peter's "thirst for adventure".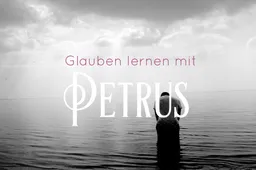 This devotion is the second part of the Peter series.
Believing does not mean knowing!
Immediately beforehand, the disciples experienced a great miracle: Jesus feeds 5,000 men and their families with five loaves of bread and two fish. Wow what a person! How great should the faith of men now be. But no sooner are they in distress on the Sea of ​​Galilee and see in Jesus, who walks to them on the water, a ghost, everything seems to be blown away, what has just inspired them. Only Peter dares the adventure, and his example shows us what it means to trust God. (Matthew 14, 22-33)

Believing means walking
When I trust someone, I know that that person means well to me. Peter trusts Jesus when he orders him to come to him and he knows that he means well and will not leave him alone. Peter obeys and has to give Jesus a leap of faith: no one but Jesus himself has walked on the water before. There is no study, no proof, no assurance that it will really work and that Peter will survive the next few minutes. He trusts that Jesus is powerful enough to keep him and that he means well with him. When I trust someone, I know that that person means well to me.
When we are challenged by God in everyday life to take steps and leave our comfort zone, for example to jeopardize our reputation at school, university or work and to share the gospel with others, to practically love those we don't stand can or in order to change our view of God and his standards and orders in the church and in my life, it is necessary to trust God! Trusting God means knowing that he is in control and knows best what is good for us. Before making important decisions, be it the choice of a partner or a professional future, you need trust that God will lead me safely, even if no clear path is obvious, as well as the courage to take concrete steps onto the water.
Faith means saved
As long as Peter only looks at Jesus, the miracle happens: he walks on the water like on concrete floor. But as soon as his gaze is caught by the waves and the storm, he doubts that God can do this miracle, which he himself experienced. Even if I sometimes smile a little at Peter, there are many situations where I doubt and fall despite many prayers that have been answered and some experiences of God's faithfulness through inner trials or emergency situations. Peter responds in the only sensible way: back to Jesus, the only one who is able to save me. Peter is a role model even in weakness.
Belief means certainty
Faith, however, is a confidence in what one hopes, a belief in things that one does not see. (Hebrews 11: 1)
The knowledge and experience of the disciples does not lead them to walk on water, but whoever trusts God and takes steps will experience what God has prepared for those who love him, even if we do not see it yet.
Find more topics that match the article
Peter