Why matching fabrics are heavier than shirts
How you can recognize good fabric qualities and materials.
29 Dec How to recognize good fabric qualities and materials.
Often, customers in style advice tell me that good qualities and fabrics are automatically expensive. But it doesn't have to be. There are definitely qualities in the high-priced segment that can be found in the cheaper providers. But it is also often the other way around. But not everyone can afford high-quality branded products. Since I studied textile science for many years, I would like to give you some basic tips about acrylic, polyester and other materials, because:
"Quality creates trust, trust creates enthusiasm, enthusiasm conquers the world."
This is how you can recognize items of clothing of good quality at the well-known fashion chains.
The frustration of shopping can come quickly when items of clothing that you have bought new show signs of wear and tear after a short time. This is most often the case if you have bought acrylic or polyester clothing in the well-known cheap fashion chains. Due to the price, of course, material is saved here, but with a few simple tricks you can recognize the better quality at H&M, Orsay and Co.
materials
High-quality fabrics should have at least a proportion of high-quality natural fibers - wool, silk, linen, and high-quality cotton for cotton. (Pima cotton and mercerized, chinned or fine batiste fabrics are the best qualities.)
Cotton: Whether you prefer t-shirts with or without elastane is a matter of taste.
However, what you should pay attention to when buying 100% cotton is the grain, i.e. whether the fine stitches are straight.
If you do not do this and are slightly diagonal, you will get a crooked side seam after washing for a while and pulling it forward.
Especially if the T-shirt has a print or an application on the chest, it will quickly warp. T-shirts with elastane, on the other hand, are more elastic and keep their shape longer. However, they must not be washed as hot as pure cotton, a maximum of 30 degrees delicate wash.
Note the grain of the thread in the cotton shirt
In the case of black fabrics with a 5% elastane content, there is always the risk that the elastane content will quickly fade - because elastane cannot be dyed well. You see this most often with black jeans. Therefore, garments made from this material combination should really only be washed at 30 degrees delicates. Otherwise, after a few washes, this will result in the typical washed-out gray haze.
Washed out jeans from washing too hot
Synthetic fibers such as polyester and acrylic support the negative properties of natural fibers.
Natural fibers also have disadvantages, for example cotton wrinkles quite easily. A polyester component in the combination improves the durability of cotton, wool and viscose. The material then does not sag or crease as badly overall. Therefore, it is basically okay to choose mixtures of different materials. Cotton or viscose / polyester blends are fine, for example, they give the cotton a hold and the color doesn't fade so easily.
But if you read: "Wool sweater" and the label says 85% acrylic and 15% wool, that's crap.
Would you like more such suggestions?
My 5 best style tips will give you lots of ideas and confidence
Yes, learn more
Acrylic:
Clothing or scarves usually contain polyacrylonitrile, which, like polyester, is chemically produced. The fiber is wool-like, warm, soft to the touch and does not wrinkle easily. Especially at the beginning and when you buy one, you think: "wow - that's nice and soft and cuddly". But acrylic does not warm you well and does not store moisture, which is why it is so easy to smell in it.
It's easy to pill and very easy to take a hit. In addition, the hair very often flies when wearing this synthetic fiber. You can tolerate it as an admixture, but it will certainly not last long.
For ecological reasons, synthetic fibers are not justifiable anyway, because it takes hundreds of years to decompose and thus pollute the environment.
Lint razor
Test the fabrics: Rub two layers of the fabric together with pressure for at least 10 seconds. If small globules, the so-called pilling, form, this is a sign of poor quality.
If you already have several such pills on your sweater, I would be happy to recommend a so-called lint shaver. You can buy or order them in the haberdashery section of department stores.
YOUR PULLOVER SAVIOR: Lint shavers keep your sweaters free of unsightly pebbles. You can order the lint shaver via the attached link.
Pure synthetic fiber like polyester
is wrinkle-free, tear-resistant, weather-resistant and absorbs very little water - therefore it is particularly suitable for functional sportswear. And that's what it was originally developed for. But that also explains why you don't feel comfortable in it when you wear it all day: The fibers simply cannot absorb the daily amount of body fluid! The sweat is diverted to the outside, sticks to the skin and therefore you smell quickly and many people feel quite uncomfortable as a result.
There has been a lot of polyester on the market for a number of years because it is very cheap to manufacture.
Polyester (PES) is made from petroleum like a plastic bag and is not sustainable because it does not decompose and degrade.
There are different qualities and the polyester from the 70s can no longer be compared with that of today, but this fundamental disadvantage always remains. I have already had customers who have no problems with it, because they are more of the frozen type anyway and hardly sweat - then it may work. Alternatively, you can solve the problem by always wearing a t-shirt underneath - it works. But with every purchase, consider whether you will wear the garment for a long time - for the sake of the environment!
viscose
is made from cellulose, which in turn is obtained from plant fibers - including wood or cotton. This is then treated with chemicals to make viscose. I like to recommend viscose for blouses and dresses, because it has two good properties: a flowing, smooth drape, it can be printed with a high-gloss finish and is not as expensive as silk.
Viscose is great, it's easy to wash, but it wrinkles easily and shrinks by 3-5%.
Therefore you always have to iron them. My tip: after washing, be sure to pull it into shape - buy in length and width and not too tight!
As an admixture in women's trousers you can often find fabrics that are mixed from polyester and viscose, that's ok.
When buying a viscose product, always reach into the material and squeeze it with your fist.
If it then jumps back more or less smoothly, the quality is okay. If it remains wrinkled like a piece of crumpled newspaper, you should stay away from it.
Pay attention to the processing and details.
Inexpensive fashion does not necessarily mean poor quality. When buying, pay particular attention to the workmanship. Check that the seams and lining have been sewn neatly and are smooth. This works best if you pull the fabric a little apart at the seams. Does it hold or do fine cracks immediately form in the fabric? If a seam pulls or puckers, it has been sewn with too high a thread tension and will therefore always look uneasy. In addition, it is then more difficult to iron. You can see this more often on button plackets on men's shirts or women's blouses.
In the case of clothing with buttons, it is a sign of quality that a replacement button can be found. Also test the zipper on pants and jackets. If it can be opened and closed without any problems, the work has been done properly. Incidentally, two-way zippers are more likely to break.
Smell and feel test.
You can also rely on your senses in the store. Then do an odor test. If the top or the scarf smells too artificial, keep your hands off it. This is particularly noticeable with cheap wool sweaters that smell of shredded wool, paper and musty. This shows whether they were put together from scraps of wool.
Chemical finishes are often used in textile production to give materials certain properties. PFC is used, for example, to make clothing waterproof. Synthetic leather also often contains phthalates, which are used to soften the hard plastic PVC. Children's rainwear in particular should therefore be checked particularly carefully.
Trying on is the be-all and end-all.
In addition to a clean workmanship, a good fit is the second most important thing on your checklist. That means: Always try on clothes before buying. On the hanger, a part usually looks different than when it is worn. Another tip: move around in the garment you want. Take a few steps, raise your arms and crouch. This will show how good the cut is for you. Does it stretch and does it stay in shape? Does it feel good on the skin?
Suit fabrics
With a little practice, good material is not particularly difficult to distinguish from less good material.
Take the fabric of a suit sleeve between your thumb and forefinger and squeeze it first lightly, then more firmly:
The material should not be too flexible and should not show any sharp edges or creases. If you release the pressure, the fabric should be elastic enough to effortlessly spring back into its original position without leaving any visible traces. Good fabric feels rather dry and shows a slight resistance, you can even hear a kind of crunch. Bad stuff is lifeless.
After all, what is some squeezing, rubbing and plucking compared to a full day in the office - on the wearer's body?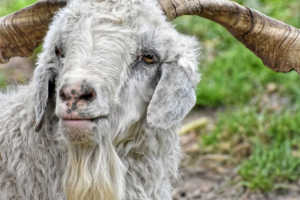 Extra fine: cashmere
You can recognize Kashmir by its particularly soft handle. Cashmere Wool from the cashmere goats that live in Mongolia, Iran and China is not difficult to obtain, but because of its unique properties it is the highest quality "type of wool". What sets cashmere wool apart from all other types of wool is its delicacy. With a diameter of only 15 to 19 micrometers, the hair is just 1 / 6th the diameter of an average human hair.
A real high-quality cashmere scarf is so fine that it can be pulled through a finger ring. This delicacy is responsible for the pleasantly soft feeling on the skin that cashmere fans (like me) love so much.
It is difficult to distinguish good cashmere from bad. I already had sweaters for € 99 that lasted for years without the pilling that is typical of cashmere. And I had a cardigan for € 300, - that looked very tired after a winter. Unfortunately, I can't give you a tip, because you're not in it.
Just this much: cashmere can be wonderfully washed on the wool cycle with wool detergent and dried lying on a towel. It's a natural fiber, you don't need to bring it to the dry cleaner. I love the soft, cuddly and so very pleasant material on the skin, it is always much lighter due to its weight and looks more elegant than classic woolen sweaters.
You can pull a high-quality cashmere scarf through a ring finger!
A scarf like this will keep you warm like a thick, heavy feather bed, but feel as light as a cloud. I wish you a lot of fun and success when choosing the material.
You might also be interested in:
For men: how to score with brown shoes.
For women: how to make the most of your closet
Would you also like to know how you can put your personality in the best light and gain more charisma?
In my 5 best style tips for women, you will learn how to combine colors, which silhouettes are suitable for your figure, how accessories are combined and many more tips and tricks. Download the free e-book here.
Photos: Rene Lezard