Books have to be really long
11 books you should definitely read in 2021
I don't know how you (he) are doing, but I've rarely seen such a dreary and uninspired start as this year. For months we have been working our way from lockdown to lockdown, day in and day out (with a few exceptions) we hear the same bad news over and over again, standing still has long since become the new normal. That makes you tired. Since we cannot escape this condition at the moment, but have to endure it, we should at least make sure that we bring variety and distraction home to us.
This works, for example, wonderfully with books, which, like hardly any other medium, are able to abduct us into new worlds, which pull us under their spell and ultimately can also create the necessary distance to current world events. We are all in dire need of new input, believe me. No matter what genre your heart beats for, whether you prefer to devour novels, essays or thrillers, these 11 books should be on your radar in 2021. I hope there is something suitable for you too.
"Desk with a view": Ilka Piepgras
Anyone who (regularly) writes themselves - whether professionally or privately - knows that sometimes it is not that easy to find the right words for what is in your head. Writing is hard work and requires an incredibly high level of concentration - no matter what gender the author is. But workshop reports from women who speak honestly and openly about their writing process and their female creative spirit are actually rare. ZEITmagazin editor Ilka Piepgras wants to change that and therefore has the really great volume "Desk with a view"" published in which quite a few great authors - from Siri Hustvedt to Sibylle Berg and Zadie Smith to Antonia Baum - talk about their everyday lives, their motivations and struggles with writing. Great recommendation!
"Desk with a view" by Ilka Piepgras | 288 pages | published by KEIN & ABER | More info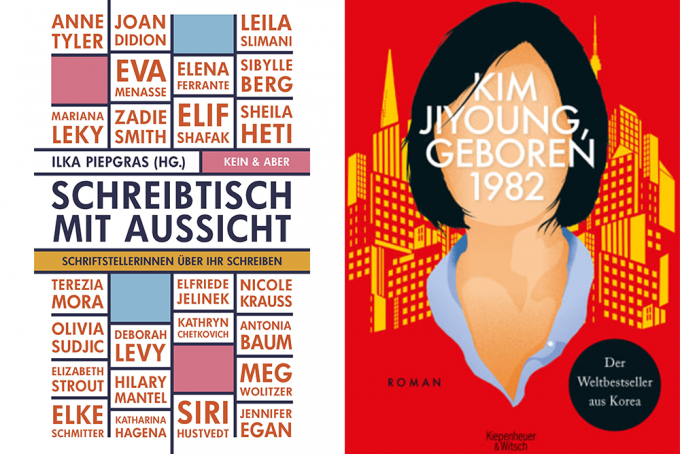 © NONE & BUT | © KiWi Verlag
"Kim Jiyoung, Born 1982": Cho Nam-joo
"Kim Jiyoung, Born 1982" by Cho Nam-joo has long since become a world bestseller. Over 2 million copies of the novel have already been sold worldwide and even triggered mass protests in Korea, the author's homeland. The author tells the story of Kim Jiyoung , a woman in her thirties who lives with her husband and baby on the outskirts of the metropolis of Seoul. She has given up her job for her daughter - just as is expected of a good mother in Korea. But Kim does not come with her new role and that The demands that are made on her are clear. The result is a major life crisis and a resulting psychosis. Her husband sends her to a psychiatrist who mirrors Kim that submission, surveillance and everyday sexism in a male-dominated world are part of the everyday life of a Korean woman Kim's painful realization is exemplary for so many women all over the world who have to live oppressed and controlled by others nistic work that will finally appear in Germany in February.
"Kim Jiyoung, Born 1982" by Cho Nam-joo | 208 pages | will be published on February 11, 2021 by KiWi Verlag | More info
"A little worse": Michel Houellebecq
At the end of 2020, the French bestselling author Michel Houellebecq presented the controversial and much-criticized volume "A bit worse", which gathers interviews, conversations and essays from the past 17 years. In it, Houellebecq, whom Thea Dorn recently called the "machine of provocation" so appropriately in the Literary Quartet, addresses a wide range of current ideological and social disputes, from Trump to euthanasia and Catholicism to animal welfare and Islamism. Whatever one might think of Houellebecq's sometimes crude statements and quite reactionary opinions, ranging from the glorification of Trump, the rejection of parliamentary democracy or the trivialization of fundamentalist radicalization, these essays show the great ideological conflicts and points of contention of the present. A book that in no way asks you to accept Houellebecq's attitudes, but all the more so that you can go through his provocations in your own reflection and demarcation. So no light food, but an invitation to critical and, in many places, exhausting discussion. Who has the strength for it?
"A bit worse" by Michel Houellebecq | 200 pages | published by Dumont Verlag | More info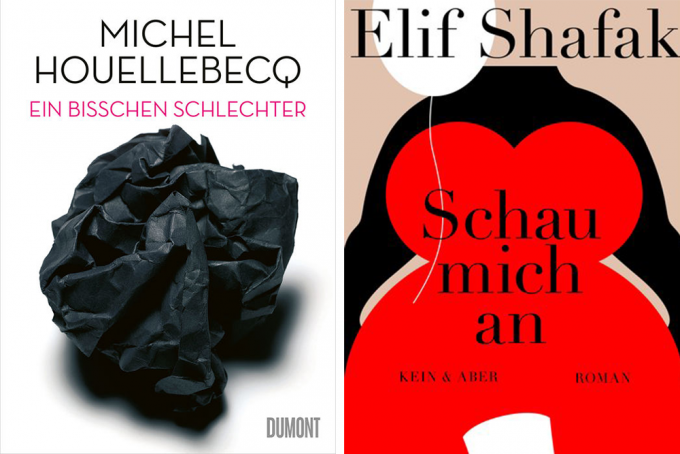 "Look at me": Elif Shafak
How does it feel when other people look at you in public because of your appearance, figure or other physical features? Spiegel bestselling author Elif Shafak investigates this question in her new book "Look at me". It's about a woman and her lover. She is fat, he is small. Both constantly attract the judgmental glances of the other. When they show themselves as a couple, it happens that they are mocked, or at least ridiculed. Using the example of the two protagonists of her novel, Shafak explores at times in a very amusing way, but at the same time also profoundly over several centuries, what it actually means to be exposed to hurtful looks and to be condemned by others. A book about discrimination and exclusion, about beauty and ugliness, about eating disorders and about seeing and being seen, as the author says. A topic that is as old as humanity itself and that we should all read this year.
"Look at me" by Elif Shafak | 397 pages | published by KEIN & ABER | More info
"Love Addict": Kate Davies
"Love Addict" by Kate Davies is one of those books that curious and slightly voyeuristic people want to read immediately. And because it promises a lot of humor, which we currently miss so much. In the focus of the romantic comedy that a friend gave me was recommended, is the 26-year-old Londoner Julia, who is unhappy at work, mourns her failed dance career and has also had bad sex with men for years. Until she meets Sam and sleeps with a woman for the first time. And now it's getting exciting: Sam is an artist, has nothing to do with monogamy and regularly visits sex clubs. In short: She brings momentum to Julia's monotonous life. Julia experiences what it means to have orgasms, constantly meets interesting people and is bursting with energy. Yes she does not notice the dangerous turn her relationship with Sam is gradually taking. Davies story makes you think about love, good and bad think about sex, but also about how quickly you can get into unhealthy addictions. Ultimately, however, the novel demonstrates a development towards self-discovery and that is actually always the right way in the end. Is ordered!
"Love Addict" by Kate Davies | 512 pages | published by S. Fischer Verlage | More info
© S. Fischer Verlage | © Aufbau Verlag
"Ministry of Dreams": Hengameh Yaghoobifarah
Journalist and taz-Columnist Hengameh Yaghoobifarah will publish her first novel in February, which I am personally very much looking forward to. The focus of the plot is Nas, at whose door police officers suddenly ring the bell to inform her that her sister Nushin is dead. Nas is convinced: your sister killed herself. She begins to tell what she experienced together with her: migration to Germany, loss of her father, an emotionally absent mother, Nushin's unplanned pregnancy. There was obviously a lot that connected the two of them. But Nas discovers that her sister also kept secrets from her. So there were also divisions that were previously hidden. Nas goes on a search for the story of her sister and takes her niece into her home, although a child was not actually planned in her life until now. Pre-order!
"Ministry of Dreams" by Hengameh Yaghoobifarah | 384 pages | will be published on February 15, 2021 by Aufbau Verlag | More info
"Unbound": Malin Lindroth
Malin Lindroth's book "Unbound" was published last October and is a must read for single people who no longer feel like having to justify themselves to others for being single. But let's start again: In her essay, the Swedish author describes Malin Lindroth, how her love life has gone so far. At the beginning of 20, she once had a "normal" relationship - whatever that means. In any case, she lived with her boyfriend. But the relationship between the two of them breaks up, and after four years separates Lindroth tells her boyfriend - in the assumption that the next relationship will already come. But it won't come. 30 years later she is still alone and wondering what actually went wrong in her life. Her way through an actually Lindroth tells a long non-existent love life, sometimes very entertainingly, then again very painfully. But what is really shocking is that she is constantly responsible for this justify it. The book questions how our society deals with single people today and shows how difficult it can be to stand by this model of life. Incidentally, the foreword to the German translation was written by the wonderful Teresa Bücker. Worth reading!
"Unbound" by Malin Lindroth | 112 pages | published by Piper Verlag | More info
"Body Politics": Melody Michelberger
Women should speak the common ideal of beauty, but please not be too individual. If women do not conform to the ideal, then they should still love themselves. Women should do this, women should. For centuries, the female ideal of beauty has been shaped by a, guess what, male look. It has often been men who define what is attractive and what is not. It is certainly not presumptuous to say that the pressure on women has never been higher than it is today. Activist and feminist Melodie Michelberger, who some of you may be familiar with from her important work on Instagram, has now written a book about this dilemma that mostly affects women. In "Body Politics" Michelberger asks whether we have actually forgotten how to accept our bodies and to be grateful for what they do every day? And she justifiably asks who it is actually good for if we women do not feel pretty and attractive enough? The book is a passionate invitation to finally live feminism and to rebel against traditional and long-handed ideals of beauty. It is high time that beauty became more diverse and that we accept every body, regardless of its shape.
"Body Politics" by Melodie Michelberger | 224 pages | will be published on January 20, 2021 by Rowohlt | More info
"The Silence": Don DeLillo
Just before the coronavirus spread into a global pandemic last year, author Don DeLillo finished work on his latest novel. "Die Stille" is the name of his work, which really shows amazing parallels to the current situation. What's the matter? The plot takes place in New York in 2022. The Super Bowl is imminent. Five friends want to watch the big event on television together. While three of them are still waiting for the last two, who are currently on their return flight from Paris, all digital connections suddenly break off. All screens are black. Silence. A short time later, after a dramatic flight, the friends fortunately arrive at their place unharmed. What happened? A long conversation begins. Amazement, shock, conjecture - there are several attempts to explain the puzzling event from before. The clique gets into a spiral in which they try to fathom the essence of human existence and that of time. Don DeLillo reflects world events very sensitively, but still imaginatively and in polished, sharp language. Reading tip!
"The Silence" by Don DeLillo | 112 pages | published by KiWi Verlag | More info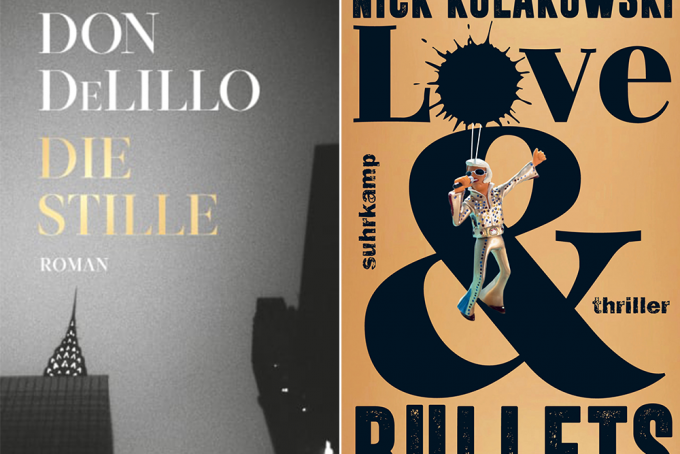 © KiWi Verlag | © Suhrkamp
"Love & Bullets": Nick Kolakowski
If you feel like reading a really good thriller again, I recommend "Love & Bullets" by Nick Kolakowski, who was published by Suhrkamp. You meet Bill. Bill is a dandy and a crook at the same time, because he just can't stop stealing and is involved in all kinds of scams. Expensive cars, watches and designer clothes cost a lot of money. However, he never becomes violent. And then there is Fiona. In contrast to Bill, Fiona has no problem with violence and seems quite tough and definitely more robust than Bill. As is well known, differences attract each other and so the two mime the perfect pair of lovers. When Bill borrows a few million from New York gangsters, problems suddenly arise. The couple had to flee and from then on competed with the legendary gangster couple Bonnie and Clyde. On their escape they pass American provinces where they meet bizarre sheriffs, flee to the Caribbean, where it is well known that one should never feel safe and come back to New York, where the gangsters from whom Bill borrowed the money, already wait. Well, how do they get out of this number again? Treat yourself to that thing, it's just fun to read.
"Love & Bullets" by Nick Kolakowski | 423 pages | published by Suhrkamp | More info
"Complete goosebumps": Sophie Passmann
Finally, I have a very promising reading tip for you. Sophie Passmann will publish her new book "Complete Goosebumps" in 2021, following her bestseller "Old, White Men". How good is this title, please? In contrast to her first work, this one is not a settlement with the male world, but one with the "unbearable habitus of a bourgeoisie that has shaped her herself", reveals the KiWi Verlag. In it, Passmann negotiates a topos that will be familiar to so many of her generation, but not only this one. Just don't become like the others. Just not become what you might have already become? And so, as is well known, Passmann hands out without hesitation, mostly in this case against himself and her kind. Against the hedonistic generation of which they are a part. "This is not a memoir, not a novel, not a biography, it is: literary self-hatred. You find that presumptuous? That is exactly what it is and that is what Sophie Passmann wants: presume to do what she wants to do. Completely goosebumps simply. " You can't miss yourselves - and neither do we!
"Complete goosebumps" by Sophie Passmann | 192 pages | will be published on March 4th, 2021 by KiWi Verlag | More info