Waste incineration in Germany: disposal with risks?
According to the Federal Environment Agency, every German produces around 600 kg of household waste per year. This includes paper, glass, organic waste and, of course, packaging waste, which means above all plastic.
According to Eurostat, Germany is the front runner when it comes to recycling and the separation of glass, paper, residual waste and recyclable plastic waste is taken very carefully - but in this country they still rely on waste incineration on a large scale.
The official recycling rate for household waste is almost 70%. "But by no means all of it is reused," says Michael Jedelhauser from the Naturschutzbund (NABU) to DW. The quota only relates to the goods delivered to the recycling plants - not to what happens to them.
Germany burns more rubbish than it recycles old into new. As the market research company Conversio shows in a study, only around 16% of the plastic that occurs in household waste goes into new products. The rest is exported abroad or burned in Germany and converted into thermal energy or electricity. That's why the garbage has not yet disappeared.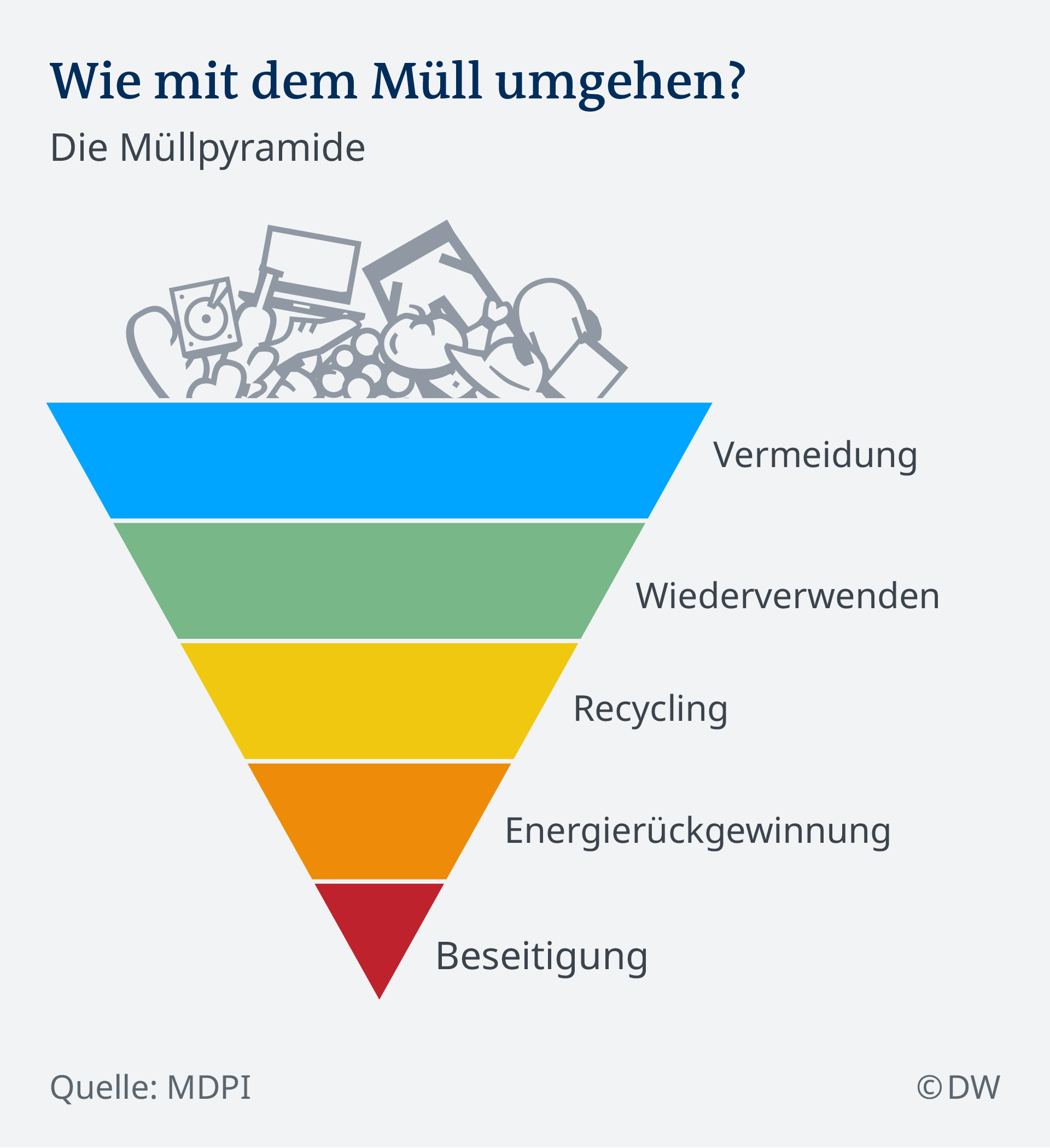 What remains are ashes, metals and carcinogenic toxins
"It is very often said that incineration is a clean technology and that there is no waste at the end. That is by no means the case," Thomas Fischer, an expert on circular economy at Deutsche Umwelthilfe, told DW.
Waste from garbage is actually created - and it is highly toxic. Incineration releases carcinogenic substances such as dioxins and furans, and contaminated dusts and ashes are also produced. They contain substances "which have already been associated with cancer, respiratory diseases, nervous diseases and birth defects", according to the plastic atlas published this year by the Heinrich Böll Foundation, which is close to the Greens, and the Federal Environment and Nature Conservation Germany (BUND).
The waste incineration plants in Germany are now running at full speed and are almost at full capacity. Sixty-six waste incineration plants and 32 substitute fuel plants - these can be cement plants or coal-fired power plants. burned more than 26 million tons of garbage in 2018. According to industry experts, the trend is increasing.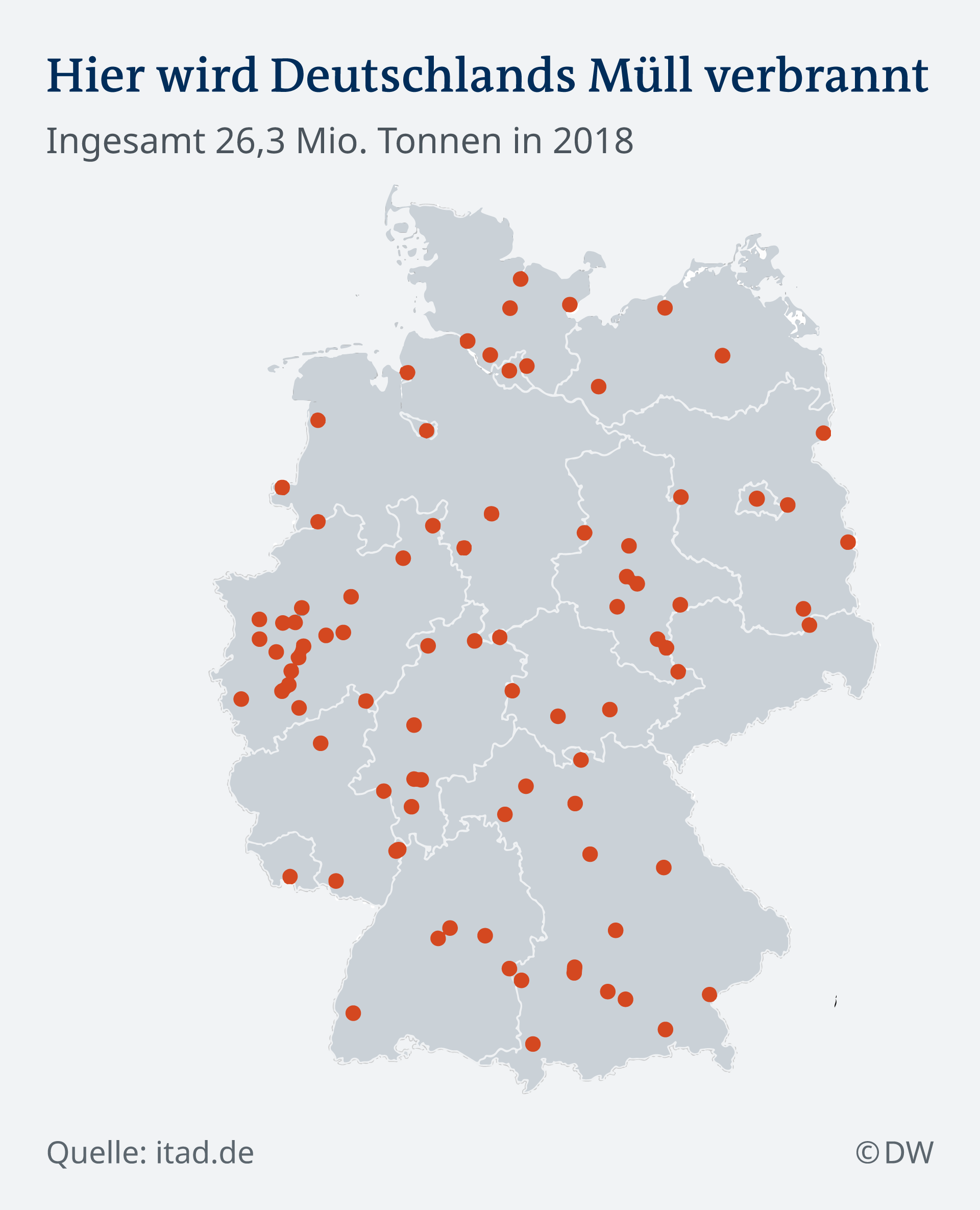 "If you factor out the waste imports, then we have excess incineration capacities and the aim must actually be to avoid waste and, if it is unavoidable, it should be recycled with high quality," says Fischer. "Waste incineration can only be a stopgap for non-recyclable or hazardous waste."
In the 1980s and 90s, the debate about waste incineration was also a contentious issue because of the high levels of air emissions.
Sustainable waste incineration - is that even possible?
"Air pollution from waste incineration is actually no longer an issue in modern plants," says chemist and sustainability consultant Dr. Henning Friege. "Waste incineration and health - these problems have been technically solved since the mid-1990s."
More on this: What to do with toxic waste?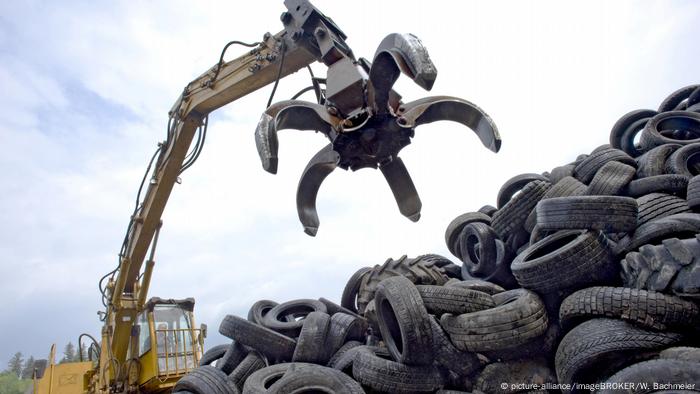 Used tires are shredded and used as fuel for cement production
In fact, improved filter technology has significantly reduced air emissions to just a few percent since 1990. Fischer does not want to ignore the fact that the pollutant emissions are therefore harmless and refers to long-term deposits in the immediate vicinity.
The interest group of waste incinerators in Germany, ITAD, sees it differently. Waste incineration is "safe, clean and sustainable" says the annual report of the organization, which sees itself as part of the circular economy.
"Waste-to-Energy" is the key word for it. Generate electricity and thermal energy from waste incineration. According to ITAD, electricity on the scale of a medium-sized coal-fired power plant was generated last year.
If you look at the emission of CO2, the incineration of mixed garbage is more climate-friendly than burning coal or oil, for example, according to the U.S. Environmental Protection Agency. Gas power plants, however, emit less CO2.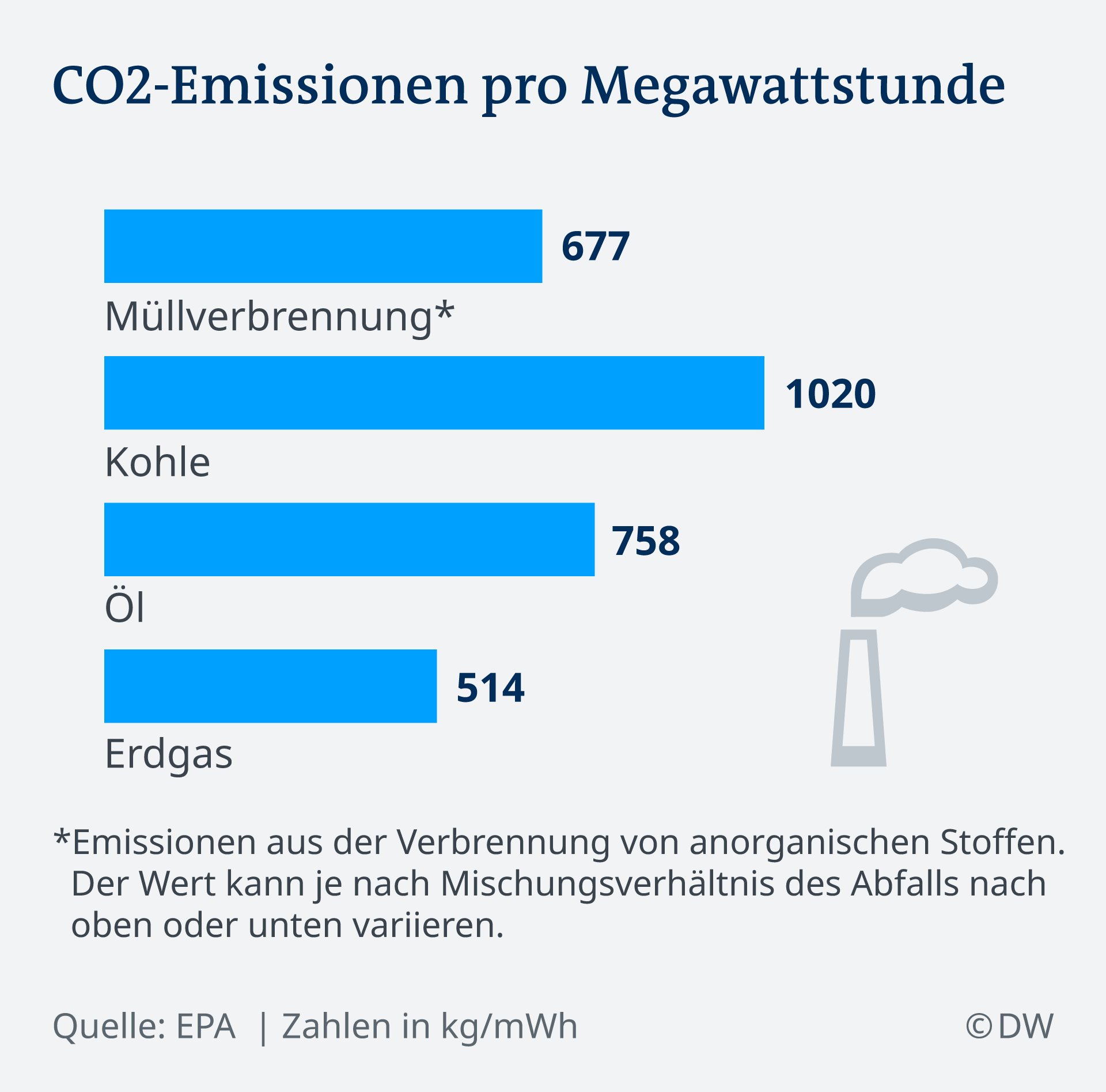 Proponents of a circular economy like Thomas Fischer think nothing of it. "Most of the energy that has been put into the production of plastics, for example, fizzles out pointlessly."
The toxic residual waste ends up in mines or on the streets
What comes out of the chimney is one thing, what is left at the end of the combustion is another. Every year, 350,000 tons of the poisonous filter dust have to be liquefied in salt solutions under high safety conditions and then buried in one of the tunnels in the Bleicherode mine in Thuringia.
In addition, there are five million tons of so-called slag - solid components at the end of the process chain. One million tons of it was used in Germany last year alone as a substitute building material in noise barriers and in road construction.
That is unthinkable in neighboring Switzerland. The building up of slag is strictly forbidden there.
"We as Swiss can only shake our heads that you can still use it in road construction," says Prof. Rainer Bunge for renewable energies and environmental technology from the Rapperswil University of Applied Sciences.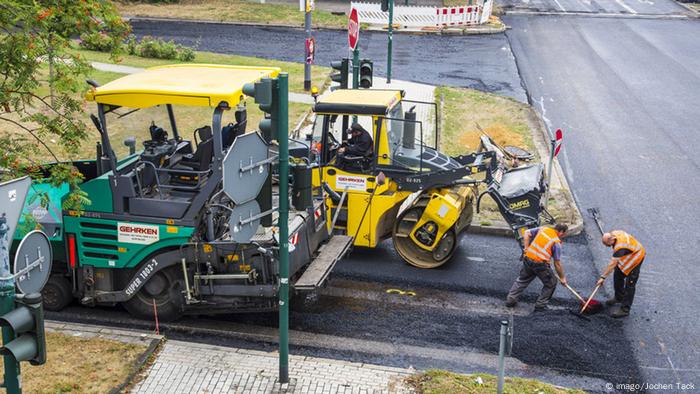 In road construction, the slag is used instead of gravel as a base under the carriageway.
In Germany, before the slag is used as a substitute building material, most of the toxins and heavy metals are filtered out for recycling, but a remainder is retained. The risk that they will sooner or later be released into the environment "is small, but it is there," says Bunge.
In Switzerland all residues from waste incineration are kept in closed landfills after around a third more pollutants and metals have been extracted than in Germany. "What we do is more expensive, but because we get the metals out, the ecological benefit is high. I think the alternative of using them in road construction in a completely uncontrolled manner is very questionable," Bunge told DW.
Slag as a building material cheaper than in the landfill
German legislation is more tolerant in this respect, only the use of the slag in the vicinity of water protection areas is prohibited.
Slag as a building material doesn't have the best reputation in the construction industry. The costs for filtering out the substances do not coincide with the low market price, which is why treatment companies even lose around five euros per ton on average. "You can see that it is actually not a recyclable material, but waste," Bunge told DW.
Nevertheless, the business is worthwhile for the processing companies. Because selling the slag as a building material is still cheaper than filtering out more metals and then storing the slag in a landfill. That would cost about 18 euros per ton, Bunge calculates in one of his own reports.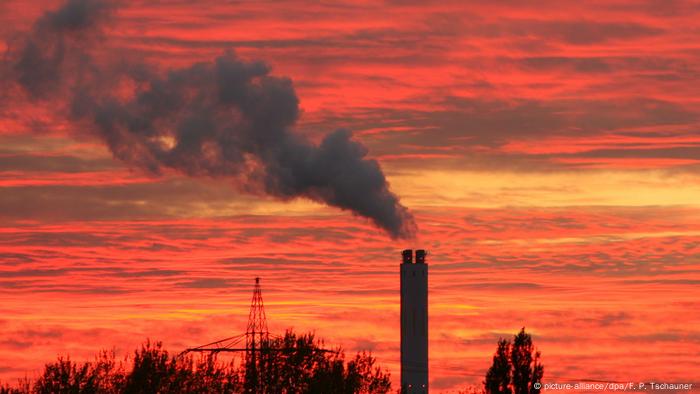 Even when burned, the garbage isn't just gone
Overall, however, he is in favor of waste incineration with a high recycling rate for metals and heavy metals - with appropriately controlled storage afterwards.
Thomas Fischer is not convinced, "we shouldn't try to calculate the incineration of materials that have been produced in an energy-intensive way. They have high levels of pollutants in the waste that is left over. We should try to build a circular economy with closed cycles and use resources save. "
The Federal Environment Ministry wants to increase the recycling rates in the next few years, especially the rate of packaging waste is to increase from 58% today to 63% in 2022.
At the same time, waste incineration and the construction of slag also have a future. "Waste incineration is a key pillar of waste disposal," writes the Federal Environment Ministry on its own website. After their processing, slag can largely be recycled, it continues, "even in the long term, they will not cause any environmental pollution."