How would you rate the film Skyscraper
Skyscraper

The Rocks "Yippie Yah Yei pork cheek!" Means "Do you have duct tape?" - Will Sawyer (Dwayne Johnson) is ambushed as security chief of a 200-story high-rise building in Hong Kong and now has to keep his family from the flames and a group Rescue gangsters. Clean action, 3D optics suitable for fear of heights and many one-liners ensure entertainment.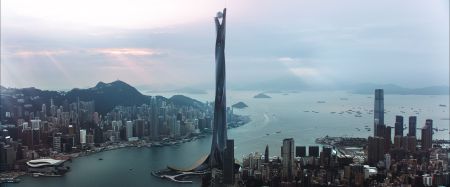 ---
An easy job for Will Sawyer (Dwayne Johnson): He inspects the security facilities of the more than 200-story high-rise of Zhao Long Ji (Chin Han) in Hong Kong, while his wife Sarah (Neve Campbell) and his children are allowed to try living in one of the over 100 apartment floors. But then Will is ambushed and suddenly a floor is on fire and his family's escape route is blocked because gangsters have brought the security technology under their control. Of course, Will Sawyer has to rush to the rescue, but he'll have to get back into the building first. But that is exactly what Inspector Wu (Byron man) prevent. Meanwhile, further disaster is looming on the 220th floor in the owner's penthouse because Zhao Long Ji owns something that the gangster Kores Botha (Roland Møller) at all costs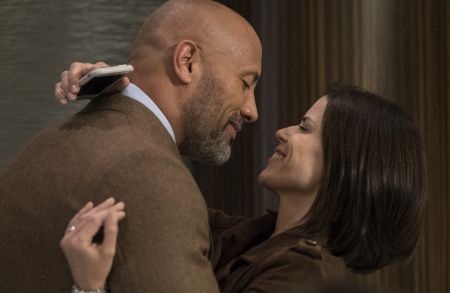 Will Sawyer (Dwayne Johnson) and his wife Sarah (Neve Campbell).
---
who Dwayne 'The Rock' Johnson in "Scorpion King" and Neve Campbell as Sidney knows Prescott in the "Scream" series, you won't be surprised by some scenes in this film, both of them were tailor-made and they cause laughter with good timing and more or less appropriately translated one-liners. Incidentally, the ex-wrestler was given a handicap by the scriptwriters in the form of a prosthetic leg, which should probably increase the tension of individual fight scenes. It was also used to design some very unrealistic stunts. Fortunately, our hero does not take himself so seriously and cheerfully knocks out slogans - for example when writer and director Rawson Marshall Thurber once again shows him the advantages of adhesive tape.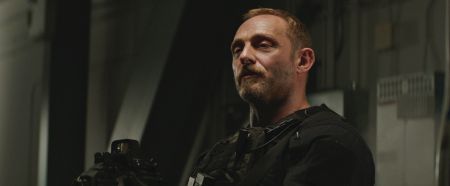 Gangster Kores Botha (Roland Møller) causes a lot of trouble ...
There are quite a few films with burning skyscrapers. We had gangsters who bring a high-rise under their control in the classic "Die Hard". But "Skyscraper" is actually independent, does not copy any of the well-known stories and comes up with a nice technical idea for its finale: a cabinet of mirrors. But that shouldn't hide the fact that the film is primarily trimmed for high-gloss optics and entertainment. At most, a few logic holes provide food for thought.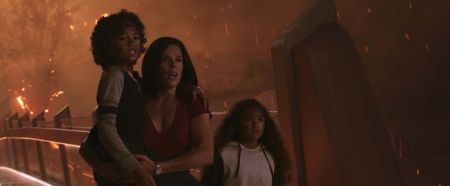 .. and so Sarah and the kids will soon find themselves in great danger.
The 3D implementation sensibly underlines the height effect that is created in many scenes by camera angles from above. However, in some places there is clear depth of field, especially when faces are focused. Musically it is that of Steve Jablonsky designed score mostly appropriate and does not play itself in the foreground.

All in all, "Skyscraper" meets the expectations raised by the film poster and delights fans of the "can't-get-killed" Neve Campbell through several beautiful scenes. Also Byron man cuts a fine figure as inspector Wu. In spite of everything, the work is far from being a cult factor;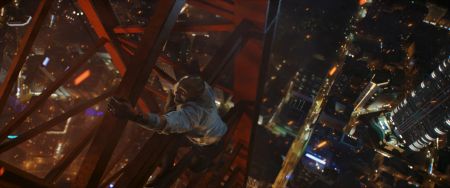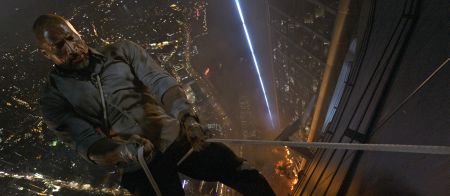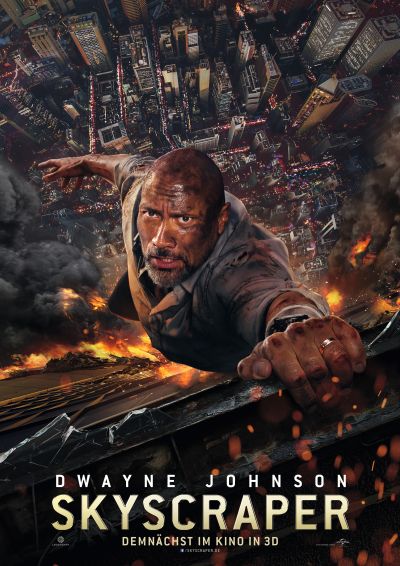 Now borrow the skyscraper (if already available) on DVD over the Internet
or sell the DVD at momox.de.

---